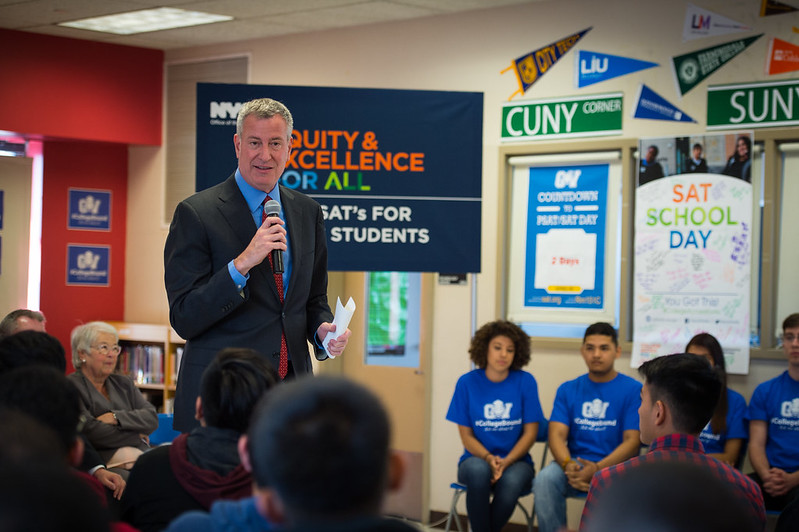 Mayor de Blasio (photo: Edwin J. Torres/ Mayoral Photo Office)
---
The politics of New York City public schools reached a fever pitch last week, when the Panel for Education Policy (PEP) voted down a vendor contract to give the Gifted and Talented (G&T) test this Spring. Along with 22 other Community Education Council members from throughout the city and one state senator, I testified in opposition to the contract for several reasons.
First, the mayor recently announced that starting in 2022, the test would no longer be administered for admissions. More on that in a bit. Second, we are in a pandemic. Sending four-year-olds to test in person, with someone they don't know, who is wearing a mask, in elementary schools, many of which are opening and closing with COVID-19 cases, is not a responsible government action. Lastly, the city's standalone G&T programs are widely known to exacerbate racial segregation. With so much of the pandemic's impact disproportionately affecting communities of color, the next cohort would needlessly magnify this long-time structural injustice.
I'm a public school parent and mother to a daughter who attended a G&T elementary school but whose middle school class is balanced with students from all District 3 elementary programs. I'm also the President of Community Education Council 3, and led the city's first districtwide middle school diversity initiative so that this could be possible. I support accelerated learning. I also support integrated classrooms, schools, and the system, as part of a long-term strategy to prepare children for a thriving future.
The PEP's vote, the only time it has voted down a contract in opposition to the mayor, was both a victory for progressive policy-making, and solid evidence of the need for major structural changes in the way that public schools are governed.
Progressive education policy centers the core belief that education is a human right. Thus, government institutions have a responsibility to offer every child an equitable, high-quality education from kindergarten through twelfth grade. For decades, 'reformers' have lobbied for school choice, testing, and more prep for testing. In the process, they have commodified learning and turned public education into a competitive ecosystem that tracks winners and losers -- and the losers, more often than not, are Black and Latino students.
Mayor de Blasio's unilateral announcement that the G&T test would be phased out as part of a new direction in accelerated learning, but without further detail on what this new direction would look like, is not surprising. Stakeholders have become all too familiar with the poor planning, overtly political, and terrible communication operations under mayoral control of city schools. Which is exactly why the governing structure must be changed.
The PEP's unprecedented vote made headlines, in part because a majority of the PEP is appointed by the Mayor, and it is generally a rubber stamp for his agenda. It's essentially authoritarian rule, and it does not work. We need common sense checks and balances, stakeholder input, and accountability. What we need now is public school democracy.
The pandemic exacerbated myriad problems that have been simmering under mayoral control for years. Who makes decisions on pedagogy, budgeting, school staffing, teacher training, student supports, enrollment, and building issues? This is the underlying question that gets to the heart of the politics - it's why our kids get used as pawns in a game of political chess. Deeper than those decision-making pressure points are the system's central leaders: the executive and the governing body. Under mayoral control we have no true governing body. The PEP flexed a governing muscle last week, but the political theatre that led up to the meeting and its fallout - one PEP member was dismissed - are emblematic of centralized control problems.
Nearly 20 years ago, Mayor Bloomberg worked with New York state leaders to abolish School Boards, to decrease local graft and consolidate operations. However, only 32 years had passed since Mayor Lindsay ceded control in 1969 to local governance. The Mayor having sole control wasn't working then either.
No one wants to return to the old School Boards. What we need is the best of both structures.
Education advocates, teachers, and parents know that now is the time to create a hybrid governance structure that maintains central strength but fosters peripheral authority where it's needed. A true governing body would be responsible for holding the executive and the Chancellor (who works for the Mayor), in check. The State Legislature and Governor Cuomo are required to make a decision on this issue in 2022, so we have time to collaborate on specific elements of this new structure, but the work ahead demands clarity now, as shown so clearly of late and for years, that mayoral control doesn't work for our students.
Finally, what was striking about the testimony at the PEP, both in opposition and in favor of the G&T test, is that parents and teachers want high-quality public schools. We want opportunities for learning expansion, for enrichment, for language and culture, with plenty of room for rigor. The division we experience, the battles for admissions, testing, and choice, are a reflection of government neglect and political malfeasance. No one wins when children don't learn.
We must center equity and democracy, as we continue such a dangerous phase of our existence as a city. The pandemic, the Trump administration, and extreme economic hardships have brought New York City to the brink of disaster. We owe it to the next generation of New Yorkers to get it right and give public schools back to the public.
***
Kim Watkins is a public school parent, president of Community Education Council, District 3, and a candidate for Manhattan Borough President in this year's election. On Twitter @kimwatkinsnyc.
***
Have an op-ed idea or submission for Gotham Gazette? Email This email address is being protected from spambots. You need JavaScript enabled to view it.