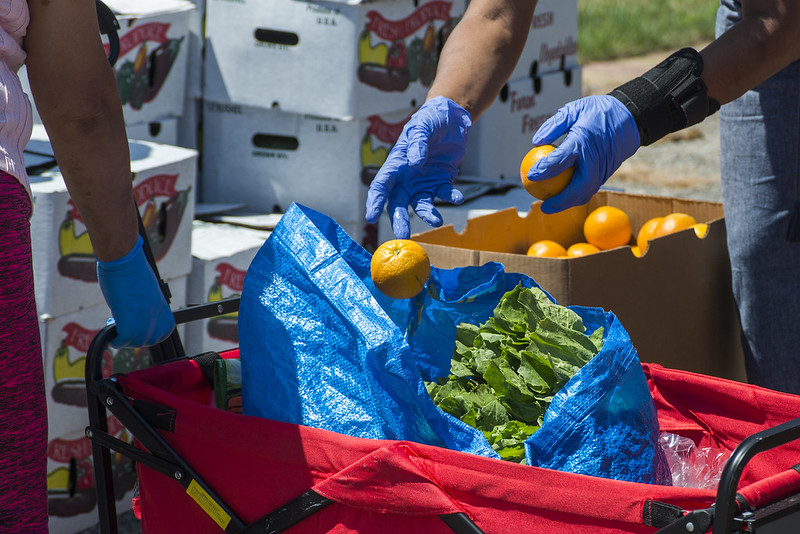 Healthy food help (photo: Jeff Reed/City Council)
---
On February 9, nine of the more than 30 candidates for New York City Mayor participated in the Mayoral Food Forum 2021, a discussion of the future of food policy in the city. Candidates who joined the event included Eric Adams, Shaun Donovan, Kathryn Garcia, Ray McGuire, Dianne Morales, Scott Stringer, Jocelyn Taylor, and Maya Wiley. Eleven New York City food organizations*, including the CUNY Urban Food Policy Institute, which I direct, sponsored the event. More than a thousand people used Zoom to watch the lively and spirited discussion, moderated by Errol Louis of NY1. Questions addressed food insecurity, low wage labor, urban agriculture, school food, and other topics.
I had also served as one of the organizers of the previous Mayoral Forum on Food Policy on July 17, 2013, during the last "open" mayoral race. That one, moderated by New York University nutritionist Marion Nestle, had featured candidates Sal Albanese, Bill de Blasio, John Catsimatidis, Christine Quinn, and Anthony Weiner. Again more than a thousand people participated—in person in those pre-pandemic days—and 76 organizations sponsored the event.
Reflecting on these two experiences eight years apart led me to ask how food policy and the food movement have changed in the last eight years and what these changes hold for the future of food policy in our city. Some advances were obvious. This year's crop of mayoral candidates seemed more knowledgeable on food policy than the 2013 field. They spoke proficiently about SNAP enrollment, school food, the use of eminent domain to expand urban farms, and the need for more staff for the Mayor's Office of Food Policy. All agreed that shaping food policy was an important mayoral responsibility and that using municipal authority to make the city's food system more equitable should be a priority.
What explains their greater sophistication? First, it reflects the success of food activists in the last decade. Food and social justice activists have won free school lunch for all city school children, new policies to protect urban gardens and farms, eased rules for enrolling in SNAP, more attention to city procurement of school and other institutional food, and higher wages for food workers. The ongoing struggles of parents of school children, anti-hunger organizations, young people fighting predatory marketing of unhealthy food, low wage food workers, and others have shown public officials, the media, and ordinary eaters that food matters and that urban food policy is part of poverty policy, anti-racism policy, education policy, health policy, and more. Another indicator of this greater attention to municipal food policy is the Mayor's Office's soon-to-be-released 10 Year Food Plan for New York City, an important tool for monitoring progress that was recently required by law.
Sadly, another great educator on food policy has been the COVID-19 pandemic. Hunger and food insecurity have increased sharply, many low wage food workers face unemployment and unsafe working conditions, many New Yorkers struggle daily to find healthy affordable food. Who could miss the fact that our city's food system and policies have not been strong enough to deal with this crisis?
A comparison of the two mayoral forums also showed that some issues have yet to move front and center to the mayoral agenda. At the 2021 forum, while several candidates talked about the importance of healthy food, none mentioned that diet-related diseases like diabetes, cardiovascular disease, and some forms of cancer are now the leading cause of premature death and preventable illness in New York City and the nation and a leading cause of the wide inequities in health between Black and Latino New Yorkers and whites and between low- and higher-income populations. To make more substantial progress in improving the health of New Yorkers, closing income and racial/ethnic gaps in health, and lowering the exorbitant cost of health care, we must make improving the nutritional quality of New Yorkers diets a high priority.
Second, while the candidates did talk about making healthier food more available and affordable—an important goal—none discussed the equally important goal of reducing the availability and promotion of unhealthy food. As long as publicly-subsidized (through agricultural and tax policy) fast food, soda, and highly-processed food are more available and cheaper than fruits, vegetables, and other healthier products, New Yorkers will find it hard to make healthy choices. What city policies could contribute to that goal? Can city government play a role in protecting New York City's children from the relentless marketing of Pepsi, Coke, McDonalds, Kellogg's, and others? These are questions the next Mayor should be ready to answer.
Finally, the candidates in the mayoral forum this year, as in 2013, were reluctant to take on the elephant in the room of food policy -- the industrial food system that is remarkably efficient in producing, distributing, and marketing the diet that is sickening New Yorkers as well as the nation and world. Until New York City begins the challenging task of creating a food system whose priority is getting healthy, affordable food to every resident rather than making profit for transnational food giants, it will be difficult to address the deep problems of our food system.
Of course, New York City can't make this transition alone. But with the state and federal government, with the labor, environmental, women's, Black Lives Matter, and other movements and with the millions of New Yorkers who struggle to get the tasty, delicious food that will support their own and their children's and grandchildren's well-being, we can move forward. The covid pandemic and economic crisis present a once-in-a-lifetime opportunity to advance this goal but only a mayor with a vision for a different kind of food system can help New York City chart that course.
Let's use the next months to give the candidates the knowledge and strength they need to take on that task and the coming years to create the groundswell of public pressure to make New York City the national leader for a healthier, more equitable and sustainable food system.
[Read: Democratic Mayoral Candidates Offer Ideas for Addressing Food Insecurity]
***
Nicholas Freudenberg is Distinguished Professor of Public Health at the CUNY School of Public Health and Director of the CUNY Urban Food Policy Institute. The opinions in this column are his own.
*Sponsors of the event were Hunter College NYC Food Policy Center, the NY Covid-19 Food Coalition, City Harvest, the CUNY Urban Food Policy Institute, Equity Advocates, Food Bank for NYC, Hunger Free America, UJA-Federation of NY, LiveOn NY, United Way of NYC and the Laurie M. Tisch Center for Food, Education & Policy at Columbia University
***
Have an op-ed idea or submission for Gotham Gazette? Email This email address is being protected from spambots. You need JavaScript enabled to view it.