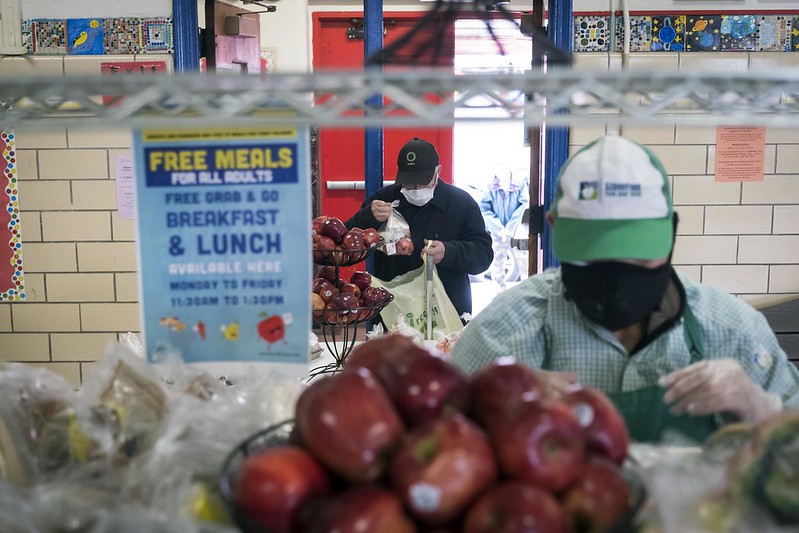 Free food giveaways (photo: Ed Reed/Mayoral Photography Office)
---
Nine candidates vying for the Democratic nomination to become the next mayor of New York City gathered Tuesday morning in a virtual forum to discuss their visions for the city's food policy and serving the roughly 2 million New Yorkers who are food insecure.
At the "Town Hall on the Future of Food in New York City" -- hosted by Hunter College in partnership with City Harvest, CUNY Urban Food Policy Institute, Food Bank for NYC, Hunger Free America, and other organizations, and moderated by NY1 anchor Errol Louis -- the candidates discussed the city's urgent need to manage rampant hunger during the pandemic and center it in the recovery effort. But the discussion also focused on the pre-existing problems of food insecurity, inequitable access to nutritious meals, and inefficiencies and lack of sustainability in the city's food use.
The participants, who were selected based on their polling and fundraising standings among a field of dozens of candidates, included Brooklyn Borough President Eric Adams, former federal housing secretary Shaun Donovan, former city sanitation commissioner and "covid food czar" Kathryn Garcia, former Citigroup executive Ray McGuire, former nonprofit executive Dianne Morales, former city veterans' services commissioner Loree Sutton, city Comptroller Scott Stringer, small business owner Joycelyn Taylor, and Maya Wiley, a civil rights attorney and former counsel to Mayor Bill de Blasio. Louis pushed them to focus on how they would bring anti-hunger initiatives to scale to address the food crisis compounded by the pandemic.
Programs to help feed New Yorkers have often missed the mark, failing to meet adequate health standards and leaving many New Yorkers out entirely. A 2017 study from the Robin Hood Poverty Tracker found 1 in 4 eligible food stamp, or SNAP, recipients -- 700,000 New York City residents -- were not enrolled in the program, less than the statewide participation rate of 93 percent the same year, according to the Center on Budget and Policy Priorities.
In September, the Poverty Tracker reporter 1.7 million New Yorkers were getting food stamps, over 200,000 more than last February. During roughly the same period the percentage of food stamp recipients who also used a food pantry doubled, from 27 percent of enrollees to 60 percent.
Nearly all candidates agreed on the need to increase SNAP benefits and improve enrollment in the program; expand community gardens and urban agriculture; and improve access to nutritious food throughout communities and in institutional settings like schools and food pantries. There was also broad consensus around creating a more unified food procurement and distribution system in New York City by strengthening the Mayor's Office of Food Policy. Multiple candidates highlighted the frequent lack of coordination among the myriad city agencies that provide food as part of their services.
"One of the reasons why I needed to step in is that the Mayor's Office of Food Policy is incredibly understaffed," said Garcia, who managed the city's emergency food response last summer before leaving the de Blasio administration last fall and launching her campaign to succeed him.
"[Food Policy Director] Kate McKenzie does an amazing job but she doesn't have procurement authority, she doesn't have logistical authority...one of the clear things is how we approach food is very siloed, very fragmented," Garcia said, noting the separate food procurement activities of the Department of Education, Department of Correction, and senior centers. Garcia says the city provided 1 million meals a day and shored up food pantries last summer under her leadership. (Shortly after the forum, Garcia released a multi-pronged platform to fight food insecurity with an emphasis on enrolling more New Yorkers in SNAP and expanding what the benefits would cover.)
Adams, who repeatedly discussed the need for nutritious food, criticized the nutritional value of many of the government-provided or -supported food services, including Garcia's covid effort, and said increasing the size of the Mayor's Office of Food Policy would have a limited impact if the city did not also incorporate the new perspectives from food-access "visionaries."
"They don't share the values," Adams said of the city's food-oriented bureaucrats, historically. "I am amazed at the roadblocks, that organizations like Rockaway Youth Task Force are not able to scale," he said during a segment of the conversation on urban agriculture programs.
Some of the candidates saw the city's food dilemmas rooted in job scarcity and low wages and frequently discussed the importance of building food policy into the city's economic recovery.
"We solve none of this if we don't recognize that fundamentally what is broken and why 30% of our people were not eating through the month before covid is because the rent was too damn high and people were choosing to pay rent instead of buying groceries," Wiley said, adding, "at the end of the day it is about the city's ability to generate new jobs." Wiley has announced a plan as mayor to create 100,000 jobs through a $10 billion capital investment and cited it as an example of how she would leverage existing city resources to bring her approach to scale.
"Fundamentally, food insecurity is about income and it is about the fact that we do not intentionally ensure that our young people have pathways to careers and are prepared for the careers of the 21st Century," said Garcia.
The conversation of workforce development dovetailed with another on building an urban agrarian economy in New York to create good jobs and ensure both sustainable and equitable food access for city residents.
"We need to also think about aligning not just food policy, but the resilience office that exists right now to work more in tandem with each other because we know that food justice is also climate justice," said Morales, who was the executive director of Phipps Neighborhoods in the South Bronx, a social services provider. As mayor, Morales said she would invest $25 million to food innovation and sustainability programs in communities of color.
Multiple candidates, including Stringer, Donovan, and Adams wanted to see a greater emphasis on local and regional food procurement. "If I'm mayor, I really want to create a Mayor's Office of Food Markets because we've got to link farming with communities and for a farm-to-table policy that brings the purchasing power of this city regionally, upstate, downstate, and create those relationships," Stringer said. "Farmers markets should be everywhere."
"There is huge potential to grow, so to speak, the power of locally-grown produce," said Donovan, who was the city's housing commissioner under Mayor Bloomberg before spending all eight years in the Obama presidential cabinet. "We need innovative approaches to ensure we are using every inch of available space that we can." Like other candidates, he expressed support for ideas like more community gardens and vertical agriculture. Donovan also repeatedly stressed the need to support struggling restaurants and incorporate them into the city's food programs as well as its economic recovery.
While supportive of partnerships with upstate and Long Island counties, Garcia took issue with the notion that New York could achieve a sustainable food market locally. "If we want fresh, healthy food day in and day out, we're not harvesting today in this region, we are going to have to bring it in," she said following Donovan's comments. "We need to make sure the systems go beyond just this region so that we can still be getting lettuce even though it's February."
"That should not hold us back from starting to have a robust agrarian economy in New York City," Adams countered, echoing Donovan's statements about the importance of life sciences in city schools and connecting lessons about food production to healthy eating.
When asked directly whether they would use the city's power of eminent domain to force the sale of private land for the city to use, most candidates raised their hands affirmatively. Adams expressed his dissent, noting that the many existing city resources that he said are being wasted or under-utilized should be tapped before forcing land sales. (Others also raised the importance of better using available land, with Stringer naming a report he issued as comptroller on the number of vacant city-owned lots that could be used to develop housing and noting that many lots could also be used for community gardens.)
McGuire, who recently stepped down from one of the biggest jobs on Wall Street to run for mayor, also criticized the mismanagement of city resources and cautioned on the costs to the city that eminent domain could pose. "It gets expensive so you have to figure out when you exercise eminent domain at market rates who is going to pay for it," he said.
Equity was an overriding theme in a number of areas of the food policy discussion, from eradicating food deserts to ensuring healthy options in schools and pantries.
"I think we do have a moral obligation to ensure that every resident of the city has those basic needs of food and housing," said Taylor, who created the nonprofit NYC WMBE Alliance, according to her website. "We have to make sure that when we look at the budget we look things that are 'nice to have' and things that are 'needs to have,' and if it means that we have to reallocate funds from the things that are nice to have to the needs, then that's what I would do."
"We need to stop leaving communities out of the co-creation process," said Morales, who stressed participation of food advocacy groups.
Wiley and Taylor also discussed the need for community participation in the form of locally-based food councils to inform nutrition, per Wiley, and more active mayoral outposts in each borough, per Taylor. Both also discussed the importance of collecting more targeted data to better determine the outcomes of food programs. Other candidates outlined plans or past work to incorporate cultural sensitivity into food access, including then-Manhattan Borough President Stringer's 2008 "Go Green East Harlem Cookbook" and Garcia's discussion of halal and kosher options in meal services, something others mentioned as well.
The candidates agreed that compounded structural problems of food deserts and the reliance of low-income communities on the city's various food programs exacerbate malnutrition and health outcomes, but not all offered the same solution.
"Today food deserts are such that many of our people don't have access to healthy food. They have access to those institutions that provide food that is pretty low on the nutrition scale," McGuire said. He laid out a more corporate-friendly view of the path forward, that involved rezoning to allow big supermarket chains, hiring gig workers to deliver meals to seniors, and bringing refrigeration resources to bodegas in order to better store fresh produce.
As is often the case, Morales was at the other end of the spectrum, saying she supports community land trusts to create both better access to fresh produce and greater "food sovereignty" in poor communities. Sutton said the solution was to leverage public-private partnerships.
"It's one thing to talk about all these ideas, but in the same breath to disdain, disparage and disrespect the top 1 percent of New Yorkers who bring in nearly 40 percent of our tax base or reject and shun real estate as one example, as a number of my fellow candidate have during this campaign," said Sutton, a former Army psychiatrist who led de Blasio's Department of Veterans' Services. "We are absolutely shutting down those pathways to partnership and prosperity."