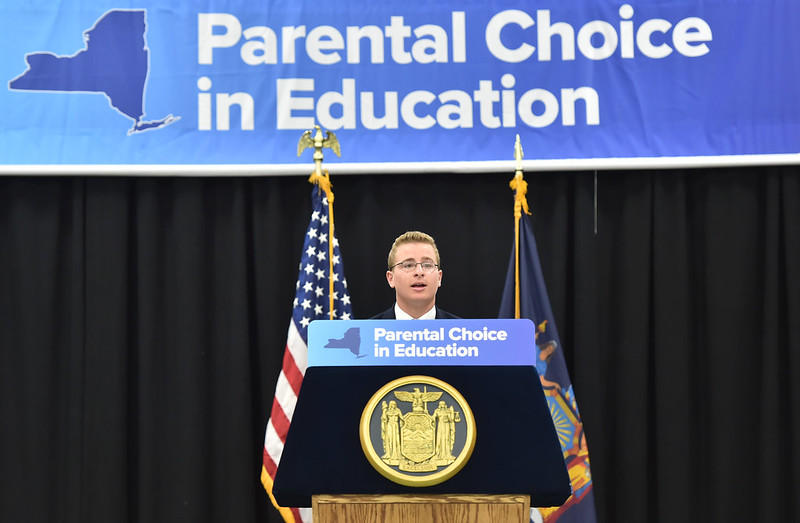 "Parental Choice in Education" (photo: Governor Cuomo's Office/Kevin P. Coughlin)
---
My career began with my yeshiva education; a rigorous study of the Talmud that sparked a relentless pursuit of reason.
There is a common misconception that religious studies are not as academically rigorous as secular education, but that is far from the truth. Yeshiva education fosters logic and logic fosters innovative problem-solving. Yeshiva education is, quite frankly, more beneficial to the development of students' analytical skills than secular education because it demands critical thinking inside and beyond the classroom.
Yeshiva education promotes cognitive dissonance; a constant reckoning with what we think we believe and how we can gain even deeper understanding. For example, the three-dimensionality of the Jewish alphabet taught me how to look at the world in a new way. From the time I could read, the alphabet conditioned my mind to follow my own original courses of thought.
Like most students, I didn't know where life would take me after I completed my education. But I knew that I would go into a field where I could think critically and pursue innovation. So, I turned to an industry that made the most sense to me: computer science. Thus began my career in software and business.
The logic mindset yeshiva education instilled in me has enabled me to thrive in the software space. I have the capacity to engage and probe in new ways, granting me the wherewithal to pursue industry needs from a distinct perspective.
When analyzing a computer system, one must think about how each piece of the system or program comes together like a puzzle. Like any puzzle, there are unexpected problems and unlimited approaches that one must adapt to in order to arrive at a solution. This is how I have approached my businesses, and it has contributed to their economic and societal successes and impacts.
My yeshiva education gave me another unparalleled advantage: wisdom. It taught me that everything is fluid and can be looked at from a number of perspectives, a teaching I follow every day and one that allowed me to found and build two companies I eventually sold to international conglomerates.
My first company that I built and sold was DPC (Data Publishing Company). I started DPC in 1994, selling sales tax compliance data and systems to numerous Fortune companies, and sold it to a multinational Dutch company six years later. My second company, Business Licenses, LLC, managed governmental business license compliance for industries and jurisdictions across the U.S. The company was so successful in the field that its licenses, permits, and tax registrations were acquired by a leading tax compliance software firm. Clearly, my religious education did not stymie my success as a business leader, nor does it hinder the economic and professional successes of yeshiva graduates everywhere.
Educational freedom prepared me —and my many fellow yeshiva graduates, at United Talmudical Academy (UTA) and beyond — to enter society as productive members with unique perspectives and life experiences adding to the kaleidoscope of the general population, making America exceptional. This diversity is a pillar of the American experience, something so cherished and irrefutable that suppression of our freedom to educate our children religiously is un-American.
***
David Polatseck is a lifelong Brooklyn resident, graduate of its yeshiva schools, and a businessman.
***
Have an op-ed idea or submission for Gotham Gazette? Email This email address is being protected from spambots. You need JavaScript enabled to view it.