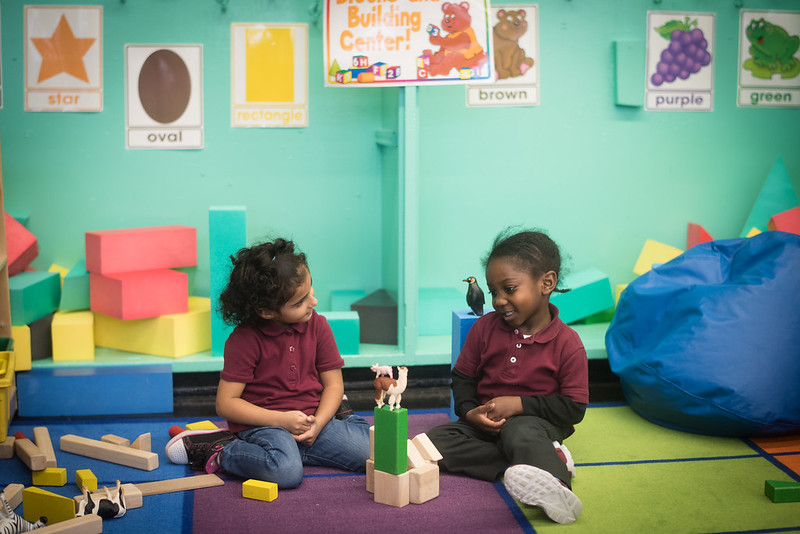 Kids at school (photo: Michael Appleton/Mayoral Photography Office)
---
Economic and racial inequities have been a plague in New York City's education system for decades, and the COVID-19 pandemic has only exacerbated the situation for our most vulnerable students. Faced with the reckoning of remote learning, we've been bombarded with stories of how our public schools lack the resources to adequately equip students with the technology they need to stay afloat, while something as simple as providing wi-fi to every child has only been met with excuses. Yet often lost in these stories is how the discrepancies in access to quality early education has created this game of "catch up" the city, parents, and students now face.
In Ridgewood, Maspeth, Glendale, Middle Village, Woodhaven and Woodside -- which make up Queens' 30th City Council District -- we see these stories playing out along geographical and racial lines every day. It's no coincidence that the success rates on the specialized high school admission test (SHSAT) for students at schools in predominantly whiter areas of our district are 400-500% higher than at those with a higher foreign-born population. And while much attention is paid to test prep or teaching at the middle-school level, not nearly enough attention is paid to how disparities begin for our students as early as day-care.
Financially, the cost of day-care and early child education averages between $10,000-$15,000 per year. This is before you take into account that parents who cannot afford to pay exorbitant costs for day-care and education must sacrifice their own jobs and economic well-being to look after their children before they are old enough to receive a free public education. Moreover, when you consider many of these same parents may not speak English as their primary language, it's easy to understand how we're failing our students at their most pivotal age.
This is why it is imperative that our local legislators continue to fund and expand early childhood educational programs and raise awareness of the resources already available to our families.
Studies have shown that an investment in early childhood education is an investment in our society and public safety at large. A comprehensive review of economic analyses of pre-K concluded that for every $1 invested in early childhood programs, there is a $17 return to society, and a dramatic decrease in the incarceration rate.
Throughout the country we're seeing more states reap the benefits of investing in early childhood education. Programs like Universal Pre-K provide a free, high-quality education for children starting at four years old, and cities like New York City and Washington D.C. have implemented programs that expand universal free education for children as young as three. Expanding these programs allows families to get an early start on their child's educational needs, while simultaneously alleviating the financial burden of child care for every parent and opening up opportunity to earn additional income.
Additionally, Pre-K and 3-K For All in New York City offer dual language classes and special education for students who are learning English as a second language and for students with special needs, respectively. I am especially proud of these programs as I helped consult the Department of Education during their implementation.
It has not been lost on me that throughout District 30 it's been the Polish- and Spanish-speaking populations that have been hardest hit by the pandemic. Parents have had to take on the role of educator, provider, and caregiver while being forced to navigate the educational space at a disadvantage. According to the Department of Education's MySchools directory, there are over 80 universal pre-K school locations in District 30, but none that offer dual-language programs or secondary language support. This despite a demographic that is nearly 40% Hispanic and 50% foreign born. And while there are paid, dual-language 3-K programs that offer discounted rates for families who qualify, there are no public, city-funded 3-K programs in all of District 30.
Yet these problems offer us a way to provide incentives for not just families, but the teachers and educators who we would rely on. By expanding and reforming the bilingual certifications needed to teach younger children, we can offer scholarships and financial aid to student-teachers who can teach languages like Spanish, Chinese, and Polish at an introductory level, helping provide educational support for both our children and their instructors.
From every perspective, investing in early child-care and education is not only the right thing to do, it is the financial and morally prudent thing to do. Given the evidence, the question is not if early childhood intervention will benefit communities in the long run, but how quickly can we utilize our resources to best support the programs that equip families and children for school readiness and success. Our children deserve the opportunity to thrive and investing in early childhood education is how we ensure they can do so.
I will continue fighting to ensure that every family has access to early childhood education, expand educational programs in every neighborhood so no child falls behind, and offer resources tailored to the needs of our students.
***
Juan Ardila is a Democratic candidate in the 30th City Council District, a resident of Maspeth, and the first Latino to ever run for the seat. On Twitter @JuanArdilaNYC.
***
Have an op-ed idea or submission for Gotham Gazette? Email This email address is being protected from spambots. You need JavaScript enabled to view it.