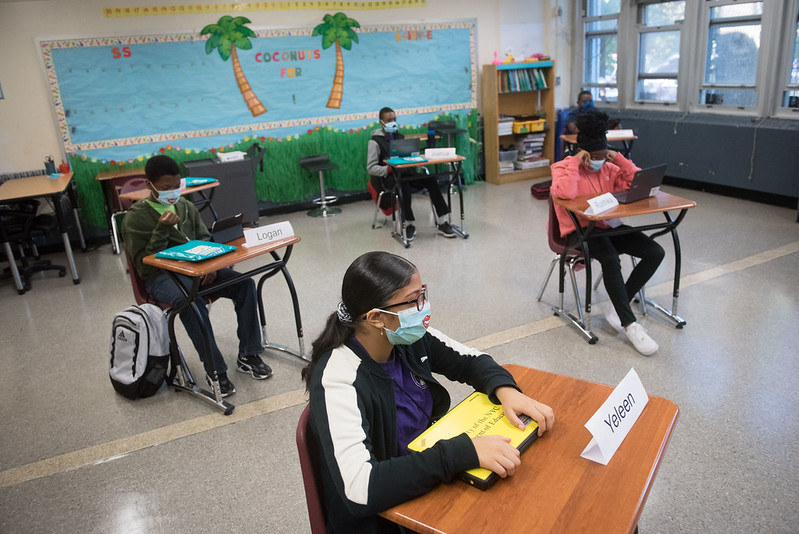 Students in school (photo: Michael Appleton/Mayoral Photography Office)
---
Here's the deal: This time last year, the New York City Department of Education closed schools for in-person learning because of the early devastation COVID-19 was causing in New York. While we all understood this was necessary, what happened next was a completely inappropriate and very unnecessary response to that closure by the State.

The New York City public school system closed for in-person learning during the home stretch of negotiations over the 2020-2021 New York state budget. These negotiations are normally a hectic time for legislators, the Governor, and communities alike. But with a closed New York City school system, hundreds of schools and over a million students and families were anxious to know what education was going to look like for the foreseeable future. The State Legislature and Governor Cuomo were also desperately trying to figure out how to fund the shift to remote learning.

In that context, the federal government stepped in with the CARES Act to lessen the burden by allocating emergency funding for states to transition to remote learning. That relief, however, came with a caveat: new funding was supposed to be used to supplement education. It was supposed to be used "in addition to" and not "instead of." The result? Something called a "pandemic adjustment" that supplanted normal education funding with CARES Act funding — essentially, the state took education funding intended for the city.

This pandemic adjustment coupled with the "20% withholding" stunt the governor pulled right before schools reopened resulted in very real resource challenges at the Department of Education. The "furloughs" that followed for managerial and nonunion Department of Education employees caused financial hardships on some district staff like Education Council Administrative Assistants that had to go unpaid for a week at a time when none of us could afford to.

As the State Legislature and Governor Cuomo consider the 2021-2022 state budget, which is due by April 1, and funding priorities for a new round of federal relief are on the horizon, we must not repeat recent history. We must not repeat adjusting the budget on the backs of our children and families. The final New York state budget must not take hundreds of millions of dollars in federal education aid meant for New York City.

Instead, we must have access to the full state and federal education funding in order to build on the long-term investment made to bridge the digital divide with 500,000 iPads and provide additional access to technology and broadband for low-income students and families to support them in remote learning environments, not to mention the fact that every child and family needs such access even when students are in school five days a week.

We must expand funding for language access for English language learners who have had difficulty receiving comprehensive technical support in their native languages. We must provide additional funding for students with disabilities who have been unable to receive continuous in-person access to the therapy and related services they need. We must provide additional funding to help Black and brown communities across this city who have disproportionately suffered extraordinary trauma and loss due COVID-19. We must provide additional resources to support education for incarcerated minors who have languished in jails during this pandemic. We must also provide additional resources for all our parents to support our children's education, especially but not only due to our new roles as remote educators.

In addition to an investment in people, we must also make a massive investment in our education infrastructure. We must invest in the wholesale repair, upgrade, and modernization of our aging school buildings. We must invest in new school buildings that can safely accommodate students with disabilities. We must provide our children return to spacious classrooms, modern facilities, clean drinking water, and contaminant-free air. And we must invest in infrastructure that ensures that we never disconnect any child from the education to which they have a right.

Our children and families need additional resources, especially as this pandemic's long-term impact on our system becomes more evident. As we consider the different supports that our students, families, and school communities need, we must do so with an understanding that this is a long-term process. Given the recently-offered one-house budgets released by the State Assembly and Senate, we see that the New York State Legislature is with us in our fight, but it must be made clear: it is time for the Governor to do his part. He must not supplant federal funding at the expense of our students' and families' futures. No more schemes or "pandemic adjustments." The new state budget must fully fund our schools and provide the additional resources necessary so our children may have access to a high-quality education.
***
Thomas C. Sheppard is the Community Education Council Presidents' Appointee on the New York City Panel for Educational Policy (PEP). On Twitter @TomCSheppard.
***
Have an op-ed idea or submission for Gotham Gazette? Email This email address is being protected from spambots. You need JavaScript enabled to view it.