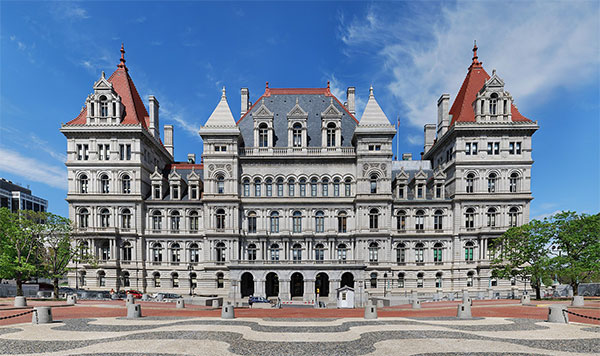 The State Capitol in Albany (photo: CC-BY-SA-3.0/Matt H. Wade at Wikimedia Commons)
---
In a recent column published by Gotham Gazette, Manhattan District Attorney candidate Diana Florence extolled the push to commercialize marijuana in New York as a means to shore up our budget issues and solve social justice inequities. In short, the former Assistant District Attorney's piece, like many other arguments about moving full-steam ahead with legalization, is quite far off the mark — here's why:
Our state took an enormous blow from COVID-19. As a result, Governor Cuomo and others in Albany are scrambling to find ways to fix our shortfall, but we must not fall for the canard that allowing Big Pot in is the fix.
Governor Cuomo and others who are pushing for commercialization have claimed that legalizing marijuana would bring in $350 million a year in revenue. What's missing from this is the fact that New York wouldn't see pot revenues for quite some time. Ironically, both the main sponsor of the Senate's legalization bill, Senator Liz Krueger, and State Budget Director Robert Mujica have been urging caution on claims that pot taxes will cure our budget woes.
As it stands, even if marijuana revenues appeared overnight, $350 million is akin to a speck of sand on the $15 billion beach that is our budget shortfall. In all, it's just 0.2% of the overall $170 billion state budget.
And we haven't even begun to discuss the costs associated with legalization: a study out of Colorado found that for every dollar in pot tax revenue, $4.50 must be spent to mitigate the increases in mental health and substance abuse issues, marijuana-related hospitalizations, drugged driving deaths and car crashes, and losses to workplace positivity.
Today's marijuana is nothing like the weed of days gone by. Marijuana use has shown some significant links to serious mental health conditions — including schizophrenia, anxiety, depression, and suicide. Prolonged use has also been shown to lower IQ and motor function and can cause particular damage to the developing brains of young people. And we know this from low-potency pot; the science is still out when it comes to the super-potent marijuana readily available in "legal" states, but new evidence is beginning to paint a concerning picture.
A 2019 study found that users of higher-potency marijuana were more than five times as likely to develop a severe mental illness such as schizophrenia or psychosis. And other evidence tells us that the higher the THC potency, the higher the risk for dependence and problematic use.
Florence is right that more must be done to address racial inequities faced by communities of color, but marijuana commercialization if far from the right answer. All told, only 4% of the industry nationwide features Black ownership while pot shops are disproportionately located in communities of color, which historically lack the resources to combat predatory marketing and would be deeply harmed by increased substance abuse issues. Illinois serves as a perfect example of this.
Lawmakers there promised to "set the standard" when it came to social equity in the marijuana industry. In reality, now a year later, there is not a single minority-owned marijuana retailer in the state. Instead, licenses have gone to existing multi-state operators and connected political insiders. Social justice? Not so much.
If we truly want to help fix the damages of prohibition, we must double down on the current policy of decriminalization, expunge prior convictions, end the stigma that follows those with a drug conviction, and work to expand efforts on substance abuse prevention and treatment. Allowing a for-profit industry to come in and further harm vulnerable communities is not the answer, and it most certainly won't fix our budget woes.
***
Dr. Kevin Sabet, PhD, is a former senior drug policy advisor to the Obama Administration. He currently serves as president of Smart Approaches to Marijuana (SAM). His new book, "Smokescreen, What The Marijuana Industry Doesn't Want You To Know," will be released April 20.
***
Have an op-ed idea or submission for Gotham Gazette? Email This email address is being protected from spambots. You need JavaScript enabled to view it.