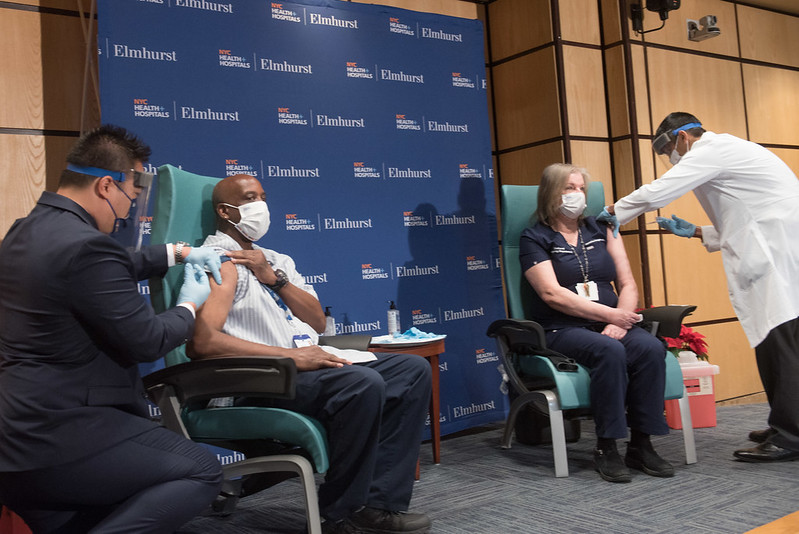 Vaccinations (photo: Michael Appleton/Mayoral Photography Office)
---
[Note: the vaccine numbers change every day; the data in the article reflect Federal, New York State, and New York City numbers as of April 17, 2021.]
The three counties in New York State with the lowest rate of residents fully vaccinated -- at 19% -- are Brooklyn, the Bronx, and Allegany County (pop. 46,000). This is the broadest measure of the population, everyone age 0 and up. There are 62 counties in the State. Brooklyn also has the lowest percentage of residents age 65 and up fully vaccinated in the entire State, at 42%.
The data are taken from a Washington Post table from April 17, with the source cited as the Center for Disease Control. Here are the ten counties in New York with the lowest rates of residents fully vaccinated.
The left number is % of all residents; the middle number is % age 18 and up; the right number is % age 65 and up: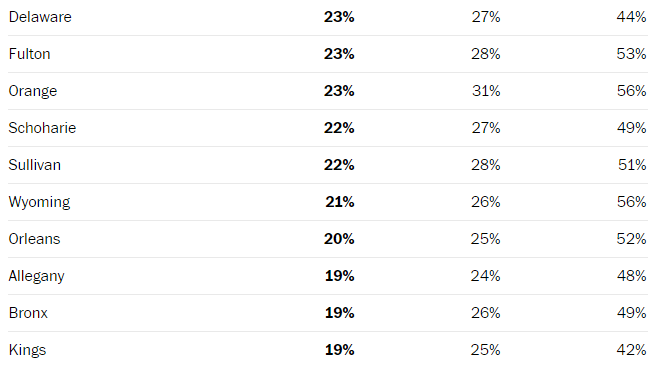 It has already been widely reported that vaccination rates for Black and Latinos residents of New York City have lagged behind rates for white and Asians residents. The status of New York City's vaccination rates as of April 17, taken from the New York City Department of Health vaccination tracker, shows key disparities. The criteria for vaccination differs from the above table; here the rates are for persons who have had at least one dose, age 18 and up. 46% of all New York City residents in this category have received at least one dose, but rates vary widely by demographic groups and by borough: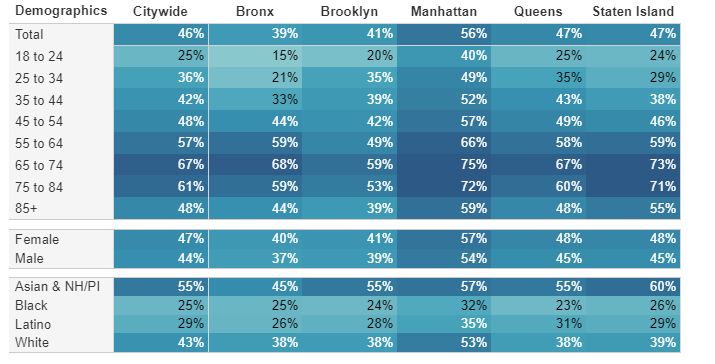 The current data show that vaccination rates for Black and Latino New Yorkers are far behind white and Asian city residents. The percentage of Black New Yorkers aged 18 and up who have at least one dose is 25%; for Latinos, 29%; for whites, 43%; and for Asians, 55%.
Rates for at least one dose among Bronx and Brooklyn residents, at 39% and 41%, respectively, also lag behind the rest of the city, compared to 47% each for Queens and Staten Island, and 56% for Manhattan. Among older residents, Brooklyn once again has the lowest vaccination rate for persons with one dose, at 59% for persons age 65-74, compared to 67% citywide and 75% in Manhattan.
CDC's COVID-19 vaccine tracker, as of April 17, shows the following:
At Least One Dose

Fully Vaccinated

Persons Vaccinated

129.49 m

82.47 m

% of Total Pop.

39%

24.80%

Age 18 and Up

128.3 m

82.2 m

% Age 18 and Up

49.70%

31.80%

Age 65 and Up

44.16 m

35.7 m

% Age 65 and Up

80.70%

65.30%

For the nation as a whole, 39% of the overall population has received at least one dose; 24.8% are fully vaccinated. For persons 18 and over, 49.7% have received at least one dose, and 31.8% are fully vaccinated. For persons aged 65 and up, nearly 81% have received at least one dose, and 65.3% are fully vaccinated. New York State as a whole is doing better than the nation in the percentage of persons age 16 and up having received at least one dose: 51.5%, compared to 49.7 % nationally, age 18 and up, according to the Washington Post tracker.
New York City and its boroughs also fare poorly compared to vaccination rates across New York State and its regions. This below table, taken from the New York State Department of Health's vaccine tracker for April 17, shows the percentage of the overall population with one dose, and percentage complete, for the regions, and percentages for one dose for the individual boroughs in the City:
NEW YORK STATE VACCINE TRACKER BY REGION

NYC BY BOROUGH ONE DOSE

% One Dose

% Complete

Statewide

40.9

27.6

Kings

33.5

Capitol Region

46

32.7

Queens

41.4

Cent NY

43.7

31.6

Bronx

30.6

Finger Lakes

40.9

27.6

New York

50.8

Long Island

43.3

29.4

Staten Island

38.6

Mid-Hudson

42.4

28.5

Mohawk Valley

37.8

28.3

NYC

38.8

24.9

North Country

40.5

32.3

Sthrn Tier

40.1

28.8

Wester n NY

41.2

28.7
The city's overall vaccination rate lags about two percentage points behind the state's overall rate ( in which New York City is averaged in), at 38.8% versus 40.9%. The Bronx rate is 30.6%, and Brooklyn is 33.5%, more than ten and more than seven points behind the state overall rate. Only one region of the State, the Mohawk Valley, has a lower overall vaccination rate than New York City.
I am sure that the city and state governments are trying to get the vaccine into the arms of New York residents as quickly as possible, and are making strenuous efforts to reach the minority populations of the state (which combine for a majority in the city). But the stubborn facts presented here show that these efforts to reach the Black and Latino populations, and the elderly populations, are simply not that successful so far.
***
Jim Brennan was a member of the New York State Assembly for 32 years, where he chaired four committees. On Twitter @JimBrennanNY.
***
Have an op-ed idea or submission for Gotham Gazette? Email This email address is being protected from spambots. You need JavaScript enabled to view it.