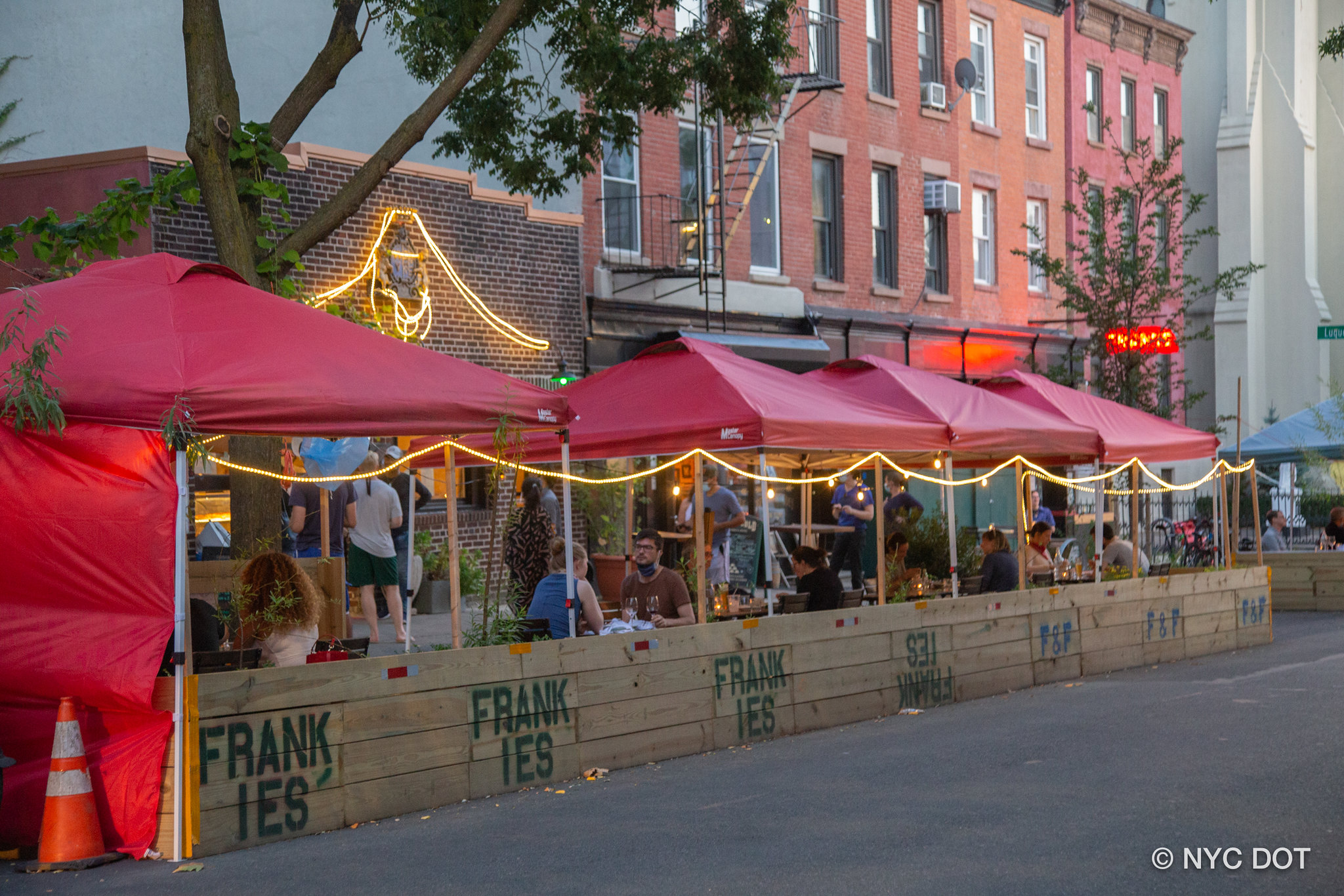 Outdoor dining (photo: @NYC_DOT)
---
Surviving as a restaurant in New York City was never easy. But more than a year of indoor dining restrictions and the economic ruin of a global pandemic brought many restaurants that were able to hold on to the brink of bankruptcy. That is why we cheered when the city announced the permanent extension of the Open Restaurants program back in September, preserving an estimated 90,000 jobs by letting more restaurants serve customers outdoors.
If properly implemented, Open Restaurants should help lessen the pandemic's economic impact on business owners and restaurant workers, including women, people of color, immigrants, and New Yorkers of all stripes who work in the restaurant industry. Unfortunately, the program has proved costly for the restaurant owners it was meant to help. It's time for the city to fix it.
Open Restaurants has been plagued by challenges from the start. Restaurants had to use their remaining cash to build outdoor structures for their customers. Then came a cascade of costly, chaotic rules and regulations that changed month to month. The rollout of the safety barrier policy – intended to safeguard patrons from the danger of passing cars – left owners frustrated after the city failed to provide the free barriers it promised, only to then change its mind regarding what types of barriers were sufficient. Many restaurants had to pay out of pocket to construct, and then re-construct, their own barriers at a time when they could barely afford to keep their staffs employed.
Six months after the program was made permanent, problems persist. Restaurant owners report that inspectors aggressively and inconsistently fine and issue cease and desist orders to "out of compliance" restaurants with hardly any time to remedy the violation.
Rather than regulating restaurants into ruin and their workers into unemployment, our city should bolster the Open Restaurants program so that it actually works with restaurants, rather than against them.
First, the city should provide restaurants with the clear guidance and resources they need to protect patrons. The city should actively engage restaurant owners to understand the hurdles they faced during the initial rollout of the Open Restaurants program; their direct feedback will better inform a regulatory framework that supports restaurants and keeps patrons safe.
Second, the city should not enforce cease and desist orders against restaurants that make a good faith effort to comply with regulations. A cease and desist order can kill a business by forcing it to shut down, at least temporarily putting staff out of work. As long as restaurant owners are taking active steps to comply with the regulations, they should feel secure in the certainty that they will be able to stay open. The New York State Liquor Authority should also adopt a similarly transparent, fair, and consistent enforcement approach to liquor licensing.
Finally, going beyond the Open Restaurants program, the city must codify its commitment to restaurants and small businesses alike. The Mayor just announced a $159 million investment in small business recovery and job training; we should increase this funding so that resources are available for small businesses in all of our communities and beyond this coming fiscal year. More so, at a time when thousands are still looking for work, we should invest additional funding in Apprentice NYC, a program that helps New Yorkers learn skills in industries including food service. Let's also make sure our small business owners are aware of these programs by committing to direct outreach and informational campaigns.
As the city works to fully reopen and support small businesses, it must take a comprehensive and thoughtful approach to address the Open Restaurants program's flaws. Before the pandemic, the city's 23,000 restaurants and bars employed 1 out every 12 private-sector workers in New York. The Open Restaurants program is our chance to save this vital industry. Let's make it stronger, so our restaurants can safely declare themselves open for business.
***
Mark Levine is currently the City Council member for Manhattan's District 7 and Chair of the City Council Health Committee. He is running to serve as Manhattan's next Borough President. Shaun Abreu is a tenants' rights attorney who represents low-income families from Northern Manhattan in housing court, and a candidate for City Council in Manhattan's District 7. On Twitter @MarkLevineNYC & @ShaunAbreu.
***
Have an op-ed idea or submission for Gotham Gazette? Email This email address is being protected from spambots. You need JavaScript enabled to view it.