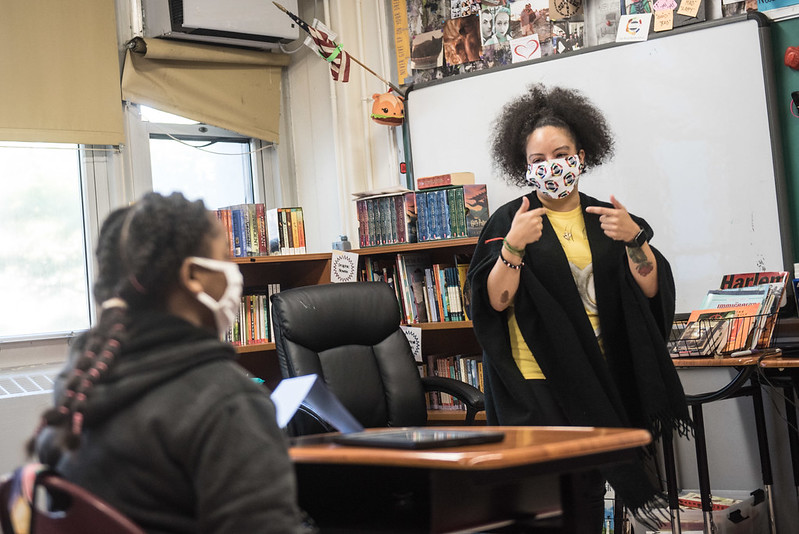 A teacher at work (photo: Michael Appleton/Mayoral Photography Office)
---
I had missed the call from my son's school because I was on yet another Zoom. When I called back, my world turned on its head as I heard words like "suspicious package" "white powder," and "lockdown."
When I reached my son's school on the Upper West Side, I found the block cordoned off, flashing police cars and ambulances lining the block, people in stark white hazmat suits going in and out of the school and terrified parents like me waiting on the periphery.
This ordeal would drag on for hours but the teachers kept their cool and kept my little guy and his schoolmates fed, happy, and safe.
Teachers are heroic. We ask them to be everything to everyone, but, as a nation, we have paid a lot of lip service to honoring them. New York City has worked hard over the years to support pedagogues and partnered with grassroots organizations like March For Our Lives to advocate for change. Last week, we celebrated our teachers during Teacher Appreciation Week. Now, we are calling on our nation to commit to supporting educators and providing them with the resources to not only do the jobs they are hired to do — teach — but the critical work they end up doing: being our children's protectors and social workers.
Schools should be havens, places where all students, teachers, and staff feel safe. Sadly, as a society we have drifted away from that ideal. At March For Our Lives, young leaders have recounted to us time and again the feelings of dread and fear they feel in their own schools, too. We were founded in the wake of a horrific mass shooting, and over the years young people have fought to lift up the great needs in our nation's schools and communities — the real world challenges that include the threat of violence.
Nearly 40,000 people are killed by firearms each year, and in recent years firearms have become the leading cause of death in children and adolescents. Teachers are often on the front lines caring for the trauma and emotional toll that this loss inflicts on our communities and on our young people, and yet they're too often overburdened and under-resourced. The pandemic has only exacerbated these challenges.
At March For Our Lives, as we've expanded our mission beyond school-based mass shootings to confront gun violence across our communities, we've heard time and time again that we need laws and trusted adults to look out for kids — to work to create the safest environment for all of us by investing in solutions that prevent violence from occurring in the first place like violence intervention programs, so that places like schools remain places of care and learning rather than fear.
In New York City government, our leadership has recognized that COVID-19 is taking a profound toll on the mental health of our youth. And so the city took action by increasing direct mental health support for thousands of students in the neighborhoods hardest hit by the novel coronavirus.
Spearheaded by the city's Taskforce for Racial Inclusion and Equity, mental health workers are working with students at 350 schools in the most economically vulnerable neighborhoods. Students who have experienced trauma – whether that be a severe illness or death in the family or a parent's job loss – now have access to group therapy sessions.
Not only are these mental health specialists providing direct services to students, but they are also providing mental health education to caregivers and school staff so that they can help address students' mental health needs. It's a model we believe is worth replicating across the nation.
As we look to all the ways to build back better from covid, we need to add more supports and resources for teachers into our plans for a "new normal." There were already gaping disparities in education pre-pandemic. As a society, we are going to have to work even harder to overcome these inequities that have only grown worse in the past year.
More than a year into this pandemic, with millions of students across the U.S. still learning from home, undoubtedly parents everywhere have gained a new appreciation for all teachers do. So let's not just talk the talk, but walk the walk.
As for my son, while I stood by helplessly outside the school with the other parents, his teacher texted to say the kids were playing, making art, and blissfully unaware of the chaos around them. Apparently, the police officers were "special guests." He still thinks that was "the best day ever" at school. He was actually bummed to leave school – for which I am eternally grateful. Teachers are superheroes.
***
Penny Abeywardena is the Commissioner of NYC Mayor's Office for International Affairs and Alexis Confer is the Executive Director of March For Our Lives. On Twitter @PAbeywardena and @AlexisConfer.
***
Have an op-ed idea or submission for Gotham Gazette? Email This email address is being protected from spambots. You need JavaScript enabled to view it.