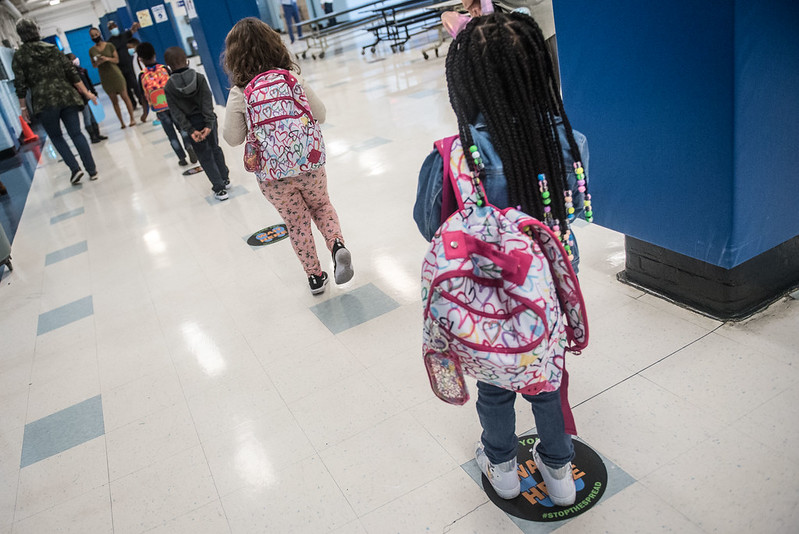 Kids back at school (photo: Michael Appleton/Mayoral Photography Office)
---
On Tuesday, April 27, my kids returned to full-time in-person school for the first time since Friday the 13th of March, 2020. But approximately 600,000 kids in New York City are still learning from home. We must do better.
One surprising outcome of this pandemic: My three elementary school daughters -- Sadie, Juno and Ruby -- were thrilled at the promise of more time in the classroom. Their first morning back had the first-day-of-school energy as they giggled at reuniting friends they hadn't seen for a year and rushed in to see their enthusiastic and prepared teachers. In their words, they were "excited and scared at the same time." And the crowd of parents matched their emotions. As the kids literally skipped into schools, parents effusively thanked teachers and administrators. It felt normal...in the most joyful way possible.
We've been more fortunate than most during this period of at-home schooling -- mostly healthy, mostly employed, with flexibility in our professional schedules that have allowed us to create alternatives to Zoom School. But the chance to go back into a classroom -- where a trained professional can invest deeply in their education and where they can interact with their peers -- are academic and social-emotional opportunities we just can't give them at home.
This return was made possible by a few changes: The reduction of social-distancing guidelines from six feet to three feet for elementary schools; the discarding of the 'two-case rule' that had led to countless closures and disruptions across the city based on a dubious public health basis; and the additional opt-in period (something we've advocated for since the fall) means more of their classmates can rejoin them. Add in the increasing evidence that schools have not been a cause of significant community covid spread and the accelerating pace of vaccinations, and it feels like a safe opportunity to end the school year with nine or so weeks closer to normalcy.
But here's the real issue: What's good for my kids isn't actually solving the problem for most kids around the city. After the latest opt-in period families decided to return roughly 51,000 students back into school buildings. With a school system that serves more than 965,000 traditional public school students that means that 62% of New York City students will not enter a classroom this year, the vast majority of which are students of color. It's clear that the city must do more to hear and meet the concerns of their families if we're to have a successful, equitable full-time reopening in the fall.
So we must continue to raise the alarm: without a clear vision for the fall that's prioritized and resourced now -- something I and others have been calling on the city to provide for many months -- we won't actually have full-time, in-person school for many New York City students, and that will hurt all of us.
There are many reasons families aren't yet returning -- and I've been talking to parents and administrators across School District 15 as well as around the city about these reasons. Some are waiting until their families or communities are fully vaccinated. Some want to see how the covid variants play out. Many chose not to opt in to this final period because they have a house-of-cards schedule of childcare that could fall at any moment and it cannot be altered. And for some students remote school removes social anxiety and distractions and is better for their learning.
But it's also become clear that many parents just aren't willing to place a bet on the Department of Education. Years of underfunding have left schools in disrepair, classrooms crowded, and many kids behind. If your school didn't have soap in the bathrooms pre-pandemic, you may not believe the school would have the resources to ensure regular hand-washing. If your classroom was overcrowded to begin with or if you experienced high teacher turnover, you might not think your child's best interests will be served during these uncertain times by heading into uncertain classrooms.
I was frustrated that the city wasn't collecting or sharing the concerns of remote families in a transparent way, making it impossible to address those concerns. So I decided to ask remote families directly, and working with City Council Member Brad Lander, we had a team of volunteers survey a geographically and racially representative set of parents and caregivers around the city about their plans for the fall. Some news was encouraging: A significant majority plan to return to in-person school in the fall. Other news less so: Most families said they hadn't been asked about their fall plans yet. Many families brought up specific health questions the city needs to address, and 8-15% said they are unlikely to return to in-person school, which can give administrators and city leaders some guidance for their planning. And one other important note: Principals are the most trusted voices on returning to school for these remote-only families, more than teachers, and far more than the Schools Chancellor or Mayor.
To get more students back in the classroom, we need to ensure schools are truly open five days a week, limit unnecessary closures that create disruptions for families, make sure teachers and staff have had adequate access to vaccinations, and ensure vaccination requirements align with other requirements across our system. Parents need schools to resume early drop-off and afterschool programs -- both for the enrichment of the students and the consistency of schedule. Our high school students must be taught by in-person teachers instead of reporting to classrooms to learn via video. And all of this needs to be communicated proactively and repeatedly, ideally by principals and teachers, who also use this as an opportunity to listen to remote families, ask about their concerns, and help address them.
Furthermore, parents need to understand the alternative: There has been talk of a remote option being offered for the fall, though there are no details or plans. Will that be provided by each school -- overburdening principals to create dual programs for another year -- or run district-wide? Will it be a citywide one-size-fits-all remote curriculum, or a series of remote academies, conducted in different languages and focusing on different learning styles? Until families understand these details, many may not commit to coming back, leaving principals uncertain about enrollment numbers and unable to make clear staffing plans, ensuring a late summer of confusion and frustration for administrators, teachers, and families.
We are seeing an unprecedented infusion of funds into our schools and how that money is spent will speak to our priorities as a community. We could decrease class sizes, expand enrichment opportunities, ensure multilingual communications, add individual and small-group tutoring capacity, invest in community-wide digital literacy, and so much more. And we can try to hold onto some of what schools have experimented with this year: smaller cohorts, more outdoor time, individual learning, a move away from standardized tests. But until we hear that vision -- and help shape it -- many families might imagine a return to in-person school will be reverting to the models that weren't working pre-covid and continuing some that haven't worked during covid.
Every day that there isn't a clear vision for the fall -- one that truly dives deep into listening to parents, beyond surveys, including through the many community-based non-profits outside the Department of Education that are serving our families and kids on a regular basis; one that draws a clear, consistent picture of what schools will look like, as best as we can know; one that gives us confidence that the "plan" won't change every few weeks, that it will keep our students and teachers safe and, just as critically, be engaging, enriching, and joyful -- is a barrier to a healthier, more equitable, more successful reopening. Our surveying is just a start to understanding these concerns and providing a roadmap for the city -- but we can build on this with more engagement citywide, including empowering principals to reach out to parents to hear their concerns, answer their questions, and give them confidence to come back in-person.
My kids have the privilege of attending a public school where the administration communicates with us through multiple channels and where the Parents Association can fund additional recess coaches to make outdoor time part of every day (including, now, lunchtime), and where, as English speakers with digital literacy, we're able to absorb the range of updates from our teachers, administrators, and city officials. And they've had the benefits both of our employer-based health care and of accessible covid testing locations, plus parents, grandparents, and aunts who have all had the opportunity to get fully vaccinated. All of that just isn't true for large numbers of our city's families.
As a result, my kids are back in a classroom, with professional teachers and many of their friends, while many are not. And if that continues in the fall, it'll exacerbate the inequities and segregation in our educational system even further. The promise of a safe and equitable full school reopening needs to work for all students and families, not just mine.
****
Justin Krebs is a parent of three elementary school students in Brooklyn, New York, a parent leader at his own school and in the community school district Presidents Council, and a candidate for City Council in District 39. These perspectives are his own and do not represent the Parents Association or Presidents Council. On Twitter @justinmkrebs.
***
Have an op-ed idea or submission for Gotham Gazette? Email This email address is being protected from spambots. You need JavaScript enabled to view it.