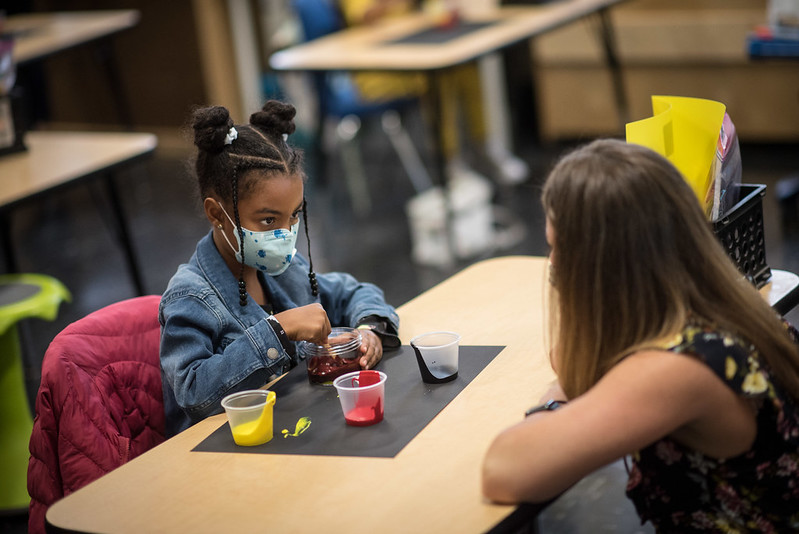 Kids in school (photo: Michael Appleton/Mayoral Photography Office)
---
The full in-person public school re-opening won't be a return to normal for the New York City school children who have suffered most from 16 months of covid turbulence, exacerbated by histories of systemic and structural racism. Their outlook on life has fundamentally changed.
As Schools Chancellor Meisha Ross Porter has acknowledged, we need more social workers in schools, lifting students' voices. But unless we as social workers and educators can also shift our approach to meet their realities, we will lose a pivotal opportunity to re-engage a significant majority of our young people.
Perhaps the question is: should we return to "normal" at all – or do we want to build a more equitable school system that fulfills the promise of opportunity for all our children?
New York City's school system enrolls 41% Latino and 26% Black students—and these students have lost parents or caregivers at twice the rate of Asian or white children. The insecurities are profound: 23% of those Latino and Black children are at risk of entering foster or kinship care and 50% of living in or falling into poverty.
Organizations such as ours that provide trauma-informed counseling and mental health services in public schools have stayed connected to our students remotely when schools closed in March 2020 and since then in person as necessary throughout on-and-off schedules and turbulent re-openings. We have seen an influx of new referrals and increased hardships, underscoring the mental health crisis emerging from the pandemic.
Now in the precious weeks and months ahead, we must accelerate our outreach with culturally-competent summer programs and ongoing mental health supports that empower students to candidly express themselves. This will give us a true understanding of the troubling emotions, experiences, and outlooks that our most vulnerable children share and endure.
This will necessitate reframing our approach to social-emotional learning (SEL), a core element of social work. Traditionally this process aims to help children understand their emotions, set and achieve positive goals, feel and show empathy, and make responsible decisions.
The shortcoming of this approach is that too often those goals are set by others without considering the context in which each child comes to school.
For a generation of children coping with the everyday realities of COVID-19 devastation, exacerbated financial hardship, and systemic racism, SEL can feel like a parallel universe to their own experience.
When children come to school hungry, how can we expect them to think about others, let alone engage with the material and participate in class? When a middle school student follows stories of police brutality toward Black men, should he really be expected to set aside his heartbreak and anger to learn about the American Revolution? Are we asking children to frame their behaviors to conform to a reality they don't experience?
Our work is grounded in neuroscience showing that the stresses of financial, food or housing insecurity can become toxic and inhibit children's abilities to learn and socialize. Establishing trust as a caring adult is proven to buffer children from factors that are out of their control.
The outdated expectation that young people can rise up "by their bootstraps" on a clearly uneven playing field needs to be replaced by an equity strategy. Right now, our credibility as a society is at stake as it never has been. Everyone should be watching to ensure we provide the right educational and social service supports for children as we emerge from the pandemic and open schools fully.
In the year ahead, we should make sure our schools feel nurturing and safe to children and families. The schools must meet children where they are, and build trust with school communities. We especially need social workers who have lived through the pandemic and have experienced systemic racism to work with and for the communities they serve, culturally-responsive teaching, and materials to which children can relate. Finally, practitioners of Social Emotional Learning must consider modifying their practice to consider children's lived experiences and the context of the school environment in which our students are often forced to navigate.
This is not only a formula for healing, but also an opportunity to empower children to use their emotions and their voices to re-imagine their futures.
This fall, when students fill New York's public schools, let's make sure their hearts and minds are in class too.
***
Travis Rodgers is Chief Equity and Strategy Officer at Partnership with Children.
***
Have an op-ed idea or submission for Gotham Gazette? Email This email address is being protected from spambots. You need JavaScript enabled to view it.