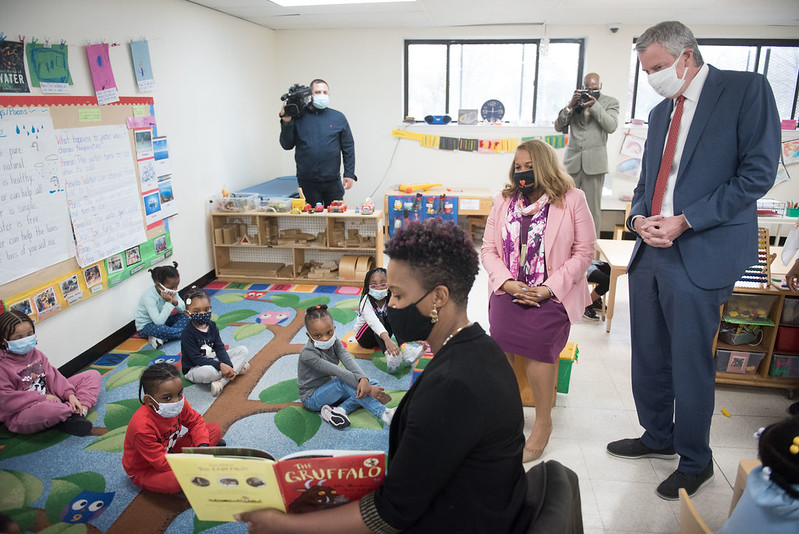 The mayor and schools chancellor at a school (photo: Michael Appleton/Mayoral Photography Office)
---
The next Mayor of New York City will need to ensure that communities hit hardest by COVID-19 can not only recover, but achieve greater economic security and prosperity in the future.
Recovery after covid and the creation of green, healthy schools for all go together.
As part of the full re-opening of the public school system, city government should prioritize installing HVAC systems and solar energy in every school. Doing so will enhance air quality, education, and health while creating career-orientated union jobs for New Yorkers.
Improving air quality control through HVAC systems will be crucial, especially as questions remain about the durability of vaccines against new variants of COVID-19. Poor air quality not only impacts student and staff health, but it can also undermine learning by negatively affecting student attendance, comfort, and performance.
This work must begin in Mayor de Blasio's final months, but it will fall to the next mayoral administration to sustain investments in HVAC systems and solar energy at public schools, especially in low-income communities of color most impacted by COVID-19 and the climate crisis.
Across the five boroughs, K-12 public schools account for one-quarter of all city-owned buildings, and they are also among the biggest climate polluters.
Investing in HVAC systems and solar energy will create good-paying jobs and careers in clean energy while enabling all public schools to become net-zero schools in the coming years and help the city dramatically reduce its climate pollution.
One key place to look for a model of Green, Healthy Schools is Staten Island. Indeed, PS 62 on Staten Island is a proven, successful model of a net-zero public school that can and should be replicated in communities across New York City. Created in partnership with IBEW Local 3, the PS 62 building has solar panels on the roof and its south facing walls to take advantage of sunlight throughout the day, allowing the building to maximize the solar energy it can collect.
The Climate Works for All coalition recently developed a Green, Healthy Schools action plan that estimates installing HVAC systems and solar energy in every public school would cost $1.5 billion.
Mayor de Blasio should begin the process of investing this $1.5 billion before he leaves office and connect this investment specifically to the reopening of schools. Such action would put the next mayoral administration in a strong position to finish the job.
The public funds to create net-zero schools are available right now. The Department of Citywide Administrative Services (DCAS) – the city agency in charge of energy management – has already allocated $3.8 billion for energy efficiency and renewable energy measures for public buildings over ten years in the capital budget. But allocation is not the same as active investment. This $3.8 billion needs to be invested. The recommended investment of $1.5 billion in solar panels and HVAC systems should be accompanied by an additional $2.3 billion investment in energy efficiency projects on other public city-owned buildings.
These investments totaling $3.8 billion will help ensure the city aggressively reduces climate pollution under the next mayoral administration while getting New Yorkers back to work.
By investing in Green, Healthy Schools, the city would establish a real pipeline of well-paid, career-orientated jobs for both new-entry workers and other New Yorkers transitioning into the clean energy industry. The creation of net-zero schools for all will enable the city to tackle the climate crisis, covid recovery, and safe reopening of schools simultaneously.
In New York City, the clean energy economy of the future should not be driven by short-term, low-skill, dead-end jobs. Instead, it should be full of good-paying, union jobs with family supporting wages and benefits. Now is the time for the city to begin to make this vision a reality through an investment in HVAC systems and solar panels for every public school in the city.
***
Maritza Silva-Farrell is Executive Director of ALIGN. Christopher Erikson is Business Manager of IBEW Local 3. On Twitter @MaritzaSf, @alignny, & @IBEWLocalUnion3.
***
Have an op-ed idea or submission for Gotham Gazette? Email This email address is being protected from spambots. You need JavaScript enabled to view it.