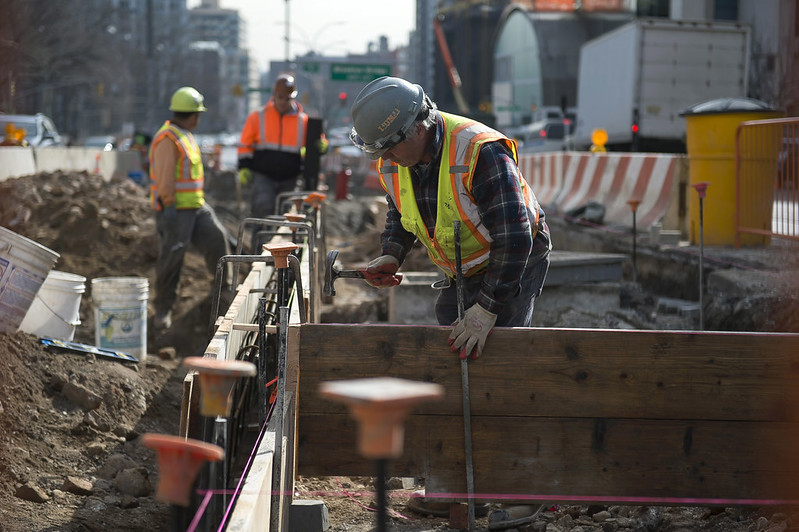 Workers rebuilding New York (photo: Ed Reed/Mayoral Photography Office)
---
To The Editor:
A recent op-ed published at Gotham Gazette, co-authored by David Meade, executive director of Building Skills New York, was riddled with classic smoke and mirrors. One might be tempted to believe that Building Skills offers a chance to build public infrastructure with skilled training, safe career pathways, and incredible pay and benefits. Unfortunately, that's far from the truth. In reality, Building Skills is a developer-backed organization churning out cheap labor for New York City's multi-million-dollar private developers, even if it means putting those workers in danger with less training and unsafe job sites.
There is of course a need for skills-training and helping ensure that New Yorkers are ready for available jobs in the construction industry. But the details really matter. The apprenticeship programs of the New York City District Council of Carpenters (NYCDCC) Training Center are all registered with the New York State Department of Labor. A carpenter trained at our Training Center earns union wages and benefits that increase regularly. Meanwhile, our internal investigations show that Building Skills graduates struggle to earn little more than minimum wage.
Low-wage workers are also more likely to be the victims of wage theft, which is why the District Council made it our mission to work with State Senator Jessica Ramos and Assemblymember Latoya Joyner to pass legislation in Albany to protect vulnerable construction workers like graduates of Building Skills. If Building Skills is really meant to provide opportunities for women and communities of color, then why on Earth are they sending graduates to job sites where they will get less pay and barely any benefits, and where they are more likely to be put in danger? It's predatory.
Building Skills also claims that their trainees will work on public infrastructure, but the developers they are associated with rarely build roads, bridges, or mass transit. Why? Well, because federal law stipulates that on those projects, workers must be paid a prevailing wage, which the developers associated with Building Skills almost always refuse to do. That is why union carpenters and contractors have been busy fixing highways across Long Island, expanding airports like JFK and LaGuardia, building schools, and fixing roads—public necessities that all our communities rely on. In addition, Building Skills does not provide the relevant experience and training required for their graduates to work on these massive and complicated projects.
The only thing Mr. Meade is correct about is that the construction industry needs to continue to aggressively provide opportunities for underrepresented communities.
In addition to the NYCDCC Training Center, there are other successful, nationally recognized programs that provide training and a pipeline to help women, minorities, and veterans such as Building Works, Construction Skills, NEW, and Helmets to Hardhats. Take one tour of the NYCDCC's world-class Training Center or visit any of our job sites to see that the 21st century union carpenters not only look like America, but unlike a Building Skills graduate, are paid a middle-class wage with benefits, job protections, and retirement security.
Every worker in New York City deserves the same pay, benefits, and retirement security that the NYC District Council of Carpenters offers. We urge elected officials in all five boroughs to work with the NYCDCC to give workers what they deserve.
Sincerely,
Joseph Geiger
Executive Secretary-Treasurer of the NYCDCC
On Twitter @395Hudson & @CarpentersNYC
***
Have an op-ed idea or submission for Gotham Gazette? Email This email address is being protected from spambots. You need JavaScript enabled to view it.