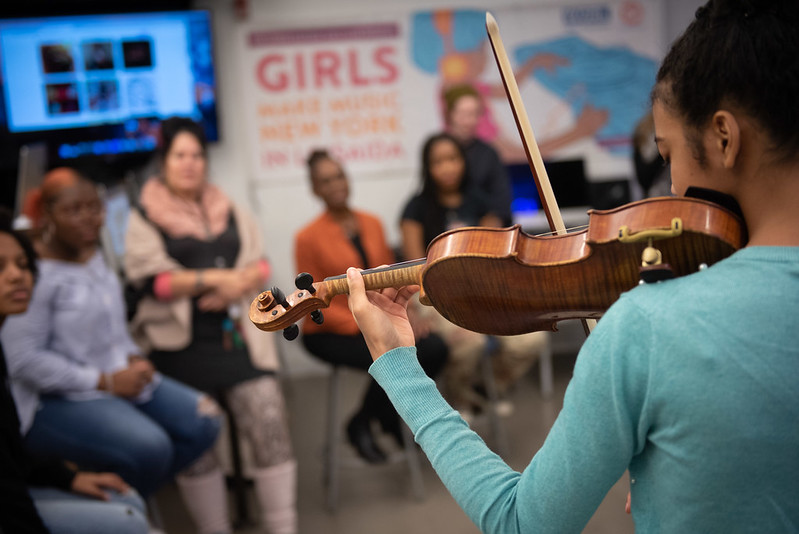 Music for all (photo: Michael Appleton/Mayoral Photography Office)
---
While Dr. Miguel Cardona, the US Secretary for Education says "music is a way for students to find themselves and learn critical thinking skills," over 50% of New York City schools have no full-time music teacher. Cardona thinks—and I agree—that music education is integral to a well-rounded education and "one of the best ways" we can nurture students' natural talents and interests.
My entire education was centered around being in the school's band. The fondness with which I look back on my time in school brought me to the conclusion that every New York City student should have access to high quality music education. It's why I began serving on the Development Board of Education Through Music (ETM), a nonprofit that provides music education to tens of thousands of New York City students. It is our belief that by limiting access to music to the wealthiest districts and families, students in poorer schools and districts miss out on life-changing opportunities.
Schools offering music have better academic outcomes. Studies show that students with music and arts education fare better academically than students who do not have access to it. In New York City, schools in low-income areas are often forced to cut their arts and music budgets. Thus these students, who are often Black and Latino, miss out on an aspect of education afforded to their wealthier, white counterparts.
Music is a wonderful way to build connections among students by supporting their social and emotional development. I was in the jazz band at my public school. We performed at school functions, and were an integral part of the school's culture. Those of us in band were able to engage with the whole school community. I made all my closest friends through music, and even started a ska band with my jazz band friends.
Building community like this can be harder in under-resourced schools with fewer field trips and extracurriculars, heightening the need for music. At Education Through Music, our teachers have found community building even more important in light of the pandemic. Playing together has helped students express their emotions. Taking the time to engage with music has given them the space to reset from the pressures of virtual learning. Beyond playing music, the classes teach students how to support one another, and listen to each other's concerns outside of academics.
New York City's economy depends on the arts and cultural sectors. Before the pandemic, the creative sector accounted for 13% of the city's total economic output. Overall, one out of every eight dollars of economic activity in the city—$110 billion in 2017—could be traced directly or indirectly to the sector. We need to remember what goes into creating the next generation of artists and workers in the music industry, and give all students the skills they need to succeed.
By withholding access to music education from students in low-income areas we are holding these students back. Music opens the door to stronger community ties, better academic achievement, and the skills needed to thrive in one of the economy's largest sectors. Music education should be thought of as an issue of equity, and approached with the same rigor and urgency as other educational initiatives in New York. Our children deserve better.
***
Arpan Somani is the co-chair of the development board of Education Through Music, a NYC nonprofit providing trained music educators to public schools who do not otherwise have them. On Twitter @ETMonline.
***
Have an op-ed idea or submission for Gotham Gazette? Email This email address is being protected from spambots. You need JavaScript enabled to view it.