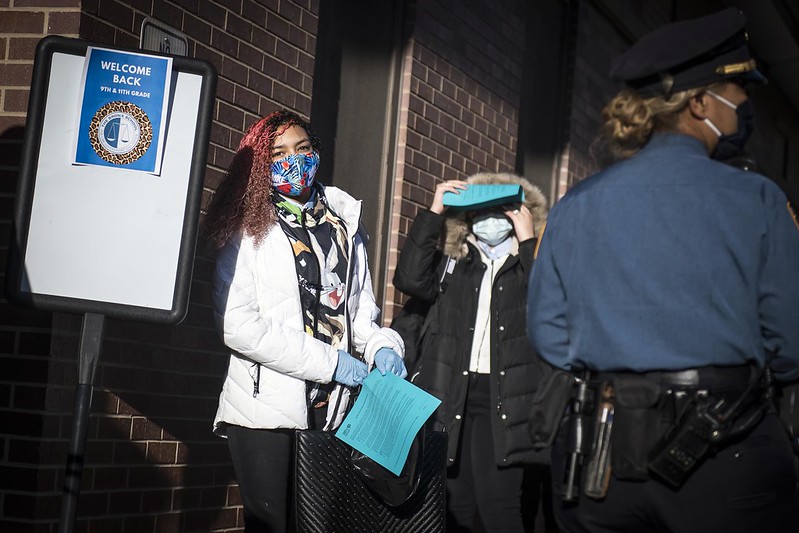 Students back at school (photo: Ed Reed/Mayor's Office)
---
The pandemic has exacerbated the mental health risks faced by students in our public schools. Last spring, in an effort to monitor students' social-emotional health, the de Blasio administration awarded an $18 million contract to Aperture Education, a South Carolina-based "social enterprise" founded in 2017, to assess students' social and emotional learning (SEL) at at all grade levels. As a public high school student, I am concerned that the tool being used, which was originally designed for elementary and middle school students, will not be able to accurately measure social-emotional skills and needs in a high school environment.
"The trauma of the pandemic has been acutely felt by our youngest New Yorkers," said Mayor de Blasio at a December 2020 press conference (announcing "a mental health plan to support students"), "we will give our kids the emotional support they need to succeed in a safe and supportive environment." Then-Schools Chancellor Richard Carranza said at the same event, "Students are only able to succeed academically when their social and emotional needs are being met…we know we'll use these tools and resources to provide our school communities with the ability to confront and address trauma while fostering a safe, supportive environment for all students."
The tool, known as the Devereux Student Strengths Assessment (DESSA), consists of a 43-question form that a teacher fills out for each student. Questions aim to assess a student's SEL competencies in eight areas: self-awareness, optimistic thinking, self-management, goal-directed behavior, social awareness, relationship skills, personal responsibility, and decision-making. Teachers are asked to note how often over the last month they have observed students engaging in particular behaviors: "how often did the youth complement or congratulate somebody?" or "teach someone how to do something?" or "accept another choice when his/her first choice was not available?" or "respond to another person's feelings?" In response, the teacher must choose "never," "rarely," "sometimes," "often," or "almost always."
These questions are based on scenarios that would be unlikely in many high school settings in which classroom activities are almost entirely focused on academic material rather than social development. I can assure you that in my calculus class there are very few occasions when one might exhibit the kinds of behaviors described in this tool. Also, unlike teachers in lower grades, high school teachers typically only see their students for one class period a day. When I showed one of my teachers the questions, he laughed and wondered how he would ever fill out the form. He also said he would be reluctant to put "never" for the majority of answers (even if he had not observed the behavior) out of fear that a string of "nevers" would raise red flags unnecessarily.
The screener was rolled out very quickly and with very little explanation in late October, and according to the agreement reached between the UFT and the DOE, the screenings were completed by December 4th. Parents immediately expressed concerns about how the collected information would be used and whether it would be kept private. But families should also be concerned that this tool is only a slightly adapted version of one created for younger children. The original version of this assessment was developed in 2008 for use in K-8 grades, and there is little available research on the effectiveness of the versions adapted for the high school level.
The research most often cited to confirm the DESSA's effectiveness is a 2018 paper by Paul A. LeBuffe, Valerie B. Shapiro, and Jenifer L. Robitaille. The authors expressly admit that while the "DESSA is currently appropriate for students in kindergarten through eighth grade, the lack of a high school version has been a barrier." Even though the "high school edition" has since been developed, it is not clear that it is age-appropriate.
New York City Department of Education officials have pointed to the positive research and reviews, but what they have not addressed is the fact that all of these reviews are based on the version for younger students. My research turned up several other studies of the screener's effectiveness but all were evaluations of the K-8 version.
Also concerning is the fact that the most cited study was not an independent evaluation. All three of the authors of the 2018 paper were involved in the creation of the DESSA tool and are in some way associated with Aperture Education: LeBuffe is Vice President of Research and Development, Robitalle is a senior research associate, and Shapiro has been sponsored by Aperture to speak at events.
If New York City is to properly address the mental health concerns of students, there should be more information and transparency about how this tool will be used to help those in high school. These screeners, which were paid for with federal covid relief dollars, cost taxpayers a lot of money, and it is not clear what the benefit will be. If so many of the screener questions do not apply to a high school setting, schools will not be able to gauge and address social and emotional strengths and challenges of the city's high school students.
***
Benjamin Fishbein is a senior at the Bronx High School of Science.
***
Have an op-ed idea or submission for Gotham Gazette? Email This email address is being protected from spambots. You need JavaScript enabled to view it.