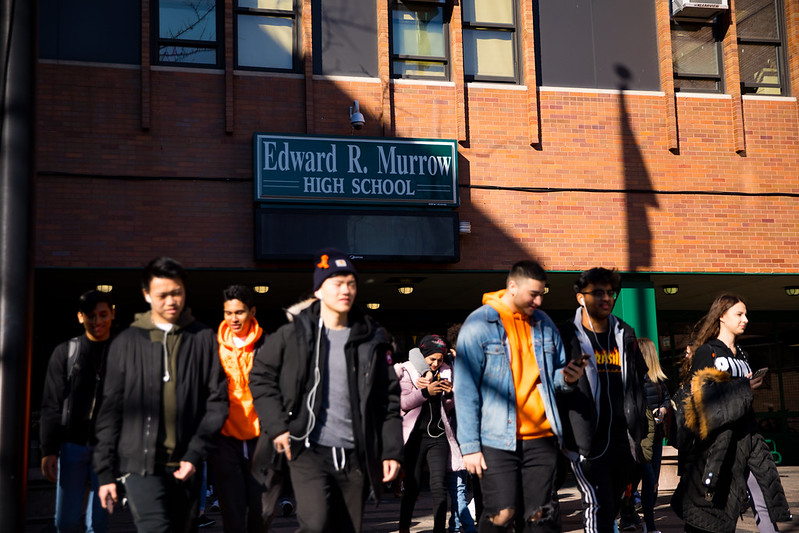 Students at school (photo: Benjamin Kanter/Mayor's Office)
---
Our more than 1,600 schools have been under "mayoral control" since 2003 when the New York State legislature gave New York City Mayor Michael Bloomberg full control of the school system. The City Board of Education (which former Mayor Bloomberg unofficially renamed the Panel for Educational Policy) has the power to approve contracts, budgets, regulations, "standards, policies and objectives" related to educational achievement and student performance, but is made up of a majority of mayoral appointees, who are terminated or forced to resign if they vote against the mayor's will.
While parents and advocates have succeeded in amending the law to insert some additional checks and balances, the ultimate decisions that affect 1 million children in the school system and their families still rest with one man: the mayor.
Last month, Governor Kathy Hochul released her Executive Budget, which includes a four-year extension of mayoral control, although it has no impact on the state budget. Parent leaders have objected to such a maneuver in the past, claiming that school governance deserves its own bill and a vote. Yet once again, we find ourselves having to argue our case against mayoral control of New York City when legislators are preoccupied with the real budget issues.
Here are the major reasons why we oppose mayoral control of city schools and believe that state leaders should enable rights-holders in New York City to create a new school governance system.
Despite what supporters of mayoral control claim, there is virtually no accountability. We know who is in charge but there is very little that rights-holders, such as parents, can do to hold mayors accountable and those who have the power, such as the Governor or members of the State Legislature and New York City Council are often unwilling to do so.
In addition, New Yorkers are not single-issue voters, not to mention that mayoral elections happen only once every four years. Both Mayors Bloomberg and de Blasio implemented policies that were failures in their first term, yet both of them were re-elected to their second term (and Bloomberg got a third term against the will of New York City voters).
While the City Council holds hearings on a variety of education issues and can require reporting on education-related matters, the Council does not have the power to require the Department of Education, let alone the Mayor, to take any action or change course. The best the City Council can do is create some level of transparency for an agency that is extremely opaque.
At the state level, the Legislature and the Governor have the power to hold the Mayor accountable by amending or enforcing the education law but neither seems willing to exercise this power. Despite more than a decade of parent leaders pleading with legislators to create more checks and balances, only very minor tweaks have been made. Instead of creating real accountability, the State Legislature and the Governor have used mayoral control as a political bargaining chip. And even in this political horse trading, they have failed to implement significant substantive changes to improve school governance in New York City.
Supporters of mayoral control have also claimed that the old school boards were corrupt. There are two problems with this claim. Under mayoral control, corruption became bigger and more importantly, one does not dismantle a whole system because of corruption. If we were to follow this logic, then neither house of the State Legislature should exist (or the Governor's Office, for that matter).
None of this may matter if mayoral control was making a positive difference in the lives of our most marginalized students. Unfortunately, it has not.
The inequities that have existed since the founding of this nation are still painfully visible in our school system. Under two mayoralties and almost 20 years of mayoral control of city schools, our schools remain highly segregated -- New York City is one of the most segregated school systems in the nation -- and our Black, brown, immigrant, low-income students, and students with disabilities continue to be neglected by a system that was created to serve white and affluent students. Even during the pandemic, which illuminated the inequities for all to see, the de Blasio administration pressed forward with policies that did not serve historically marginalized students, who suffer deeply from covid's disparate impact.
We simply cannot continue a system that does not well serve the majority of the students. Some legislators agree and have asked us what should replace mayoral control. We must first acknowledge that the nation's largest school system with majority low-income students of color must not be "controlled" by one person regardless of who it is. Second, we must recognize that the best solutions in the world come from collaborations among diverse rights-holders. Perspectives of and ideas from parents and students, particularly those historically marginalized, are necessary in developing sound policies. Teachers, support staff, and administrators also bring critical perspectives and must be at the table.
We need to create an alternative school governance system through an inclusive, collaborative, and participatory process. For some years our organization -- Education Council Consortium -- has asked the State Legislature to create a task force to develop recommendations for alternatives. Indeed, a task force established in 2002 was exactly how the current system of Citywide and Community Education Councils was created.
It is past time we focus on and invest real resources in developing a new school governance system for New York City public schools. Those politicians who decry playing politics with the education of our children must do the right thing: start a process to develop a democratic system of governance that replaces mayoral control of city schools.
******
NeQuan McLean is Co-chair of Education Council Consortium and President of Community Education Council 16. Shino Tanikawa is Co-chair of Education Council Consortium and the Public Advocate Appointee to the Citywide Council on High Schools. On Twitter @NequanMclean & @Estuaryqueen & @EducationCounc1.
***
Have an op-ed idea or submission for Gotham Gazette? Email This email address is being protected from spambots. You need JavaScript enabled to view it.