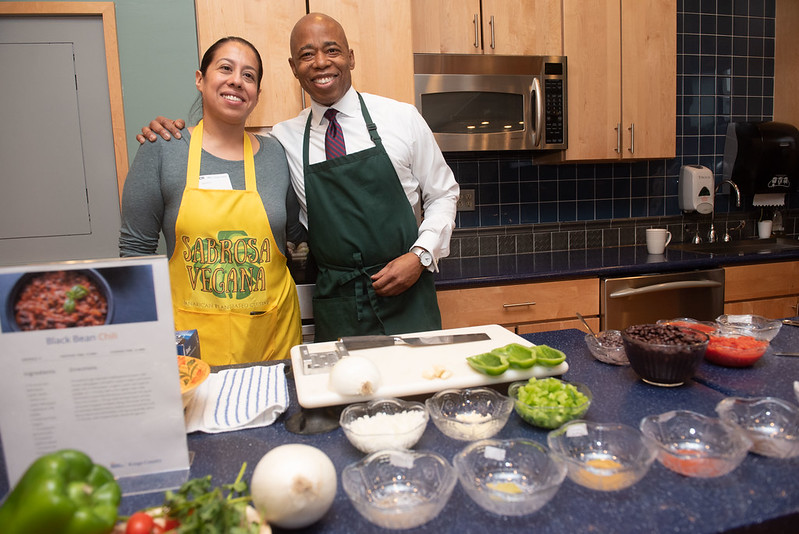 Mayor Adams at a vegan cooking demo (photo: Michael Appleton/Mayoral Photography Office)
---
The Adams administration recently announced that plant-based meals, free of animal products except for federally-required fluid milk, would be served across the New York City public school system on Fridays. Mayor Adams had been crystal clear throughout his campaign about the connection between food and health: "We must stop feeding the crisis."
Because city schools serve nearly 1 million meals each day, rolling out the program citywide presents one of many opportunities to put our public health and sustainability priorities on our plates.
What many city residents may not fully understand is just how powerful food can be in not only preventing disease but also treating it. Adams' personal experience of reversing type 2 diabetes by eating a diet predominated by unprocessed plant foods – beans, whole grains, vegetables, fruits, nuts, and seeds – is not an anomaly. Countless people affected by diabetes across the country have had results similar to Mayor Adams, and a rising cadre of healthcare professionals affiliated with the American College of Lifestyle Medicine are counseling their patients to eat diets that are primarily comprised of unprocessed plants, along with other positive lifestyle behaviors, as a first line of defense.
And it's not just diabetes: heart disease, high blood pressure, overweight and obesity, digestive problems (from acid reflux to constipation), elevated cholesterol, and many other health issues count diet as a root cause. What we put in our mouths directly affects all parts of the body as a holistic system. Dietary habits even modify our genes.
What does this have to do with our kids and vegan Fridays? Here are four reasons we welcome the change and other forthcoming health-forward city feeding policies:
Kids are getting sicker at younger ages. It's no secret that children across the country, and New York City is no exception, are experiencing the same poor health as adults. They are also experiencing high rates of ADHD, anxiety, asthma, and other chronic respiratory conditions. Children are being diagnosed with chronic conditions that used to be seen only in adults, including diabetes, and most children will have fatty streaks in their arteries, the beginning of cardiovascular disease, by the age of 10. We should not take any of these stats as a given.
Disease is not an inevitable result of the imperfect human body but a direct outcome of the poor nutritional environment our country built throughout the 20th century. Dismantling it will take tremendous effort, and our very lives depend on it.
Kids don't need animal products to meet their nutritional needs, certainly not on a daily basis. While the food groups and the food pyramid we learned about in our childhood incorporated daily animal food consumption as an essential part of a healthy diet – and our parents and grandparents told us the same – the evidence now shows otherwise.
In fact, children across history and today across the country are being raised on well-balanced plant-based diets and thriving. What's more, they have more immune system resilience, lower rates of chronic disease as they age, and healthier weight than their peers. While more research needs to be done, it's clear that one plant-based meal served at school will not create a nutritional deficiency in children. Instead, it will add critical micronutrients and fiber that are only found in plant foods, while reducing consumption of saturated fat and cholesterol, abundant in animal foods.
Serving plant-based meals introduces critical messages that plants are essential for health. As children (and adults) come to learn that plant-based meals are nourishing and even delicious, we can dispel myths and stigmas about plant-based eating. Over time, this will not only breed a culture of tolerance of different eating patterns but also has the potential to give children and families more informed choices about how to eat for health.
Schools are an ideal place for such education, and in the near-term absence of such instruction in the classroom, modeling and sharing this information in the lunchroom is a welcome first step.
Our planet depends on more plant consumption. As climate change looms large in our minds, animal agriculture is the often-unspoken elephant in the room. Raising animals and their byproducts for human consumption contributes substantially to greenhouse gas emissions. Every step our city takes, with its tremendous purchasing power, to reduce our dependence on animal agriculture helps us to return our ecosystems to health and preserve the planet for our children.
But the details matter. Just as with other meal options in schools, palatability and presentation is important. Parents reporting that their kids didn't care for the new vegan meal on its first Friday should remember that this phenomenon is not limited to the vegan meal and Meatless Mondays, already in place in city schools. In the background, our school system is working hard on cracking the code of providing meals at scale that are both nutritious and delicious, without defaulting to animal products or highly-processed foods.
As healthcare professionals, community nutrition educators, and health-conscious community leaders, we teach about whole food, plant-based nutrition to achieve the health goals we seek, and this includes a steep reduction if not elimination of refined foods like white flours, oils, sugar, and salt. Black bean burritos and Mediterranean chickpeas are a huge step in the right direction.
Here and now, we must prioritize solving our intractable public health issues that have very obvious, even if challenging, solutions. We support Mayor Adams on his quest to bring healthy eating and lifestyle behaviors into the limelight and offer new and empowering paths forward for all.
***
By Lianna Levine Reisner, President & Network Director, Plant Powered Metro New York; Michelle Loy, MD, FAAP, DipABLM; Louise Merriman, MS, RD, CDN; and Aifra Ruiz, Nutrition & Fitness Coach and New York City public school parent leader. Plant Powered Metro New York empowers people to find better health and overcome chronic disease through whole food, plant-based nutrition. On Twitter @PlantPoweredMNY.
***
Have an op-ed idea or submission for Gotham Gazette? Email This email address is being protected from spambots. You need JavaScript enabled to view it.