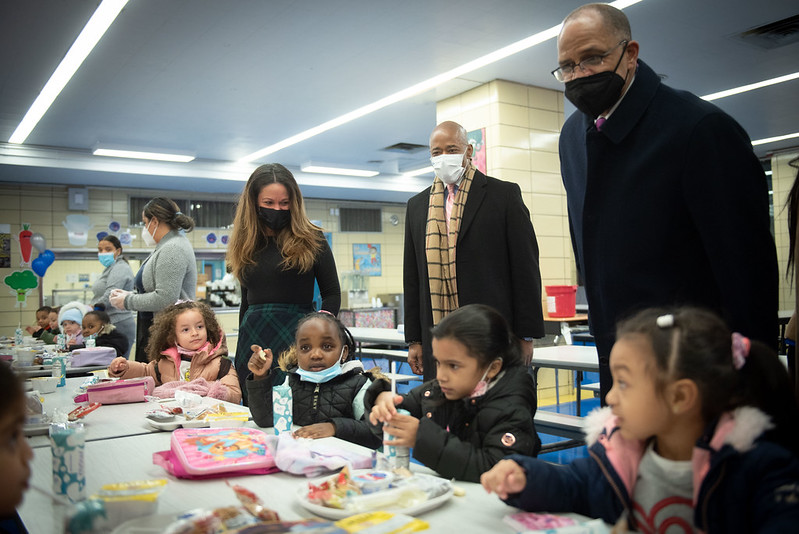 The Mayor & Chancellor at School (photo: Michael Appleton/Mayor's Office)
---
When Mayor Adams launched his campaign to improve school nutrition, he opened the door to solving a devastating and long-neglected issue that has left generations of New York City students without the fuel they need to get through the day.
We've all seen photos of disappointing school lunches over the years — the same sloppy joe's, wilted veggies, and lukewarm pizza that generations of New York City students have sadly grown up on for decades. The truth is that these meals aren't just unappealing, they're downright harmful to students. Research shows that children whose diets lack fruits, vegetables, healthy proteins and other key nutrients have lower grades and higher rates of absenteeism.
The status quo is failing our kids. It's time we address the child nutrition crisis head-on. We can turn this moment into a movement that prioritizes the health of our city's youth — starting with the food on their lunch trays.
In a city where one in three children are food insecure, the hard truth is that schools are often the only thing standing in the way of hunger for hundreds of thousands of kids. Children depend on school cafeterias and lunch hours to stay nourished - especially those from historically marginalized communities, with Black and Hispanic children almost twice as likely to live in a food insecure home in comparison to their white classmates.
The depths of this crisis were never more apparent than during the height of the pandemic, when schools went remote, yet kept their doors open as food pantries serving millions of meals to students. The incredible mobilization of our schools was inspiring, while also revealing. It demonstrated how deep food insecurity runs through our communities, and how much more we must do to ensure students get the nutrition they need to learn and grow.
The reality is that food insecurity isn't just about access to food, it's about access to nutritious and delicious food that allows people to live healthy and active lives. The research couldn't be clearer: healthy students have better outcomes, academically, physically, and cognitively. Of course, New Yorkers all recognize that kids deserve healthy meals, but with an issue this systemic, how do we address it?
It begins with a recognition that every part of the culinary process is critical when it comes to nutrition – from the farm all the way to the kitchen. It's obvious that our students need more fresh veggies, fruits, and healthy proteins, but these foods have to taste good for them to have an impact. A salad means very little if it's left half-eaten and supplanted by a bag of chips. But that's exactly what's happened for years at schools across the city that have relied on expensive third-party food vendors that simply aren't getting the job done for students and families. To solve this crisis, schools can go straight to the source.
Look no further than what has been accomplished by KIPP NYC College Prep High School, a public charter school in the Bronx, for example. For years, our school, like so many others, relied on an outside catering company that provided pre-made and uninspired lunches for students. We realized we could do better if we took nutrition into our own hands - and so we did. Today, we source and cook our own fresh ingredients and offer vegetarian and vegan lunch options every single day, all cooked by our very own culinary team, including student and alumni workers who are passionate about the culinary arts.
The results of this initiative have been nothing short of remarkable. Students are actually excited to eat their school lunches, and teachers are reporting that students are more alert and attentive in class. What started as a culinary club has expanded to a full-blown nutrition program at seven schools, serving thousands of students with sustainable in-house breakfast, lunch, and snacks every day, and a goal of soon serving all 10,000 of our students, including those sharing buildings with district schools.
Students across New York City depend on schools to nourish their minds and their bodies, and no matter what type of school they attend, they deserve nothing less. Today, schools across the city are innovating to provide better food and nutrition to their students, and in the spirit of Mayor Adams' own words, when we see excellence, we need to scale it up.
The mayor and Schools Chancellor Banks have gotten the conversation started, but it will take all of us to fix the broken school nutrition system and provide students with the healthy, delicious food they deserve. We can do it one school meal at a time. 
***
Mike Ioli is Senior Director of KIPP NYC's Culinary Team.
***
Have an op-ed idea or submission for Gotham Gazette? Email This email address is being protected from spambots. You need JavaScript enabled to view it.