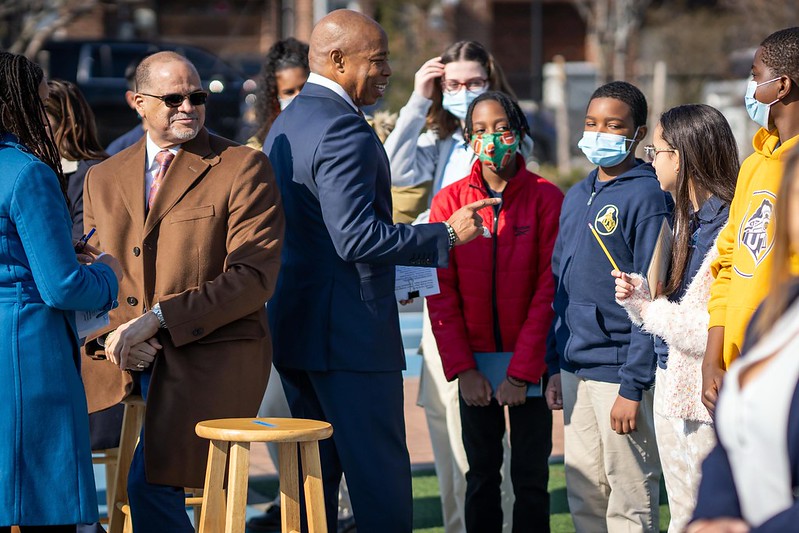 Mayor Adams, Chancellor Banks, and students (photo: Ed Reed/Mayor's Office)
---
The Trojan Horse called "Fair Student Funding" that allocates $10 billion of city funds to our 1,700 public schools needs to be scrapped. The attractively alliterative system inadequately funds the real needs of schools and, according to an unreleased 2021 Fair Student Funding Task Force study, funnels "additional resources to high schools with "higher achievers" who are disproportionately whiter and wealthier than the overall school population. It concludes "this is not an equitable funding system."
Fair Student Funding is at the heart of the current school budget crisis, with the mayor mired in debate with an abulic City Council and a lawsuit that may allay his $215 million cut to city schools but fails to address the long-term problems of declining student enrollment and erosion of federal pandemic relief funding.
Fair Student Funding (FSF) was also central to temporary rejection of FSF-based school allocations by the Department of Education's Panel for Educational Policy (PEP), a usually docile mayor-controlled body, when it mutinied over the system's inadequacies and inequities. In a hasty compromise in exchange for the PEP's approval, Schools Chancellor David Banks agreed to look into FSF's weighting of student needs including, for example, providing additional funds for students in temporary housing and foster care.
But nibbling around the edges of how FSF arbitrarily weights student-based expenses does nothing to get at the root problem of what Banks himself calls "this mess."
First, Fair Student Funding is based on district-wide assumptions out of touch with school realities. Mayor Adams based his budget reduction on total public school enrollment but individual schools don't run on these gross totals. The bulk of a school's budget is salaries and what matters to principals is not overall enrollment but how many teachers and others are needed for a given grade or class. Teachers and paraprofessionals and guidance counselors and others need to be hired based on these sub-groups.
Further, as New York Post reporting showed, when Mayor Adams promised to "fully fund" Fair Student Funding, fingers crossed behind his back, he knew he could save money by decreasing FSF's per-student allocations by assuming an across-the-board average teacher salary reduction, irrespective of a school's actual payroll.
Second, FSF only funds about 65% of school needs, so the chancellor's focus on FSF is a distraction from the larger issue of how overall school budgets are allocated by the central administration.
Check the DOE budget website where no less than five other large, highly-manipulable, opaque streams are listed. Add to this the countless off-budget grants and donations such as those from wealthy parents, which go 100% to their kids' schools, and we see that the entire scheme of school funding needs an overhaul.
No one trusts the DOE to fix this. Not only is Banks disregarding work already done by the ill-fated 2021 FSF Task Force. He compounded this disregard by designating First Deputy Chancellor Daniel Weisberg to lead the redesign effort. This is classic political rope-a-dope.
Weisberg is too busy to spend much time on the study and he played a leading role in the Bloomberg administration's original design of FSF under Schools Chancellor Joel Klein. He can hardly be expected to kill his darling. Besides, he doesn't seem to care how expenses are weighted, just minimizing the bottom line.
Testifying before the City Council last month and defending the $215 million cut to schools, Weisberg challenged the Council members to move money around, creating their own "winners and losers," while he held fast to the widespread, devastating school staffing cuts by his own agency (that the mayor and Council have been negotiating to reverse).
Instead of  Banks' suggestion of a new commission heavily weighted to administration personnel and interests, we need the non-mayoral PEP members including representatives of the borough presidents, city comptroller, and independent parent members to constitute their own task force using those officials' staff resources along with the city's Independent Budget Office to craft a new school allocation system based on professional expertise from across the country.
Banks' idea of adding volunteer members from the PEP and community is a scam unworthy of someone committed to real change. These people have neither the time nor experience to design a complex budgeting system for the largest school district in the country with a budget in excess of $30 billion. The symbolism is both demeaning and offensive.
In keeping with good public policy and democratic procedures, the PEP will have the legally-mandated last word on approving the new system. But the technical design assuring fiscal equity and adequacy among almost 1 million public school students needs serious and objective expertise under non-mayoral PEP guidance, qualities the administration has yet to demonstrate.
***
David C. Bloomfield is Professor of Education Leadership, Law, and Policy at Brooklyn College and The CUNY Graduate Center. On Twitter @BloomfieldDavid.
***
Have an op-ed idea or submission for Gotham Gazette? Email This email address is being protected from spambots. You need JavaScript enabled to view it.