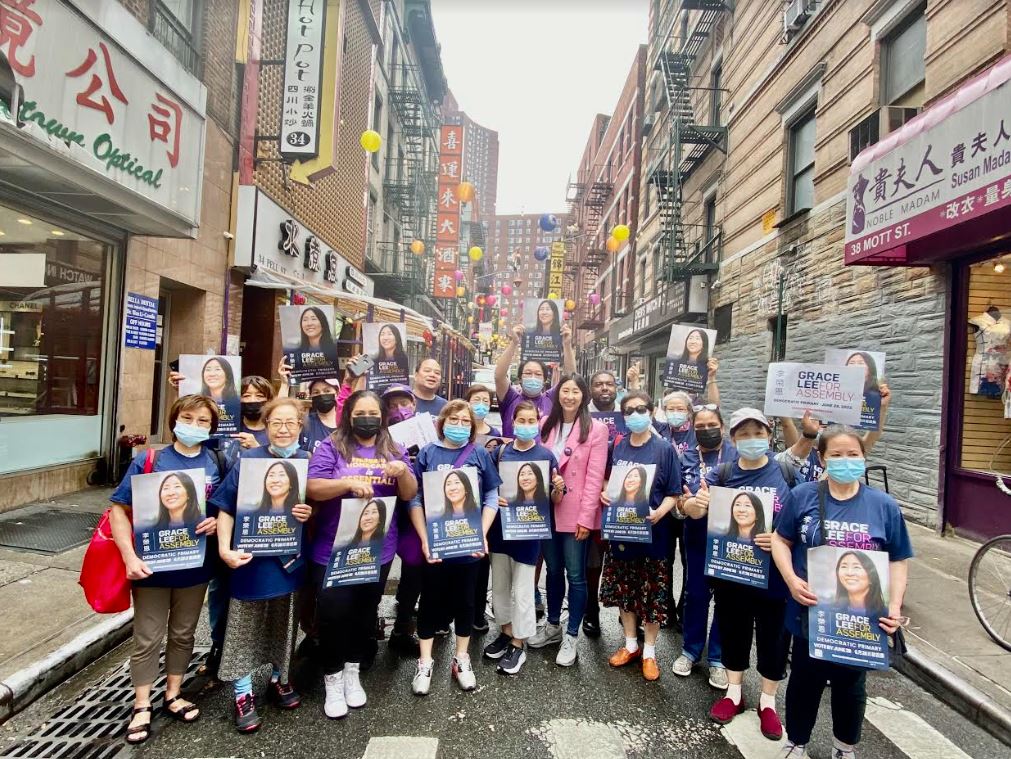 Co-author Grace Lee, center, with supporters (photo: @graceleefornyc)
---
As New York Democrats continue to assess our stunning midterm losses – including two state legislative seats in Southern Brooklyn with high concentrations of Asian American and Pacific Islander (AAPI) voters – our party must reckon with the fact that we have failed AAPI communities when it comes to both outreach and policy. 
As the fastest growing demographic in the country, Asian-American voters will only increasingly count in future elections. We are 17% of the city's population, a number that will continue to rise. We hold the power to deliver the margin of victory in competitive races and more, yet we deserve to be treated as more than just a margin; we deserve to have our voices heard and our communities cared for. 
As Asian Americans, we are deeply invested in the future of our Democratic Party – Grace is the Assemblymember-elect for the district that includes Chinatown and the only electoral district that Lee Zeldin carried in Manhattan, and Trip is one of just a few top political consultants who identify as Asian American. We are calling on Democrats to waste no time in wrestling with the consistent exodus of Asian-American voters from the Democratic Party that we have seen over the last decade. 
In 2012, exit polls showed 73% of Asian-American voters supported President Obama. Compare this to the 2022 midterms, in which 40% of surveyed Asian Americans voted for Republicans. While a presidential electorate differs from those who vote in the midterms, a 15-point drop-off is a five-alarm fire that Democrats should respond to with both urgency and intention. 
Here in New York, Lee Zeldin won plurality Asian-American districts in Brooklyn and Queens. His crime-focused message undoubtedly resonated with Asian Americans, while Democrats failed to adequately tailor public safety messaging to Asian-American neighborhoods whose residents live in constant fear of hate crimes. Our party also failed to educate Asian-American voters about how Zeldin himself helped fuel the hate that led to a nearly 400% spike in anti-Asian American violence; as a member of Congress, he repeatedly tweeted reminders that the coronavirus came from China, and he even voted against Rep. Grace Meng's resolution condemning anti-Asian American hate. 
Republicans are shameless at pursuing the votes of the very populations they have marginalized, whereas Democrats take the support of Asian-American voters, and all communities of color, for granted. The consequences are visible: just looking at a map, big blocks of red now cover chunks of Brooklyn and Queens, which could easily metastasize into other historically Democratic areas of New York. 
So where do we go from here? We need a top-to-bottom, brutally-honest assessment of what went wrong, accountability for mistakes that were made, and a clear roadmap of what needs to change. 
For starters, we need to take a hard look at the way we build Democratic power in Asian-American communities, and that begins by building trust in our political and public leaders. We need to prove that Democrats will keep their campaign promises and respond to the needs of their Asian-American constituents.
We must invest in holistic solutions to public safety and improve the economic vitality of our communities. We need to engage Asian Americans early, not just in campaigning but in actual policy-making. If Democrats want to earn the support of Asian-American voters, then we cannot steamroll an entire population when it comes to declaring sweeping changes to education and quality of life that affect communities – as the former de Blasio mayoral administration had done.
Asian-American voices deserve to be heard on issues impacting their communities, and adequate translation services should be in place to ensure that language is not a barrier to civic participation. 
We also need to examine the financial investment (or lack thereof) in how campaigns communicate directly with voters. We need to do the work of expanding our relationships to include a new generation of community activists. We need to hire campaign staff from the community and people who can communicate with voters in the language in which they are most comfortable. We also need to build a bench by recruiting and investing in Asian-American candidates and supporting Asian-American government staff and consultants as they move up in their careers. 
Our messaging, too, needs to be thoughtfully constructed to reflect the issues that Asian Americans care about, like public safety and education. We cannot use blanket Democratic talking points for every demographic, plastered on translated mailers sent two weeks before an election. But if we are doing policy right and delivering on the issues that matter to Asian-American voters, then the messaging should follow naturally. 
Above all, Democrats today need to recognize that Asian Americans do vote and we do count; across much of the country, Democrats exceeded expectations, and Asian-American voters contributed to these strong election performances. But if Democrats fail to invest in the hard work of organizing Asian-American communities now, we will continue to snatch defeat from the jaws of victory.
***
Assemblymember-elect Grace Lee will be the first Korean-American woman to serve in the New York State Legislature, representing District 65 in Manhattan. She is a community organizer and mother of three young children. Trip Yang is the founder and president of Trip Yang Strategies, a political strategy and paid media consulting firm. He was named by City & State as one of New York's Top Political Consultants in 2022. On Twitter @graceleefornyc & @TrippyYang.
***
Have an op-ed idea or submission for Gotham Gazette? Email This email address is being protected from spambots. You need JavaScript enabled to view it.