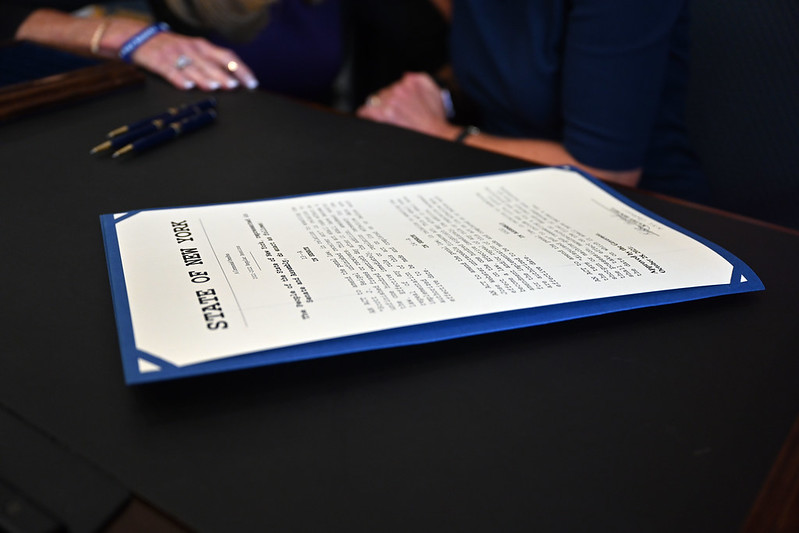 A bill on the governor's desk (photo: Kevin P. Coughlin/Governor's Office)
---
Unfortunately, Assemblymember Helene Weinstein traffics in misinformation as she claims to lay out the facts about her bill to expand liability in wrongful death lawsuits. She wrote in a recent Gotham Gazette op-ed that "there's no evidence" that insurance costs will skyrocket if the bill becomes law. Not only does common sense say that when you increase payouts to more people, the money has to come from somewhere, but there are also oceans of data that debunk her claims.
Indeed, an independent and peer-reviewed actuarial analysis finds that the bill (S.74A) will increase medical liability premiums by 40%, general liability premiums by 11%, and auto insurance premiums by 6%.
The assemblymember offers no fact-based evidence to the contrary. Weinstein cites an Illinois law that is nowhere near as broad and open ended as her bill. The Illinois law specifically refers to "pecuniary damages" caused by grief and anguish – i.e. the quantifiable damages. Her bill does not. And no other state allows for nebulous categories of damages like "any disorder caused by grief or anguish" or allows for a near-unlimited pool of possible plaintiffs..
She also mentions estimates related to Laverne's Law. As the sponsor of that bill, she is well aware that her original proposal was significantly narrowed to mitigate unintended consequences. The analysis she cites reviewed the bill as introduced by her office, not the overhauled and amended version that was signed into law.
And about those special interests Weinstein mentions? Well, local governments, doctors and hospitals, organizations representing MWBEs, and businesses of all sizes are all calling on Governor Kathy Hochul to veto this bill. The fact is, the bill's top supporter is the special interest that would profit the most: the New York State Trial Lawyers Association – an organization former-Governor Andrew Cuomo once referred to as "the single most powerful political force in Albany."
As the oft-quoted Daniel Patrick Moynihan once said, "everyone is entitled to his own opinion, but not his own facts." This goes for Assemblymember Weinstein, too. When it comes to this legislation, let's hope Governor Hochul's decision is truly based on evidence and facts and not an attempt at misdirection in service of Albany's most powerful special interest.
***
Tom Stebbins is executive director of the Lawsuit Reform Alliance of New York. On Twitter @ThomasStebbins and @LawsuitReformNY.
***
Have an op-ed idea or submission for Gotham Gazette? Email This email address is being protected from spambots. You need JavaScript enabled to view it.