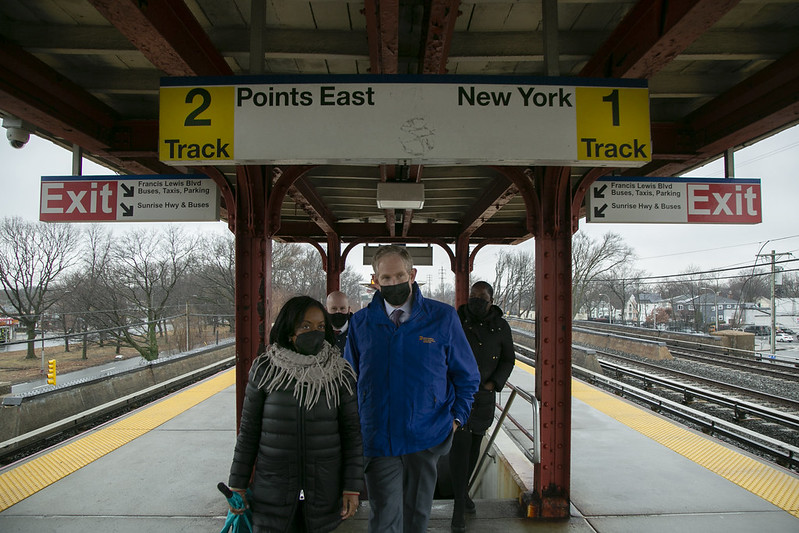 CM Brooks-Powers, left, with MTA CEO Lieber (photo: William Alatriste/NYC Council)
---
This week President Biden visited New York to celebrate a major milestone. 
More than a decade after Superstorm Sandy badly damaged the century-old train tunnels between New Jersey and New York, we're finally advancing the repair and expansion work needed. 
New funding streams made possible by the Bipartisan Infrastructure Law are finally fast-tracking this essential project that will double the number of people able to move on trains beneath the Hudson River. 
Federal funding for projects like this has historically been far too rare. Until recently, most federal transportation spending has overwhelmingly prioritized a narrow focus on expanding roads and highways. While these are important, the funding imbalance often neglected public transportation and the many millions of riders who rely on it. 
This is beginning to change. The new law takes a bigger and broader view of what counts as infrastructure. This includes $89.9 billion in funding for public transit over the next five years; $7.5 billion to build out a national electric vehicle charging network; and $50 billion to make our infrastructure resilient. 
As Chair of the New York City Council Committee on Transportation and Infrastructure, I'm especially excited about what's happening and determined to ensure we make the most of it. Here are three specific opportunity areas where increased federal funding can jump-start long-delayed transportation infrastructure work in New York City:  
Fully accessible subways before 2055.
Much of our subway infrastructure was built a century ago, long before federal laws like the Americans with Disabilities Act were put on the books. Right now, approximately three out of every four subway stations are inaccessible to New Yorkers with disabilities, older adults, families with strollers, and many more who may need an elevator, ramp, or escalator. The MTA has a plan on the table to get 95% of our stations accessible by 2055. This isn't soon enough! Dedicated federal funding can help us reach our goal sooner. 
Significant street safety infrastructure for dangerous roadways.
Over the past year nearly half of all pedestrian fatalities occurred on the most dangerous 7% of streets in New York City. We've identified these "Vision Zero" priority corridors here in New York and targeted federal funding can accelerate our efforts to reach our goal of zero deaths on city streets.
In fact, on February 14 the City Council will hold a hearing dedicated to street safety infrastructure in New York City.
We know President Biden originally proposed $20 billion for a national "Street Safety For All" initiative which was whittled down to just $5 billion in the final infrastructure law. This is an area where we need to grow, not shrink our funding commitments. 
Resilient transportation infrastructure everywhere.
In the face of climate change, we know we can't wait for the next extreme weather event to hit before taking action. We know where streets flood during heavy rains and federal help is needed particularly in areas like Brookville Boulevard in Southeast Queens where overlapping city, state, and federal jurisdictions require every level of government at the table. The science tells us to prepare for a twenty-fold increase in seasonal coastal flooding in New York City and we need to be ready.
We look forward to welcoming the Biden Administration to New York again soon to build the transportation infrastructure New Yorkers need for the future!
***
City Council Member Selvena Brooks-Powers is Majority Whip and Chair of the Council's Committee on Transportation and Infrastructure. On Twitter @CMBrooksPowers.
***
Have an op-ed idea or submission for Gotham Gazette? Email This email address is being protected from spambots. You need JavaScript enabled to view it.