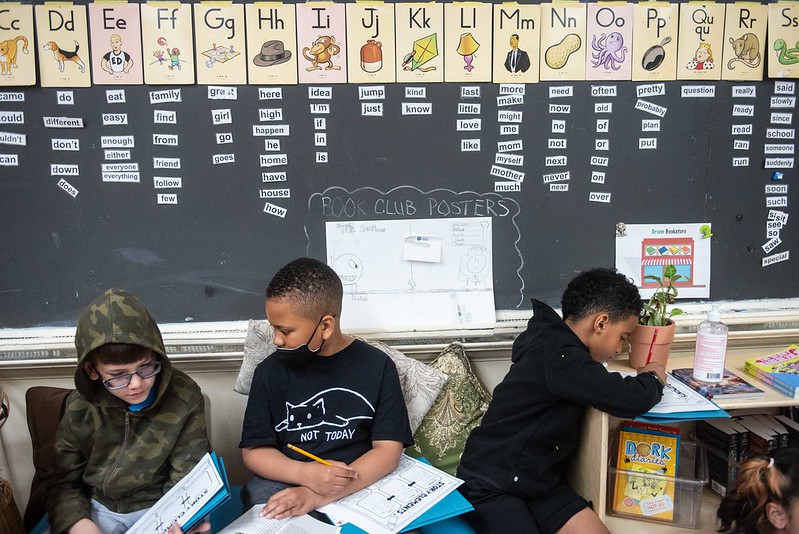 Kids at school (photo: Michael Appleton/Mayoral Photography Office)
---
The literacy rate amongst children is at a crisis level: two-thirds of fourth-graders nationwide are unable to read proficiently. This represents a complete failure to prepare our students for the most basic of life skills, in part due to the continued use of flawed literacy instruction methods. 
New York's proficient reading rates of 30% are even worse than the national average. While other states are taking significant steps to address the crisis, New York has not acted, still permitting teaching practices that have been thoroughly debunked, rather than those aligned with the science of the reading brain.
New York is also failing its teachers. Our teachers-in-training and current educators are not properly instructed on how to teach reading. School districts continue to use harmful curricula, including debunked "three cueing" strategies that emphasize looking at pictures and guessing the words. A whopping 75% of K-2 and elementary and special education teachers use three cueing despite decades of data proving it's ineffective.. The vast majority of our colleges of education are training future teachers how not to teach kids to read. 
We know what works and simply have to stop using what doesn't. Children can and must be taught to understand and recognize letters and the sounds they make, so they can decode the words they encounter, and put words together to form sentences.
The 2000 National Report on Reading identified the five pillars of literacy instruction fundamental to teaching children how to read successfully. These pillars – phonemic awareness, phonics, fluency, vocabulary, and comprehension – underpin the language-based approach to instruction that is referred to as "structured literacy."  It emphasizes highly explicit and systematic teaching that has been proven successful in building literacy. This approach is even more critical to reaching kids with dyslexia and related learning disabilities. And here's the thing: the brain research confirms it.
Mayor Eric Adams and the New York City Department of Education (DOE) recently announced the biggest overhaul to reading instruction in the public school system's history, set to begin this fall. This initiative will require city schools to select one of three curriculums that follow the science of reading. This is a promising step, and the state should follow this lead. 
This week, students, families and educators gathered in Albany again to urge the State Legislature, the State Education Commissioner, and the Governor to address these issues. We held our 8th Annual Dyslexia Awareness Day at the Capitol to share personal experiences and champion legislation to combat this literacy crisis.
One such solution is my "So All Can Read" bill to train future teachers in the science of reading. A recent report by the Education Trust - NY revealed that a major barrier to resolving this persistent problem has been the failure of our colleges of education to align their instruction with the science of reading. Other legislative solutions include a bill to screen incarcerated individuals for dyslexia and a dyslexia task force. 
Inaction has consequences. Reading scores for Black, brown, and low-income students are even lower than the national average. Students who do not reach a fourth grade reading level are more likely to drop out of high school, be unemployed, live in poverty, or face incarceration. Serious policy changes are needed or we risk continuing to leave our children behind and fueling the school-to-prison pipeline. 
***
Assemblymember Jo Anne Simon is a former teacher of deaf students (which requires language-based approaches), won a landmark disability rights case to secure testing accommodations for an individual with dyslexia on the NY Bar Exam, and served as president of the NY Branch of the International Dyslexia Association (now called Everyone Reading). On Twitter @JoAnneSimonBK52.
***
Have an op-ed idea or submission for Gotham Gazette? Email This email address is being protected from spambots. You need JavaScript enabled to view it.