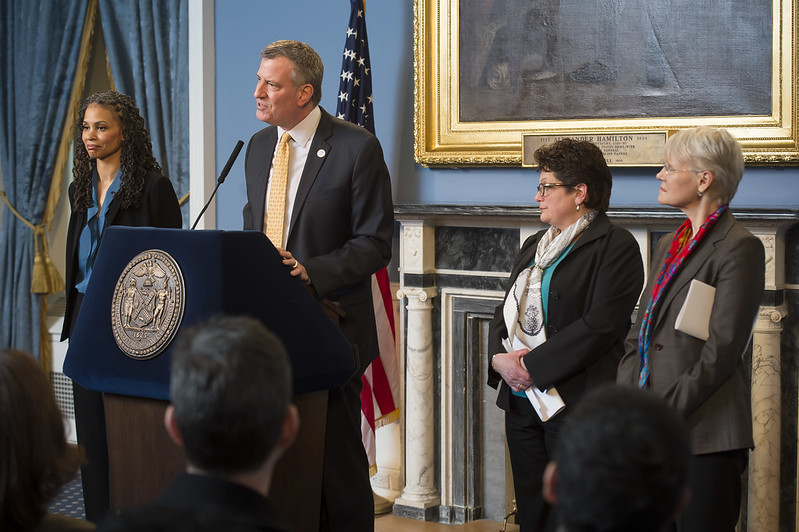 Mayor de Blasio with Maya Wiley in 2014 (photo: Rob Bennett/Mayor's Office)
---
How long can pundits wait before they can safely write-off long-shot New York mayoral candidates like Maya Wiley, Kathyrn Garcia, Ray McGuire, Shaun Donovan, or Dianne Morales? The historical answer is: it ain't over till it's over. Twice in the last half-century, long-shot candidates ultimately won New York's mayoralty. Ed Koch in 1977 and Bill de Blasio in 2013 each climbed from poll numbers in single digits all the way into Gracie Mansion. And to understand how they did it, it helps to realize that "back-of-the-pack" mayoral wins like Koch's and de Blasio's aren't a phenomenon that's exclusive to New York City.
Several big U.S. city mayors won after starting from a fourth, fifth, or even ninth position in initial polls, including Miami's Manny Diaz (first elected 2001), Kansas City's Sly James (2011), Salt Lake City's Jackie Biskupski (2015), and Chicago's Lori Lightfoot (2019). None of these future mayors had more than 5% when they first launched. Other longshots came close. St. Louis Treasurer Tishuara Jones came less than two points of a back-of-the-pack win for mayor in 2017, starting from fourth place with single digit support. (She is now on her second try, hoping to win the St. Louis runoff for mayor on April 6.)
The back-of-the-pack phenomenon crosses borders, too. I'm writing from Canada, where Toronto's David Miller tied for a distant third place in single digits in early polls before he ultimately defeated four other major candidates in 2003. Both Calgary's Mayor Naheed Nenshi and Winnipeg's Mayor Brian Bowman barely registered any support before they surged to win their first runs for office, in 2010 and 2014, respectively. Even the current Mayor of London, England – Sadiq Khan – was a dud in various polls before he began his campaign for Labour's mayoral nomination in 2015.
If you're leaning toward a situational explanation for why lightning would strike in the same way so many times, none is obvious. Some of these races were open, but not all. Ed Koch beat an incumbent, Abe Beame, in his primary, as did Biskupski, James, and Diaz in theirs. Having a non-partisan primary helps as a sort of rest-stop for back-of-the-pack candidates on their rise to the top, but it's not essential; Canadian races don't have primaries, and yet back-of-the-pack mayoral wins happen there too.
It's easier to point to factors that make mayoral elections distinct from other more traditional partisan races. As New York's most recent polling shows, the pool of likely but undecided voters tends to stay high for months into a marathon race.. In campaigns to lead cities of millions of people, turnout might only be in the hundreds of thousands, boosting the value of unexpected mobilization and GOTV tactics.
If New York mayoral election pundits are looking for some way to predict whether candidates in single digits can pull off a similar feat in 2021, the good news is that there are some historical patterns to work from. No back-of-the-pack-to-winning campaign is identical to another, but most winners share a combination of similar features. They include:
Hockey-stick support growth. Back-of-the-pack campaigns rarely build support incrementally. Instead, their support simmers up a little before it boils over late in the campaign. In his memoir, Transforming Miami, Diaz described his low polling as "a blessing in disguise…my opponents wrote me off," while Chicago Sun-Times columnist Mark Brown noted in 2019 that Lightfoot "peaked so late that those other candidates never felt it necessary to train their negative advertising on her."
A (relatively) positive tone. Studies and memoirs of back-of-the-pack wins almost always emphasize positive messaging. In 1977, even the famously caustic Ed Koch was under orders from his campaign team to avoid quips and sarcasm to project an image of steady competence. Leading with positivity is important, since the end-of-campaign surge usually depends on a growing reservoir of goodwill for the long-shot's candidacy.
Retail campaigns that prioritize quality engagement. Both the Nenshi and Biskupski campaigns relied on unusually flexible scripts for phone and field canvassers, encouraging volunteers to use open-ended questions to let voters lead the conversation. Nenshi's "Purple Army" prioritized his time for coffee parties. Koch was constantly accessible on New York streets, while Diaz built early support on foot, door to door, as if he was running for a council seat. Positive word-of-mouth built up over time is critical to scale up at the right moment.
An issue that taps the electorate's real mood. Almost every back-of-the-pack winner started with - and stuck to - a defining policy issue that was outside the day-to-day consensus on issues at City Hall, but ultimately proved to be a savvier read on what voters wanted to see as a ballot question. For Diaz, it was education. De Blasio famously set himself apart by criticizing stop-and-frisk policing as part of his "tale of two cities" refrain. For Lightfoot, Miller, and Bowman, some variation on ethics policies was decisive, while Koch's law and order push separated him from a field of more classically liberal Democrats.
Financial stamina. Back-of-the-pack winners aren't usually the biggest spenders, nor the best fundraisers. Yet| their campaigns never starve, either. In virtually every historical case, candidates relied on a personal network of contributors to maintain steady cash flow through the lean marathon months of their run. It's not an accident that many such candidates - including Miller, Diaz, Bowman, Khan, Lightfoot, and James, for example - worked for at least a few years as lawyers in private practice.
A distinctive candidate. Almost all back-of-the-pack mayoral hopefuls had some aspect of their personal story that helped them personify political change. Nenshi is North America's first big-city muslim mayor, Lightfoot and Biskupski became Chicago and Salt Lake City's first lesbian mayors, and de Blasio's bi-racial family was front and centre in late-campaign advertising.
A breakout moment. Candidates in single digits inevitably break out and scale up after one or two decisive events at the right instant, bringing the goodwill they've built to the attention of unsure voters shopping for better alternatives. Sometimes, it's an editorial or political endorsement from an unexpected source. Sometimes, it's a candidate's attention-grabbing response to a major citywide event, like Koch's call for a crime crackdown during a mid-campaign blackout. Occasionally, leading candidates take so many hits that it clears a path for the long-shot to step out with a well-timed ad at just the moment when voters are starting to move, as de Blasio did in 2013.
The good news for the long-shots is, it's still possible. The bad news for them is that they'll have to keep working, and waiting for luck to strike, to be sure.
The breakout moment often comes very late in the campaign, demanding nerves of steel for the rare few who actually pull it off. In 2013, de Blasio did not top a public poll until August 13th - a mere four weeks before voters confirmed his primary win. Ed Koch polled in fourth place just two weeks before he actually won his bitter primary showdown against future Governor Mario Cuomo. Most of the other mayors mentioned above did not even lead a single public poll before pulling off their respective primary or general election wins. Leading candidates like Andrew Yang, Eric Adams and Scott Stringer will have to keep at least one eye on their rear-view mirror for now, since the breakthrough window for most historic back-of-the-pack wins can be measured in weeks or even days before election day rather than months. And New York's primary is still more than eleven weeks away.
***
Brian Kelcey is a Canadian writer and consultant specializing in urban politics and policy. On Twitter at @stateofthecity.
***
Have an op-ed idea or submission for Gotham Gazette? Email This email address is being protected from spambots. You need JavaScript enabled to view it.