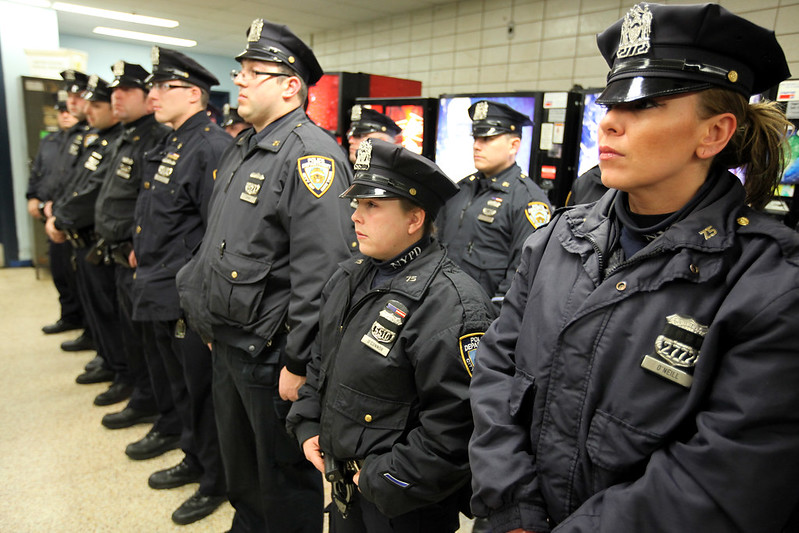 NYPD officers (photo: Ed Reed/Mayor's Office)
---
The conviction of former Minneapolis Police Officer Derek Chauvin for the murder of George Floyd provides some comfort to all of us that no one is above the law.
Patrick Lynch of the Police Benevolent Association (PBA), the union representing front-line New York City police officers, said it clearly. "What Derek Chauvin did that day was not policing," Lynch said after the verdict was announced. "It was murder."
The verdict has re-energized a debate, nationally and here in New York City, about policing and the role police play in maintaining fair, effective, and unbiased public safety on our streets. Where I differ from my colleagues in this year's Manhattan District Attorney Democratic primary race is my understanding and embrace of the fact that the NYPD is an essential and irreplaceable partner in rebuilding trust between communities and the police force. The demonization and demoralization of men and women in blue hurts all of us in every corner of the city.
Rebuilding that trust includes recognizing the reality of racism, whether overt or implicit bias, inside and outside of police departments, which reflect the broader challenges racism poses in the society at large.
I have spent two decades in public safety on both sides of the courtroom, as a prosecutor under the late Manhattan District Attorney Robert Morgenthau and for the last 12 years as a defense attorney. Nobody is above the law — not police officers or anyone else. That is why voters must look for a District Attorney with the judgment and commitment to initiate criminal prosecutions against police officers when justified and appropriate.
But voters must also look for a District Attorney who understands that public safety is a team effort, including community leaders and residents, other elected officials, and of course the NYPD officers themselves who work every day to maintain safety and security. That means understanding that some of the same communities where activists have been most vocal in calls to defund the police are the same communities that bear the burden of being the most victimized by crime.
Lynch is right to call for an "honest discussion of policing and public safety that begins with the real challenges we face on our streets."
And I agree with the calls to rationalize and humanize our criminal justice system, and to provide offenders a path to a productive life once they have served their sentences. That is why, for example, I applaud the recently passed bill in Albany to restore voting rights to parolees to help them reintegrate into society.
The hallmark of effective law enforcement and public safety requires balance and accountability across the board – for police officers such as Chauvin, but also for the Assistant District Attorneys I will supervise, and for the offenders who commit crimes on the streets of Manhattan, undercutting the quality of life for all of us. I applaud the conviction review units in various District Attorneys' offices around the city that have led to the vacating of past convictions based on unfair trials, freeing inmates from an injustice that taints that trust in public safety we must all be committed to restoring.
It also means well-intentioned reforms in bail have gone too far. It is one thing for someone accused of committing a misdemeanor, for example, to be released on their own recognizance for the first, or even a second, offense. But when the same person is arrested for a third or fourth or fifth offense, as happens with distressing frequency, that accused offender should be put through the system and brought before a judge who can assess if bail is appropriate and whether intervention for mental health or substance abuse issues would be best for the accused and for the community where the offenses were committed.
And it means a rejection of 'defund the police' rhetoric, which the Rev. Al Sharpton has characterized as "latte liberalism" reflecting the ideological predilections of some activists who do not have to live with the constant threat of crime that so many in communities of color face on a daily basis.
Reallocating police resources to agencies better equipped to handle issues involving homelessness and mental health, for example, makes sense, though not at the expense of public safety.
Ultimately, restoring public trust requires that we recognize that we are all in this together, including the police officers we depend on to keep our streets safe.
***
Liz Crotty is a Manhattan lawyer and Democratic candidate for Manhattan District Attorney in the June primary election. On Twitter @LizCrotty2021.
***
Have an op-ed idea or submission for Gotham Gazette? Email This email address is being protected from spambots. You need JavaScript enabled to view it.