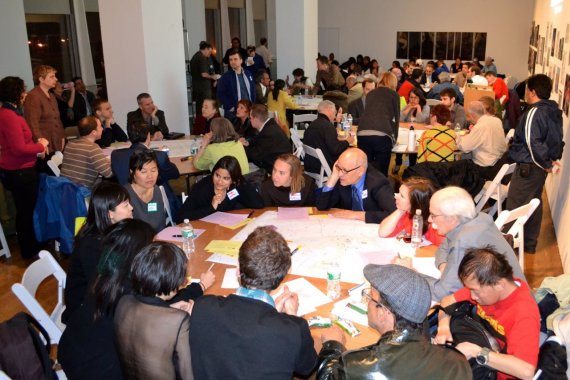 FC Queens community meeting
---
For decades, the Willets Point area in Queens has loomed large in the daydreams of real estate developers and city planners. Redevelopment plans for this neighborhood of mechanic shops and other small businesses have been floated for decades, but none have come to fruition.
Now that the city has all but abandoned a fatally flawed Bloomberg-era plan for the area, a new plan for cleaning up Willets Point is still needed, but it must better address the needs of the low-income and working-class Queens community in which it's located. There are several specific ways in which this goal must be realized.
Several years ago, the Bloomberg administration made a deal with Related Companies and Sterling Equities to redevelop Willets Point to yield the developers enormous profits, but with little commitment to build affordable housing. But a court ruled against the development, because it would have unlawfully allowed a shopping mall to be built upon part of Flushing Meadows-Corona Park.
Mayor de Blasio's administration recently decided not to join the developer in appealing a judge's decision to ban the mall's construction without real concessions from the developer toward meeting the community's needs through affordable housing development.
As the Fairness Coalition of Queens (FC Queens) has been arguing for years now, the last thing that Queens needs is another mall. What the Queens residents in the area do need, and deserve, is the following.
First and foremost, Willets Point needs to be cleaned up. The site has been highly contaminated for more than a century. Now that the city has spent millions displacing dozens of vibrant small businesses from the area, it's at least time to remove the toxins from our communities' backyard.
Second, as affordable housing becomes ever more scarce in Queens, it's vital that Willets Point be used to build truly affordable housing—with a substantial proportion of units that are affordable to the many local residents earning 20 to 30 percent of Area Median Income.
Third, with jobs so hard to come by for local Queens residents, the Willets Point development must ensure that local residents are granted hiring preferences, with strong training and apprenticeship programs to provide career pathways for local workers.
Fourth, whoever ultimately develops Willets Point should be required to contribute significantly to the Flushing Meadows-Corona Park Conservancy and be partners in improving the park to better serve Queens residents.
Finally, the community must be deeply involved throughout the planning process. FC Queens, an umbrella group of dozens of faith, immigrant, housing, and youth-serving agencies, has been at the forefront of preserving open space and expanding affordable housing. The administration and its chosen developers need to engage our stakeholders in this process to ensure that the next plan for Willets Point is one that actually works for Queens residents.
We all want a bright, new future for Willets Point, but it must be a plan that puts the needs of Queens residents first. Otherwise, the history of failed development plans for this prized Queens site will continue to repeat itself.
***
Javier H. Valdés is the Co-Executive Director of Make the Road New York, the largest grassroots community organization in New York offering services and organizing the immigrant community, and a member of the Fairness Coalition of Queens. On Twitter: @maketheroadny.
***
Have an op-ed idea or submission for Gotham Gazette? E-mail editor Ben Max: This email address is being protected from spambots. You need JavaScript enabled to view it.