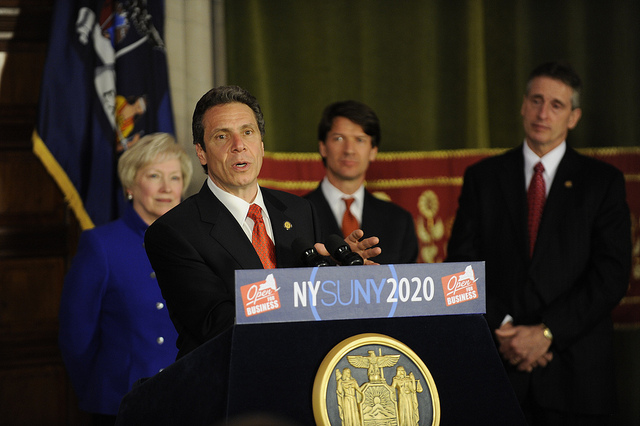 Gov. Cuomo and SUNY 2020 (photo via The Governor's Office)
---
If New York wants to put students first, it must align financial aid statute
with the updated federal FAFSA.
FAFSA (Free Application for Federal Student Aid) is the form that has been used to determine how much federal financial aid, and in some cases institutional financial aid, students receive since the early 1990s. Over the course of the last several years, the Obama Administration has worked to streamline the process, including an Executive Order announcing that beginning with the 2017-2018 academic year, FAFSA completion will utilize tax data from the year prior to the previous tax year (also known as "prior-prior") to make it easier for students and families to complete this critical form.
This is a change that advocates like NYSFAAA and Young Invincibles have been pushing for years. And, New York must act this year to bring its processes to meet the same type of standards.
So why are these changes such a big deal for students? In short, it can be incredibly difficult for students to find and use their previous year's tax information. Let's not forget that in many cases we are asking high school students to understand, process and use complicated tax information. Many students who complete the FAFSA before April of any given year end up using estimated tax information if they or their parents have not yet completed the most recent tax return.
This causes complications for both students and colleges, as families end up having the difficult task of trying to estimate their income information, and in turn schools end up having to award aid based on these estimates. Corrections to the data after taxes are actually filed can throw students who are already enrolled in a college for a serious and detrimental loop. What's worse, the aid pool can dry up while these institutions wait for accurate information. Either way, in some cases the aid they thought they could have suddenly seems to just disappear and with it, potentially the dream of going to school.
Most states are equipped to accommodate this transition to prior-prior year income data without a change in state law. New York, however, is one of the states that cannot seamlessly make this transition, and right now because of this students are going to bear the burden.
Completion of the New York State financial aid application for TAP (Tuition Assistance Program) requires by law that only prior year income be used in the determination of awards. This creates a disconnect between the federal aid application and the state aid application, making the system incredibly confusing and difficult for students to navigate. Fixing this disconnect and eliminating this burdensome requirement, as the federal system has done, could be the difference between a student going to college and a student being left behind by our state.
To remedy this problem and ensure that the application itself doesn't become an unnecessary barrier to aid, a statutory change in New York is needed that would require TAP to use prior-prior year income data. While there are a number of necessary reforms needed to bring the Tuition Assistance Program into the 21st century, this statutory change to align with federal regulation is common sense and an easy lift, and it must be done before the end of the legislative session in Albany.
The rising cost of getting a college degree is already a barrier to many New Yorkers, the financial aid application process should be the least of their concerns.
***
by Sue Mead, Government Relations Chair for the New York State Financial Aid Administrators Association, and Kevin Stump, Northeast Director for Young Invincibles NY.
***
Have an op-ed idea or submission for Gotham Gazette? Email This email address is being protected from spambots. You need JavaScript enabled to view it.