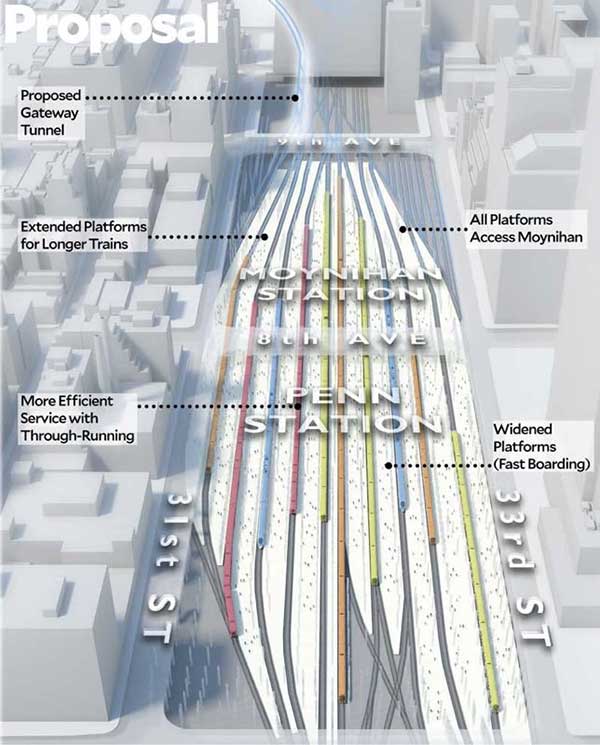 ---
The original Penn Station was an architectural masterpiece. The most ironic part about removing it in a "monumental act of vandalism," though, is that as a transit facility the original Penn Station had serious flaws. In fact, the platforms and tracks haven't been significantly altered in more than a century.
Unfortunately, those flaws are growing more obvious by the day. Narrow, crowded platforms and grossly inadequate stairs and escalators are a constant source of delays, dangerous overcrowding and frustration for commuters. But most importantly, Penn Station is not actually a station for most passengers – it's a terminal. The difference is not merely semantic; in a terminal, trains must cross each other as they enter and leave, making it far less efficient than a through-running station. Even when this doesn't cause delays, it severely limits capacity and ensures every train has to travel more slowly in Penn.
Twenty-five years ago, we could tolerate these inefficiencies, but passenger counts from Long Island and New Jersey have skyrocketed. Any major investment plan for Penn Station must be focused on solving the cause of commuters' misery. Amtrak's Gateway Program and the new Moynihan Station, if optimized, could do so.
Phase 1 of Gateway would add two new critically-needed tracks between Newark and Penn Station. Phase 2 of Gateway, though, includes a new terminal station—Penn Station South. This would require the demolition of an entire city block at a price tag of $8 billion to build another inefficient terminal, and do nothing to alleviate conditions in the existing station. Those funds are better spent on improving Penn and regional connectivity.
This alternate plan would remove the need for Penn Station South, provide additional economic opportunity for the entire region and the opportunity to invest in projects that create smoother and smarter commutes. Through-running is the key to unlocking the ReThinkNYC vision. Highlights of that vision include:
First, build new facilities in the Bronx and New Jersey so it is possible to operate Penn Station as a through station. NJ Transit trains could be extended to Queens, the Bronx, and then along existing Long Island Railroad and Metro-North Lines; similarly, Metro-North and LIRR could be extended to New Jersey.
Next, widen and lengthen Penn's existing platforms – and use the 31st Street side of the station for eastbound trains and the 33rd Street side for westbound ones, regardless of final destination. Universal "smart" ticketing between the systems can help erase arbitrary distinctions.
This would allow nearly 50% more trains to use the station.
NJ Transit would no longer need to use Sunnyside Yards, making it possible to instead build a major station across the East River that would have access to all of the region's 26 commuter rail lines, Amtrak, both Penn Station and Grand Central, and seven subway lines. Sunnyside could be the new East Midtown.
In Port Morris, the light industrial neighborhood east of the Bruckner Expressway and south of Hunts Point, commuters could catch NJ Transit and Metro-North – and an extended Second Avenue Subway serving the Bronx.
An AirTrain under the East River to an expanded LaGuardia Airport would provide a quick, convenient single seat ride for millions.
New Yorkers once dreamed of, and then built, big projects. Now, in this post-Robert Moses, post-urban renewal era, planners are taught to think "politically" smaller. This approach has prevented us from addressing transportation systemically and holistically. It's time to think big…again.
***
Jim Venturi is Principal and Founder of ReThink Studio. On Twitter @jimventuri and @RethinkNYCplan.
***
Have an op-ed idea or submission for Gotham Gazette? Email This email address is being protected from spambots. You need JavaScript enabled to view it.