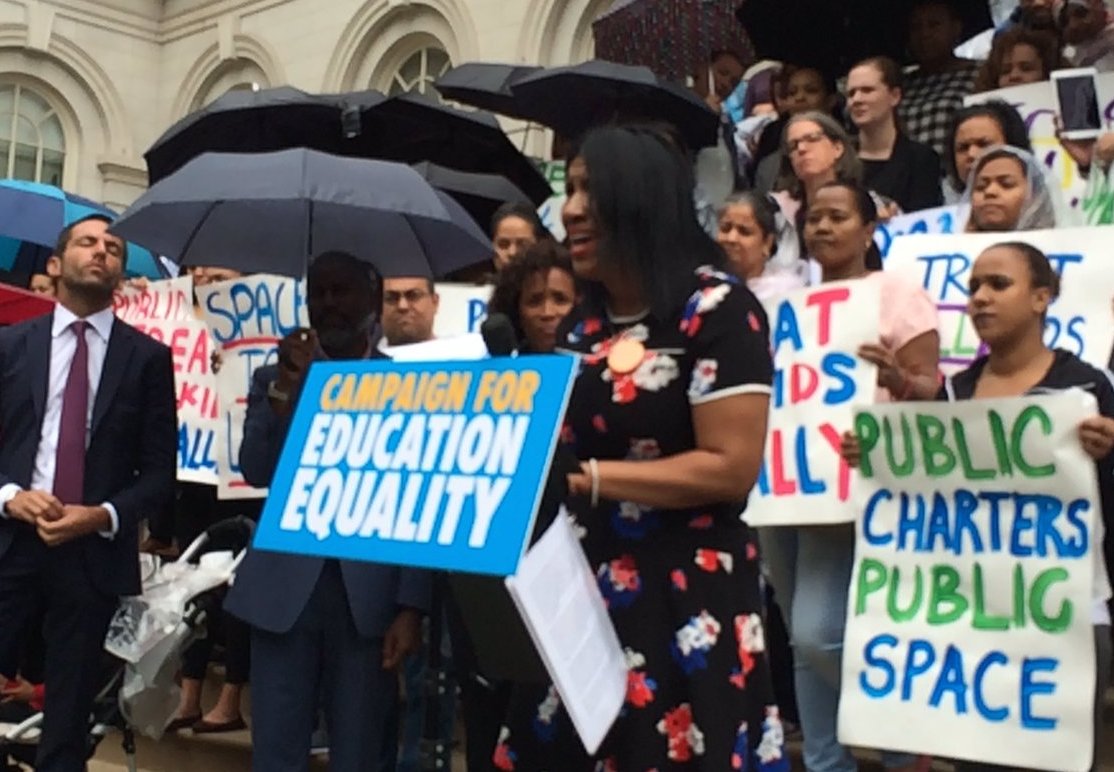 A charter school rally (photo: @SuccessAcademy)
---
Questions: How do you turn a 25 percent graduation rate into a misleading claim of 100 percent success? When does a school's 30 percent proficiency rate on an 8th grade reading test translate into the assertion that nearly half of the students passed?
Answer: when charter schools do their own accounting, and authorizers allow them to paper over the fact that huge percentages of the children who start in charter schools get driven or eased out.
Charters claim that they serve the same children as city public schools, but the truth is that they enroll and keep half the percentage of English Language Learners, dramatically fewer special education students, including those needing the highest level of intervention, and far fewer children who are homeless or in temporary housing.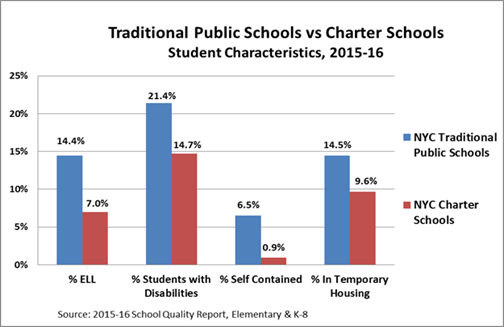 Not content with starting out with more favorable demographics, many charters then rely on student attrition, boosted by draconian discipline strategies, to keep their academic numbers up. In New York City, charters enroll 8% of the students but account for 45% of the suspensions.
Suspensions and pressure on students who struggle academically help charter schools force or ease out students with learning difficulties. And unlike regular public schools, charters often leave empty seats vacant.
As one charter organization -- Democracy Builders -- noted, when schools refuse to "backfill" or replace students who leave, the result is charters hyping their results ("artificially inflating perceived performance" in Democracy Builder's words).
Here's how it works.
At Success Academy Harlem 1, 73 students began first grade in 2007. By now this class has dwindled to 18 students as they reached the 11th grade. Assuming all 18 stay this year and graduate, Success Academy will no doubt claim a graduation rate of 100 percent. But in fact there are only 18 "survivors" of the original 73; even if all 18 graduate, the school should only take credit for a grad rate of 25 percent of the original cohort.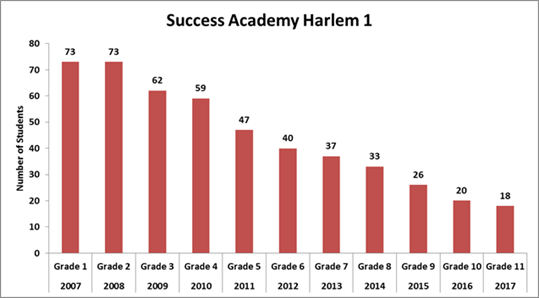 The same logic can be applied to test score claims. Teaching Firms of America Professional Prep Charter School in Brooklyn claims that nearly half -- 47 percent -- of its sixth graders were proficient on the most recent state reading test. But that sixth grade class had only 36 students, far short of the 57 students who were in that class in third grade.
So counting the vanished children, only 30 percent of the original cohort actually scored proficient on the 2017 reading test, a rate well below the 40 percent passing rate average for all public schools.
None of these facts will stop charter propagandists from repeating misleading claims about their schools' "success." But charter authorizers, especially the SUNY Charter Schools Committee, need to be considering these issues as charters come up for re-authorization.
The committee has recently taken a tougher line against some charters, criticizing the chair of the board of Success Academy, Dan Loeb, for his indefensible statements comparing the actions of State Senator Andrea Stewart-Cousins and teachers unions with the KKK.
But the committee's recent proposal -- to permit some charter schools to drastically reduce the amount of preparation teachers must undergo in order to be certified – is an ill-considered favor for a sector that has proven itself not only incapable of honest accounting, but also unable to retain a qualified workforce.
If charter schools are to perform their original mission -- to act as laboratories of innovation -- it is up to authorizers to ensure that charter schools take seriously their obligation to educate all kinds of children, and to give New York parents a realistic view of both their successes and their failures.
***
Michael Mulgrew is the President of the United Federation of Teachers. On Twitter @UFT.
***
Have an op-ed idea or submission for Gotham Gazette? Email This email address is being protected from spambots. You need JavaScript enabled to view it.
Note: this opinion column has been corrected to reflect that one organization cited is Democracy Builders, not Democracy Prep as originally stated.