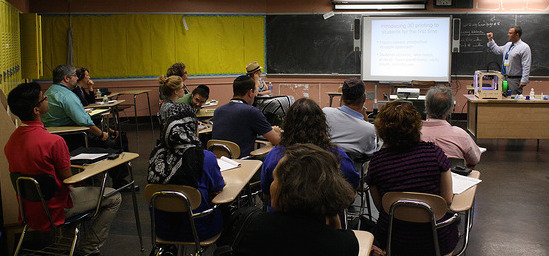 (photo via NYC Schools on flickr)
---
High school can be rough. Our children and students are frequently insecure, uncertain, and grasping to find their way in a new and unfamiliar environment. Some students have to deal with not only that, but also the fact that they don't speak English.
For most English Language Learners (ELLs), one safe haven has been their English classroom, where a teacher understood their special needs and made sure no one made fun of their inevitable errors and struggles with a new language. But the most recent revision of Commissioner's Regulation Part 154, which governs how English as a second language (ESL) instruction is distributed, has largely withdrawn that support system. For example, beginning ELLs who formerly took three classes daily in direct English instruction may now have as few as one.
Instead of ESL classes, New York State purports to blend English instruction into other courses. For example, in the daily 40 minutes that an United States-born student has to study, say, the Civil War, ELLs are expected to study both the Civil War and English. So not only do they get less English instruction, but they also get less instruction in history than native speakers. Principals may see it as a win-win. They can dump ESL classes, add nothing, save money, and hope for the best.
I don't know about you, but if I went to China tomorrow, I'd want intense instruction in Mandarin or Cantonese before I ever attempted opening a history book. I want the best for my students, and that includes as much English instruction as possible. Expecting children to master history before being able to order a pizza or even introduce themselves is remarkably short-sighted, reflecting total ignorance of language acquisition.
I know a Spanish teacher, dual-licensed in ESL, whose principal asked her if she minded the school using her class to grant ESL credit to students. Can you imagine newcomers studying Spanish and getting credit for English? Any administrator who thinks you learn English in a Spanish class may need to rethink their own accreditation. And any administrator who cynically places ELLs in situations where they won't learn English needs to find a more suitable line of work.
A friend teaches social studies in Brooklyn. In his class, currently oversized with 41 students, he has several ELLs. There is an ESL teacher who comes in Tuesdays and Thursdays, and New York State says they are therefore getting English instruction. I have no idea how. My friend says the class is completely incomprehensible to the students. Yet there they sit, and twice a week an ESL teacher sits in the same room. According to New York State, they are therefore learning English.
This is personal for me. I'm an ESL teacher. I have gifted young colleagues in danger of losing their positions for no good reason. Under Part 154, any subject teacher can take 12 credits, teach any subject whatsoever, and have New York State assert her students are concurrently learning English. That's magical thinking. Learning a language is an intense experience for both student and teacher. It's inconceivable to me that ELLs will acquire not only English, but also an academic subject in the same time native English speakers acquire the subject matter alone.
We've finally moved on from Regents Chancellor Merryl Tisch and her particular embrace of corporate education reform. It's time for her esteemed successor, Betty Rosa, to embrace policies that support the most vulnerable among us. In the Trump era, my students have enough to worry about.
ELLs don't need backward, baseless policies that deprive them of fundamental support in order to save a few bucks. The city and state teachers unions, UFT and NYSUT, have resolved that newcomers need more instruction in English, not less. That's common sense. It's time for the Regents to awaken from their slumber and follow our lead.
***
Arthur Goldstein is an ESL teacher and UFT chapter leader for Francis Lewis High School. On Twitter @TeacherArthurG.
***
Have an op-ed idea or submission for Gotham Gazette? Email This email address is being protected from spambots. You need JavaScript enabled to view it.