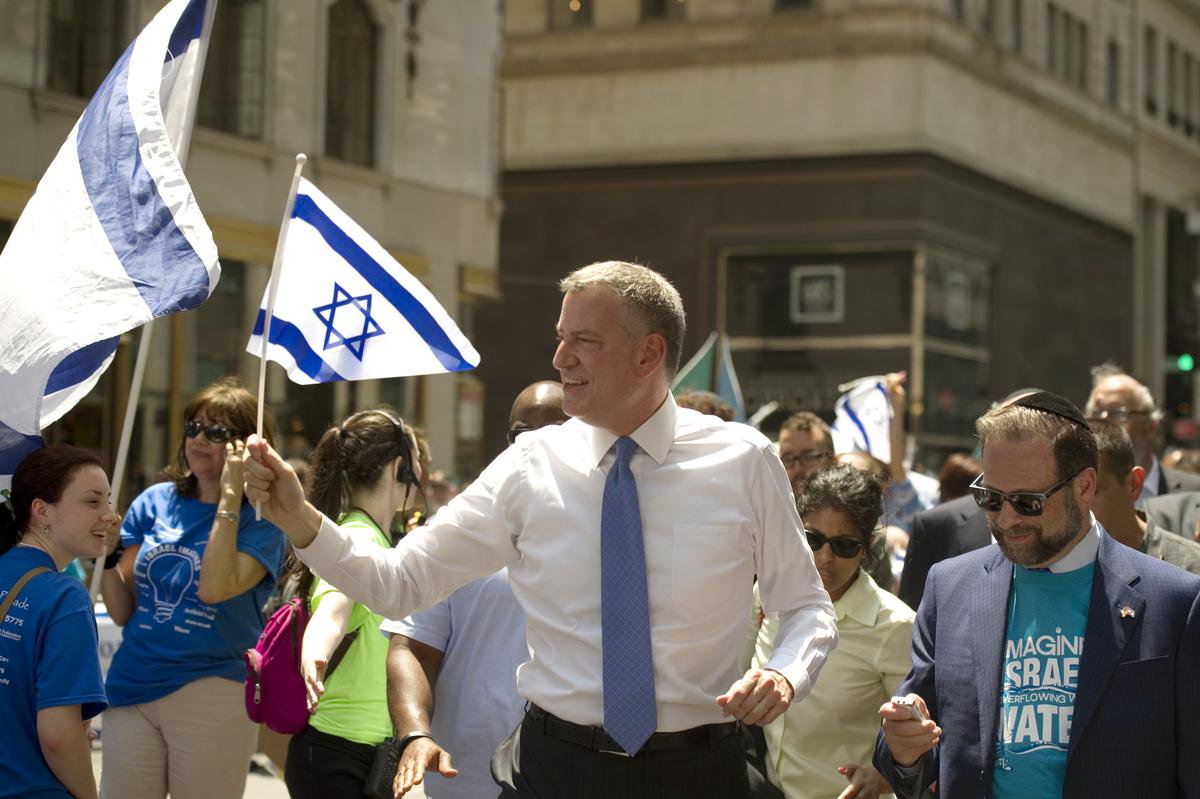 Mayor de Blasio (photo via The Mayor's Office)
---
For Mayor de Blasio, controversy over some ultra-Orthodox Jewish day schools' duty to provide students with required secular studies may turn into a significant second term scandal. Yeshiva-gate, as it could be called, may imperil de Blasio's next four years, after the mayor kicked the can down the road throughout his first term, with a long-stalled investigation still incomplete.
The Mayor-controlled city Department of Education is obligated under State Education Law to assure that nonpublic schools within the district provide education "substantially equivalent in amount and quality" to requirements for public school students. This includes consistency with State Learning Standards for all children ages 6 – 16 in English, social studies, math, science, technology, visual arts and music, physical education, career and home studies, health, and library/information skills.
The Mayor understands this mandate, having stated at a recent town hall meeting, "We have a legal requirement to make sure that the proper education happens in every kind of school."
But a 86-page September report, "Non ≠ Equivalent," by Yaffed, an advocacy organization, documents that a sub-group of ultra-Orthodox yeshivas provide far from adequate secular studies, with male adolescents especially short-changed. Many students have come forward attesting to the crippling economic and social effects of their inability to communicate in English and their ignorance of basic math, science, and technology. The Netflix documentary "One of Us," as well as Yaffed-produced videos, present numerous heart-breaking examples of ultra-Orthodox yeshivas' systemic flouting of the Education Law. Press exposés have appeared in the Times, Post, Daily News, NY1, and CBS, among others.
Despite this overwhelming evidence, a promised report by the Department of Education has failed to materialize. After over three years and numerous missed deadlines only six of the 39 schools supposedly under review have been visited and then only under strict yeshiva controls. The investigation has now taken more time than the Warren Report on the Kennedy assassination yet there is no end in sight. Chancellor Carmen Fariña has repeatedly side-stepped the issue, dismissing criticism as politically-motivated.
Enter the New York State Court of Appeals, the state's highest court. Last February, in People v. Flanagan, the Court interpreted the elements of Penal Law § 195.00, Official Misconduct. There, a student's heist of $3,000 worth of school electrical equipment eventually led to the conviction of a high-ranking police official who failed to pursue the investigation on behalf of the student's father, a friend. The Court held that "the defendant, acting alone and with others in his official capacity, caused the abdication of the inherent duty to investigate...where there was overwhelming evidence." Sound familiar?
Further, the required mental state for conviction of Official Misconduct is "the intent to obtain a benefit or deprive another of a benefit." Here the Mayor's Yeshiva-gate actions fail both prongs. The yeshivas gain from the Mayor's failure to assure legal compliance by continuing to receive millions of dollars in public aid provided to them for ostensibly secular purposes. For de Blasio, behind the thin veil of his dilatory investigation, is the clear benefit of Orthodox leaders' electoral support, with thousands of bloc votes supplied by their followers. The other side of the coin is the deprivation to yeshiva students of mandated secular studies. Case law makes clear that the benefit and deprivation need not be monetary and the official's actions don't have to be successful. Just the attempt is enough.
A strong case can be made that the Mayor is guilty of illegal action ("malfeasance" in legal terms) and inaction ("nonfeasance") in this respect, violating both subsections of Section 195.00. A Freedom of Information Law request by Yaffed for City communications on the yeshiva issue was filed years ago yet is still unanswered. If the FOILed documents are ever produced – or unearthed by prosecutors doing their job – they will likely reveal orders to stymie the DOE's yeshiva report. Just as glaring is the Mayor's obvious inaction, a crime since he has a duty to investigate, as in Flanagan.
Similar charges are viable under the related Penal Law, Obstruction of Government Operations. There appears to have been interference with the routine administration of required nonpublic school oversight. That, too, is a crime.
All of this makes de Blasio vulnerable to removal from office by the Governor under section 9 of the City Charter. While he might be sorely tempted, it is unlikely that Cuomo would take such a step after de Blasio's re-election victory. Removal over Yeshiva-gate would also pit Cuomo against the Chasidic community, a statewide, as well as local, political force.
Should the Manhattan District Attorney, who has jurisdiction, bring and win a case carrying a jail term of up to a year, resignation under pressure could occur. De Blasio has escaped D.A. Cyrus Vance's clutches before, coming close to breaking election laws and earning Vance's scorn but not charges. Now Vance is under greater pressure to prosecute the powerful. This time the Mayor may have stepped over the line.
***
David C. Bloomfield is Professor of Education Leadership, Law and Policy at Brooklyn College and The CUNY Graduate Center. He is the author of American Public Education Law, 3d edition and other works. On Twitter @BloomfieldDavid.
***
Have an op-ed idea or submission for Gotham Gazette? Email This email address is being protected from spambots. You need JavaScript enabled to view it.