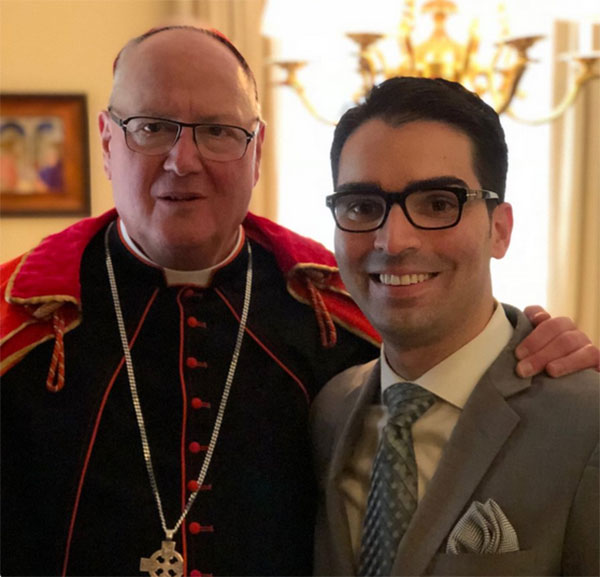 Eric Ulrich, the author, right, and Cardinal Dolan (photo: @eric_ulrich)
---
In the coming months, the city and state education departments are expected to rule on an issue that may have huge repercussions for parental school choice and religious freedom. A small group of former yeshiva graduates have alleged that religious schools in Orthodox Jewish communities are failing to provide adequate education to students. As an avid supporter of parental choice, I worry education leaders will side with these critics, posing a threat to private schools well beyond the Jewish community.
Many years ago, I attended P.S. 63, an elementary school in Queens. My mother, a single parent and devout Catholic, made the decision to transfer me to the former Nativity of the Blessed Virgin Mary School, a Catholic elementary school. She wholeheartedly believed Catholic school was a better environment for me at the time – and it was. Appreciative of the opportunities Catholic school afforded me, I continued my religious education at Cathedral Prep Seminary High School.
As the product of both public school and Catholic school education, I recognize the importance of parental school choice. The values instilled in me through my religious upbringing and education paved the way for my career as a public servant. Attending Catholic school ignited my passion for helping people; and at one point in my life, I seriously contemplated becoming a priest. If my mother did not have the freedom to enroll me in the school of her choice, I might not have taken the path I've taken, which I have found extraordinary fulfilling.
During my time in office, I have visited many yeshiva schools. In each of those visits, I saw a vibrant atmosphere. It is clear to me the Orthodox community takes education seriously. The school day begins just after sunrise, and the majority of yeshiva students study long after they are dismissed. Their studies are deeply rooted in the Torah and Talmud, which encourage discussion and debate at a very young age. Their studies focus heavily upon religious and legal texts, and teachers employ a method of Socratic dialogue with students more commonly found at law schools. That may not be a familiar experience for graduates of traditional secular schools, but tens of thousands of parents choose these schools each year because yeshivas have served them – and their families – well for generations.
The narrow issue before officials is whether these yeshivas are adhering to a vague state regulation requiring private schools to provide a substantially equivalent education to that of public schools. What that means in practice is enormously subjective; private and religious schools throughout the state are awaiting the results of a looming "clarification" from the State Education Department with deep trepidation.
Government officials are being subjected to a pressure campaign by anti-yeshiva activists, who continuously attack the Orthodox Jewish community under the guise of educational quality. We must continue to protect freedom of religion and the rights of parents to send their children to religious schools – whether they are Catholic, Islamic, or Jewish. If we do not stand-up for yeshivas today, the future of other private schools may be next.
***
Eric Ulrich is a City Council member representing parts of Queens. On Twitter @eric_ulrich.
***
Have an op-ed idea or submission for Gotham Gazette? Email This email address is being protected from spambots. You need JavaScript enabled to view it.