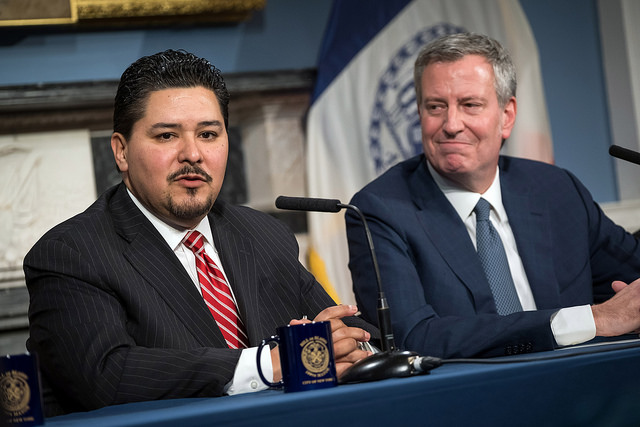 Mayor de Blasio and Chancellor Carranza (photo: Ed Reed/Mayor's Office)
---
According to press reports, Mayor de Blasio, First Lady McCray, and First Deputy Mayor Fuleihan were the key decision-makers in appointing our new schools Chancellor, Richard Carranza. They now must let Carranza lead.
De Blasio had worked with Carmen Fariña for decades, so her appointment was a no-brainer. But when it came to finding her replacement, his secretive process blew up. Alberto Carvalho, the mayor's first choice, publicly repudiated the job after taking it, reportedly because City Hall attached strings to his hiring authority. The micro-managers are now doing the same to Carranza. It has to stop.
First, soon-to-be-former Chancellor Fariña appointed herself to some ambiguous job placating warring co-located schools. Then Aimee Horowitz, the senior administrator for the beleaguered Renewal Schools program, was transferred from that post to assist Fariña's efforts.
Installing the old chancellor in another job and reshuffling other leadership positions before Carranza arrives belittles an already hobbled second-choice candidate.
Mayoral control should not mean that chancellors become lap dogs to political expediency. In setting an agenda of continuity from on high, the mayor is sacrificing educational improvement to claim his previous education agenda as the single path to quality.
That's nonsense. Whatever Fariña's accomplishments, the system has yawning failures. Barely 40% of 3rd through 8th graders are proficient in reading, fewer than 30% for black and Latino students according to 2017 state test scores. Citywide math scores are even lower, with only one in five black students meeting proficiency standards. Graduation rates stand at about 70%, but only half of grads are deemed "college ready." Add to that severe shortfalls in educational attainment by students with disabilities, English language learners, and students experiencing homelessness, and the mayor's rosy picture seems less about progress and more about his next campaign.
Leadership untethered from claims of "Mission Accomplished" is needed for further progress and mid-course corrections. This can't be done by a mayor wedded to his own record.
First, of course, is giving Carranza the ability to select deputies who know the system but are answerable to him, not City Hall. Next, he needs to be able to speak out not as a ventriloquist's dummy but as someone who has already led two urban school districts.
Carranza's statement that there is "no daylight" between him and the mayor better not be true. We are not talking about the Sun God here. De Blasio is prone to mistakes and it is up to Carranza to push back when issues arise, as when he needs to take on the politically powerful teachers union in upcoming contract negotiations.
Then there are policy matters where the mayor needs to take a step back. Carranza actually used the word "segregation" at his initial press conference, something the mayor regularly avoids. Taking on the multiple achievement gaps left to him will mean confronting widespread enrollment issues that de Blasio has so far refused to tackle.
Coming from outside the system after a secret search, a runner-up already scarred by gender-bias allegations and mixed reviews of his previous experience, our new chancellor must bring new thinking and new energy to the table. De Blasio has already done him a disservice by cocooning Carranza, who faces great challenges. But the greater challenge is the mayor's to let his hand-picked leader lead.
***
David C. Bloomfield is Professor of Educational Leadership, Law and Policy at Brooklyn College and The CUNY Graduate Center. On Twitter @BloomfieldDavid.
***
Have an op-ed idea or submission for Gotham Gazette? Email This email address is being protected from spambots. You need JavaScript enabled to view it.