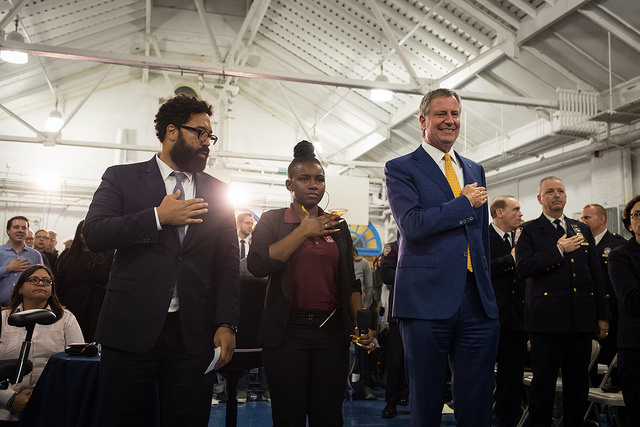 (Edwin J. Torres/Mayoral Photography Office)
---
Critics of the test used for admitting students to New York City's specialized high schools -- Brooklyn Tech, Stuyvesant, Bronx Science, and five others -- failed to properly assess this year's test and admission results because they yearned for a more robust increase in offers to black and Latino students, when compared to the year before. The city had improved the test and increased outreach and free test prep, all efforts intended to redress their underrepresentation, but in a school system where more than 70 percent of students are from black and Latino families, just 10 percent of the seats in the specialized high schools were offered to students from those communities.
This disparity is unacceptable. But so too is a failure to properly analyze the test and admission results, and thereby call the city's efforts a total failure and demand simply that the test be eliminated in one way or the other. Such an approach overlooks what is and can be done to help remedy the city's decades of neglect in many of the schools serving black and Latino communities.
While a sudden turnaround was not to be expected, this year's test results did show that as a percentage of all offers, there was a small increase in offers made to black students. In absolute terms, 207 black students received offers compared to 194 the year before. On the other hand, Latino admissions declined by 10, to 320 from the latest test. Because both white and Asian offers of enrollment declined this year, both absolutely and as a percentage of total offers made, it could be argued that these results potentially show an inflection point for black admissions. However, since the students self-identifying as "multi-racial" nearly doubled, to 128, and because the race of 419 others is unknown, it would be premature to make such a claim.
Also ignored by critics of the test, was any appreciation of the city's contradictory efforts.
On the one hand, it increased free test prep. On the other, it changed the test, making it harder to prepare. While the Brooklyn Tech Alumni Foundation, which I head, supported changing the test to make it better aligned with what is supposed to be taught in our schools, and thereby mitigate against a test prep advantage, we shouldn't entirely ignore this issue in our discussion of the latest test's results.
Notably, while 450 more Asian students took the test this year, fewer were admitted this year than last in both absolute and percentage terms. Because the accusation has frequently been made that the test's results are skewed because so many Asian students do test prep, the city's effort to mitigate test prep advantages may well have worked. Since the city is again changing the test to be administered later this year, by, for example, including poetry, a fair and proper assessment of the city's efforts may take a few more years.
Other efforts can and should be made. One step the city could take is to revamp the Discovery Program – a long-standing, if unused, program which lets "disadvantaged" students who fall just short of the test's cut-off score get a second chance for admission. By a targeted redefinition of what "disadvantaged" means, focusing on the underrepresented schools and communities, more high-performing black and Latino students will have increased chances for success.
Another effort that should be adopted is the bill in Albany sponsored by Bronx State Senator Jamaal Bailey, a Bronx Science graduate, that mandates administration of a free and voluntary practice SHSAT, the specialized high school test, to be offered in sixth grade, with students receiving an analysis of test results to identify areas in need of improvement before the test is given in eighth grade. We give a PSAT for obvious reasons, why not a PSHSAT?
Alumni from all eight test-in schools believe deeply in increasing diversity at their schools, but believe just as deeply in keeping the test as the single criterion for admissions as an objective measure immune to the kinds of influence many more affluent white families use to gain entry for their children to better schools that use the kind of subjective criteria that Mayor de Blasio and others have said should replace the test. For example, the student body of Brooklyn Tech, which sits in the middle of Brownstone Brooklyn, is 80 percent students of color.
The decades of declining enrollment in specialized high schools experienced by the black and Latino communities correlates with the elimination of enriched educational programs at many of the elementary and middle schools in these communities. Today only 15 middle schools account for over half of the students in the specialized high schools; none are in black or Latino communities. A fair assessment of the city's efforts simply cannot ignore the impact of decades of neglect by the Board of Education and its successor, the Department of Education.
Ultimately, the city needs a plan to promote the creation of pipeline middle schools located within the black and Latino communities of our city. This requires the creation of vibrant gifted and talented programs in the elementary schools and enriched coursework in the middle schools. The new chancellor would be well-advised to create such a plan.
At the same time, efforts to increase outreach, free test prep, reconfiguring the Discovery Program to enroll more disadvantaged students from black and Latino communities, among other measures, can help to promote more diversity at Brooklyn Tech and the other test-in high schools. Such efforts should be fairly and accurately evaluated, not skipped over in a rush to demand elimination of the test.
***
Larry Cary is a Manhattan lawyer and president of the Brooklyn Tech Alumni Foundation.
***
Have an op-ed idea or submission for Gotham Gazette? Email This email address is being protected from spambots. You need JavaScript enabled to view it.