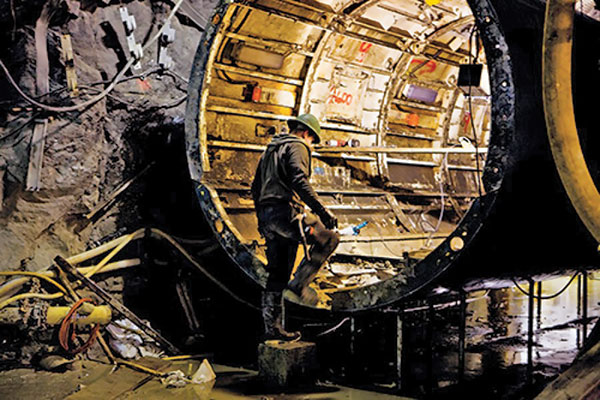 ---
Development and infrastructure are among the most widely discussed topics in New York City. Over the last few weeks, for example, City & State hosted the Rebuilding New York Summit focusing on infrastructure, financing, and policy; an article came out regarding MTA contracting reform; and several City Council members had a press conference to call for an investigation into MTA spending. But typically missing from the conversation are the people actually doing the work. When workers are mentioned, it's usually to argue that the costs associated with labor make it harder to take on or to complete new projects. These recent instances fell right into this familiar pattern.
The New York State Laborers' Organizing Fund, which participated in the Rebuilding New York Summit, was pleased to be able to provide the perspectives of our more than 40,000 members -- men and women who work day-in and day-out to keep New York running. Our members in New York are skilled, knowledgeable, and professional Construction Craft Laborers including cement and concrete workers, drill runners and demolition specialists, asphalt pavers and asbestos workers, sandhogs, or tunnel workers, hazardous waste workers, and more.
This workforce paves our roads, builds our railways, bridges, and utilities. The Laborers ensure this workforce is well-trained, safe, and sustained so that it may continue to build and repair projects for years to come. Workers receive competitive wages to support themselves and their families, safety and skills training, health Insurance, and savings toward retirement. The unionized construction industry provides workers with a sustainable career, which raises the bar for non-union workers as well, and benefits everyone in society.
Investing in infrastructure is necessary. It contributes to economic growth by producing reliable and quality projects which allow New Yorkers and products to move around more easily. It supports the continually increasing population of the city, as well as those who visit it. And finally, it creates jobs and increases the demand for a skilled workforce. But we cannot talk about the building and infrastructure needs without including those who will physically do the often dangerous work.
Is the cost of labor too high?
In December 2017, a New York Times piece reported the costs of tunnel labor in Paris and compared it to the cost in New York City, and what was clear is that they were not the equal. The piece claimed that workers in New York City are paid over $100 an hour while a similar worker in Paris is paid the equivalent of $60. But, left out of that math is that a large portion of hourly "wage" in New York actually goes to paying for healthcare, retirement, and paid leave. These benefits exist as government-sponsored programs in many places around the world, but not here. What these tunnel workers here in New York are left with as take-home pay at the end of the day is actually less than someone doing the same work in Paris.
New York taxpayers are construction workers and construction workers are taxpayers who also want jobs completed efficiently, safely, and by the most skilled workers to ensure quality. We ride the trains, drive on the roads, and live in the buildings with our families, and those of our neighbors.
All building and repairing projects in New York must include worker protections. This can help to ensure workers have basic wage and safety expectations and that projects are done in a professional and competent manner. But when the New York City subways received many headlines for their state of disrepair, workers were targeted. Scapegoating construction worker wages, and decisions made to build a well-trained workforce, is a simplistic argument to describe the challenges of complex and multi-billion-dollar projects.
Instead of demonizing workers because they can support themselves and their families, we should strive to raise the bar for all workers and penalize worker exploitation. We cannot support projects where taxpayer money is used, and workers are exposed to irresponsible contractors with histories of wage theft, safety violations, and low-wages.
It's a matter of life and death for workers. How much is a worker's life worth? Working in construction is dangerous. When workers are represented they may feel less pressure to work on an unsafe jobsite or perform a task they do not know how to do. Newly immigrated workers and day laborers may put their lives in dangerous situations for their livelihood. Union contractors ensure the safety of workers and uphold the standards of the industry while nonunion contractors continually cut corners using unsafe cost-saving measures, putting the scrupulous contractors at a disadvantage.
We must continue to raise the standards for all workers and to demand that contractors and developers do the same, and remember the worker when discussing infrastructure needs in New York.
***
Vinny Albanese is Director of Policy and Public Affairs at New York State Laborers' Organizing Fund (LIUNA).
***
Have an op-ed idea or submission for Gotham Gazette? Email This email address is being protected from spambots. You need JavaScript enabled to view it.