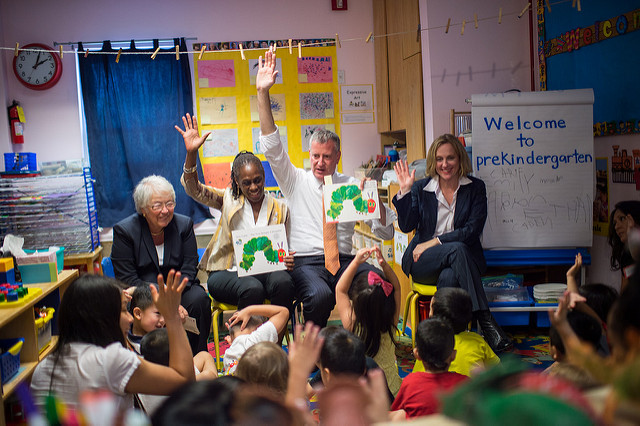 (photo: Rob Bennett/Mayoral Photography Office)
---
The plan to provide Amazon up to $3 billion in city and state tax cuts and other subsidies to site one of their new headquarters in Long Island City leaves the children who are living there in the lurch. The booming community is already severely short on school seats, a problem that Amazon's move to the area will only exacerbate given recent trends, Department of Education projections, and the details of the Amazon deal that have been released.
The only zoned elementary school in Long Island City, PS 78, is already at 135% capacity, and more than 70 children who were zoned to the school were put on the waitlist for kindergarten last spring, while classes for numerous pre-K kids are being housed in trailers.
There are plans for two small elementary schools of about 600 seats each to be created as part of a huge 5,000-housing unit Hunters Point South development, but these schools are likely to be immediately overcrowded the day they open. There are already three sections of kindergarten students attending class in an incubation site at a nearby pre-K center, waiting to attend the first elementary school, which will not be completed until 2021.
An already-planned middle school had been proposed to be built on city-owned land as part of a mixed-use 1,000-unit project, but this area is now to be incorporated into the Amazon development. Contrary to Mayor de Blasio's claims, the memorandum of understanding with Amazon includes no new school for the neighborhood. Instead, the MOU merely says that the company will pay for this middle school already in the city's capital plan – but moved to another location, as yet undetermined. As Chalkbeat NY explained, "The company agreed to house a 600-seat intermediate school on or near its Long Island City campus, replacing a school that had already been planned in a residential building nearby."
From 2006 to 2017, more than 20,000 residential units were built in Long Island City. A study found that 12,533 apartments in 41 separate developments were built in the community between 2010 and 2016 – not just the highest number in New York City, but more than any other neighborhood in the entire nation.
The housing start data recently posted by the School Construction Authority projects 20,000 residential units to be built between 2018-2024 in Queens' District 30, which includes Long Island City. According to the DOE formula used to estimate how much school enrollment growth this will generate, there will be a need for seats for about 4,000 additional elementary and middle school students. Meanwhile, the new proposed five-year capital plan for 2020-2024 includes only 1,012 new seats for the entire district – a shortage of nearly 3,000 seats, before the impact of the Amazon deal is even considered.
Though nearly all Queens high schools are already overcrowded, there are fewer than 1,000 high school seats for the borough in the proposed five-year plan, while the housing start data alone would generate the need for about 5,000 additional high school students.
Another part of the deal includes Amazon making payments in lieu of taxes into an infrastructure fund that, starting 11 years after the deal, the New York City Economic Development Corporation (EDC) can spend on nearly any sort of use, "including but not limited to streets, sidewalks, utility relocations, environmental remediation, public open space, transportation, schools and signage," according to the MOU.
And to add the most grievous insult to injury, the city now plans to give Amazon a large DOE office building, one that community members have been fighting to convert into much-needed schools and a community center instead. A petition, now with more than 1,500 signatures, to the mayor and local elected officials was posted last year by the Long Island City Coalition.
This is not the first time the community's needs for schools have gone entirely ignored. In 2008, EDC re-zoned city-owned land for the Hunters Point South project without any plan to create a single new school, ignoring the thousand or so children who were likely to inhabit these new apartments. It took a concerted organizing effort of Long Island City parents and elected officials in 2015 for the city to agree to belatedly include two small schools in the plans.
We've seen this poor planning repeatedly, wherever new residential developments are springing up. The Amazon deal is but a particularly egregious example of how the city's policies are driven by the interests of the real estate industry and private corporations while the educational needs of our children are too often overlooked. As many education advocates, parents and community leaders have pointed out, the school planning process in New York City is broken, resulting in more than half a million students crammed into overcrowded schools and classrooms, with the problem likely to get worse as the city's population continues to grow.
In March 2018, the New York City Council released a report, Planning to Learn: The School Building Challenge, which documented many of the problems inherent in the city's dysfunctional planning process. Before that, Class Size Matters released two reports, Space Crunch and Seats Gained and Lost: the Untold Story, which identified many of the same problems, showing how the city's methodology to plan for new schools is inherently flawed and lags further and further behind the actual need.
The city has consistently underestimated the real need for public schools and to plan accordingly. The school capacity formula is aligned to excessive class sizes of 28 students per class in grades 4-8 and 30 in high school, larger than the current citywide averages, and thus would tend to push class sizes even higher in these grades.
The Department of Education's projections also are based upon housing start data that is highly unreliable, especially the ten-year data, which estimate only a tiny number of new units to be built after the first five or six years. For example, the housing start data posted in March 2017 used to create the current five-year plan projected not a single new housing unit to be built in Brooklyn between 2020 and 2024. The housing start data used for the new proposed capital plan projects 45,000 new housing units will be built in ten school districts between 2018 and 2024, but not a single one the next three years. In District 24 in Queens -– currently, the most overcrowded district in the borough -- the data projects over 3,000 new units to be built during the first six-year period, but only 150 additional units thereafter.
Worse yet, a consideration of the need for new schools is only triggered when a proposed development is projected to increase school overcrowding by at least five percent – even in areas like Long Island City, where the schools are already severely overcrowded.
Instead, every new large-scale project should require new schools to be built where schools are already overcrowded or likely to become so as a result of new housing and/or current enrollment trends. Parent-led community education councils should be consulted in a meaningful way about the likely impact on schools each time a large-scale project or rezoning is proposed, as they know the educational landscape directly, not just community boards.
The formula for projecting enrollment should include 3-K and pre-K students and should be updated regularly with the latest Census and American Community Survey and housing data. And the need for schools should be based upon more realistic ten-year housing trends – not just five-year trends, as it usually takes far more than five years to site and build a new school.
Class Size Matters and other parent leaders are proposing these and additional critical reforms to the school planning process to the 2019 New York City Charter Revision Commission so the city's students are not left in even worse conditions in the years to come. Meanwhile, the Amazon deal should be scotched or revamped, because, as is stands, it is yet another giveaway to a corporate giant with no consideration of the need to alleviate the overcrowded schools and classrooms under which the neighborhood's children struggle to learn.
If New York City is to thrive and offer opportunities to all its residents, we must ensure that investment in our public schools is a top priority for all agencies, including those focused on economic development. School construction should be the first consideration in all our development goals, rather than added as an afterthought years later, when the overcrowding has become too extreme to ignore. In the end, our investment in education will provide far better financial returns than yet more public land and tax giveaways to developers and corporations.
***
Leonie Haimson is Executive Director of Class Size Matters; Sabina Omerhodzic is a Long Island City resident and a member of the Community Education Council in District 30.
***
Have an op-ed idea or submission for Gotham Gazette? Email This email address is being protected from spambots. You need JavaScript enabled to view it.