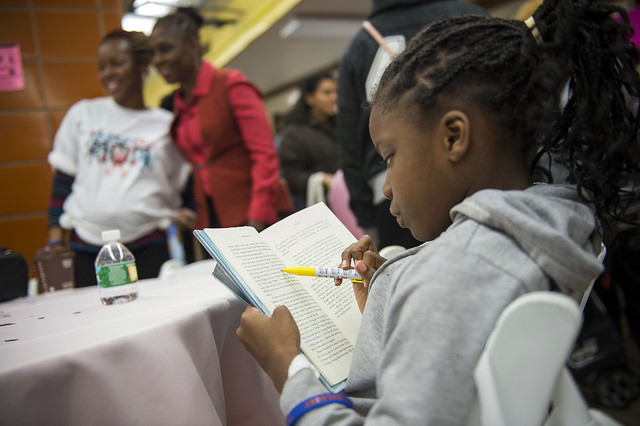 (photo: Ed Reed/Mayor's Office)
---
Last week, 27,000 eighth-graders and their parents opened exam results, hoping they had won a coveted seat at one of New York City's eight specialized high schools. Unsurprisingly, this year's offers followed trends of past years, with only 10.5 percent of offers going to black and Hispanic students, who comprise 68 percent of the overall public school system. At Stuyvesant High School, a mere seven black students and 33 Hispanic students were offered one of the 895 seats.
These disparities have long prompted debate about how to create more racial and ethnic equity in the specialized high schools while maintaining their quality. Although the test is open to all, few students in lower-income areas are able to afford test preparation, or even know about the exam. Those who do sit for it often can't compete due to subpar educations in their poor neighborhoods.
Mayor de Blasio wants to abandon the test in favor of holistic assessments based on student grades, test scores, and class rankings. Over the course of a three-year phase-out of the test, his plan would have the number of students admitted based on class rank increase incrementally until 90 percent of offers go to the top 7 percent of students at each middle school. The remaining 10 percent of seats would be subject to a lottery open only to those with a minimum grade average of 93 percent. During the transition period, the Discovery Program, which offers admittance to low-income students who just missed the cutoff score on completion of a summer enrichment program, would expand to 20 percent of all seats.
Although diversity should be paramount to admissions, I fear that Mayor de Blasio's proposal trades systems of exclusivity. In order to evaluate students based strictly on their scores, the test doesn't compensate for inequities in early education. By contrast, assessments based on class rankings ignore the merit of individuals below the 7 percent line to overcompensate for inequities. Without the test, however, the student bodies of specialized high schools may be no different than others because the plan places unequal middle schools on an equal playing field.
Moreover, students' abilities set the pace in classrooms and determine the quality of discussions. An undistinguished student body removes the challenges meant to be integral to a specialized high school education.
Rather than reform the system to the advantage of all New Yorkers, Mayor de Blasio proposes to lower the bar. The substandard education that students of color often receive will remain in place in elementary and middle schools. Programs designed to prepare students for the entrance exam will disappear, and with them the enrichment opportunities offered to students regardless of the results.
The diversity problem I've witnessed firsthand at the High School of American Studies at Lehman College, a specialized high school in the Bronx where I'm a junior, persists. Some of my classmates are first-generation immigrants who overcame the disadvantage of a non-English speaking or low-income household to gain a seat. They're the exception. In fact, they're often among a handful of students at their middle school to be admitted to a specialized high school. In contrast, the graduating class of my Upper West Side middle school received 150 offers from specialized high schools. I had a scholarship to a tutoring program for the test, but this isn't an option for most students of color.
Recognizing this lack of resources, a new student-run tutoring program was created at my high school to prepare local Bronx middle school students for the SHSAT. A team of upperclassmen create and teach English and math lessons twice weekly to a class of seventh-graders. We plan activities, explain the high school process to ensure that the middle school students see admittance to our school as attainable, and provide snacks.
But teenagers can only tutor 30 kids at a time when thousands more deserve enrichment opportunities. All specialized high schools and other schools should host tutoring programs. These programs can and should reach more students and at a younger age, so that fairness and diversity are ensured long before incoming students walk through the door.
***
Jade Lozada is a junior at the High School of American Studies at Lehman College and a second-generation Hispanic American. Through a student-run tutoring program, she teaches local Bronx middle-schoolers English Language Arts in preparation for the SHSAT exam.
***
Have an op-ed idea or submission for Gotham Gazette? Email This email address is being protected from spambots. You need JavaScript enabled to view it.