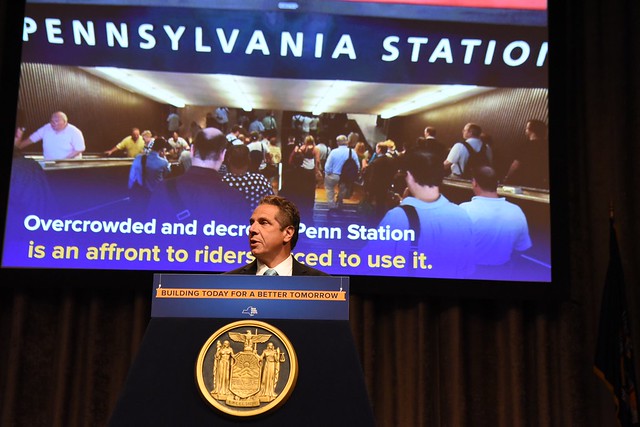 (photo: Don Pollard/Governor's Office)
---
For decades, Penn Station has wreaked havoc on the lives of hardworking New Yorkers, and seriously stained our city's reputation as a global cultural and economic hub. But all hope is not lost; the door is opening for significant improvements to finally be made.

We're now just a few short years away from the opening of Moynihan Train Hall and East Side Access. These two important projects, which will temporarily reduce the number of passengers travelling through Penn, present a brief window for significant station improvements.

Transit experts have spoken extensively about the serious safety concerns within Penn Station—from overcrowded platforms, to a lack of accessible exits and signage on what to do in the event of an emergency. The recent announcement of an overhaul of the LIRR corridor and 7th Avenue entrance is a good first step, but there are a host of other improvements that should also be considered.

And beyond safety, it's a matter of dignity, utility, and a vision for the future of the city we want to live in. Commuters shouldn't have to settle with what we have.

They've seen a variety of great layouts and amenities – that work, by the way – at Washington D.C.'s Union Station, Boston's South Station, and transit hubs overseas.

We need to look at Penn Station and the surrounding area in Midtown West comprehensively to solve this problem in a way that makes sense for commuters, residents, workers nearby, and New York as a whole.

Leading architects and designers have already created many informed and inspiring renderings and plans for what a new Penn Station could look like. While these designs are all different, they largely address the core issues of overcrowding, platform capacity, and accessibility.

Let's be clear, Penn Station is not the way it is because of a lack of technical or planning knowhow.

It's a political problem that can only be solved by bold, willing leadership that is committed to seeing this through from beginning to end.

It also means having a frank conversation about the future of Madison Square Garden, which sits atop the station—severely limiting natural light, air, and the ability to expand capacity.

For our leaders, fixing Penn Station must come down to our values as New Yorkers. We allowed our subways to enter a state of extreme disrepair that forces commuters onto already packed and delayed trains, or for some, abandoning the system all together. Deadlocked street traffic and slow bus speeds are the direct result of the failure to fix what's going on underground. This is what happens when problems are left to fester.

If leaders don't believe Penn Station is worth the investment of taxpayer dollars, they should be upfront about that and let voters know where they stand. If it's a core issue they support, elected leaders should make it clear by calling for the creation of a Penn Station task force that would convene this year.

This task force should resemble the model used to evaluate congestion pricing and it should offer tangible next steps for a comprehensive fix—not a patchwork solution.

2019 has already been a unique year in Albany, with 39 new faces between the Assembly and Senate. Long Island was particularly active during the campaign season with several incumbents who were defeated—and is home to a major constituency that relies on Penn Station. As we rebuild our airports at JFK and LaGuardia and inaugurate new bridges like the Mario M. Cuomo Bridge spanning the Hudson, Penn Station must be our next big fix.

If we don't get to work to fix Penn Station now, it won't ever happen. It's time to act.

***
State Senator Brad Hoylman represents parts of Manhattan, including Penn Station. On Twitter @BradHoylman.
***
Have an op-ed idea or submission for Gotham Gazette? Email This email address is being protected from spambots. You need JavaScript enabled to view it.