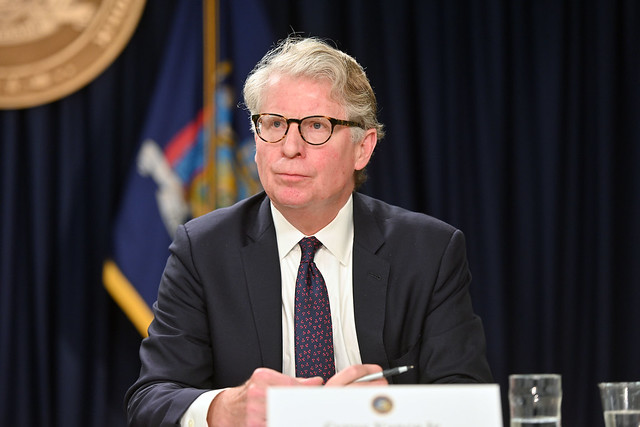 Manhattan DA Cy Vance (photo: Kevin P. Coughlin/Office of Governor Andrew M. Cuomo)
---
I don't buy Cy Vance's defense that his Assistant District Attorney Jennifer Gaffney "made a mistake" in interpreting the law when she asked for Jeffrey Epstein's sex offender status to be downgraded in 2011. Five years later, as Deputy Chief of the DA's Sex Crimes Unit, she asked for and got a downgraded sex offender status for the OB/GYN I and dozens of other women had accused of sexual assault.
The similarities between the DA's case at the time against Epstein and that of the one against my abuser, Robert Hadden, abound. Both were wealthy, connected, white men playing out their deranged fantasies with no regard for the women and children they used. Both had dozens of victims, including minors. Both leveraged their position of privilege and wealth for protection. And, perhaps most notably, both had Cy Vance as their top prosecutor.
When the DA requested a lower offender status for Epstein, the judge expressed shock. She was aware of the large number of victims in his case and of the severity of his crimes. The request was denied.
At Hadden's February 2016 plea hearing, the DA confirmed the Court's agreement to "downwardly depart from the SORA regulations and find Dr. Hadden a Level 1 Offender" as a condition of his plea agreement. The judge only saw a narrow slice of Hadden's alleged crimes. Would he have reacted differently had the DA pursued a second indictment or made other efforts to include the other victims who continued to report? To this day, brave women, including a minor Hadden himself delivered as a baby, continue to come forward to report crimes he perpetrated against them.
I don't know if I would feel differently about the abuse I endured had Hadden been given a higher offender status. What I do know is that the outcome of the DA's cases against both Epstein and Hadden continue to reveal details of a two-tiered system of justice in Manhattan. Prosecutors operate with almost no impunity and the public lacks critical information about how the unit operates. At a minimum, the DA's Sex Crimes Unit must submit to an outside, independent review -- but I also believe Vance should resign.
Hadden's defense attorney herself told BuzzFeedNews, "Poor people don't do as well in this system as people who can afford more competent lawyers. If you can afford them, you're treated differently in our criminal justice system." She's not wrong.
Hadden has access to support from his employer, Columbia University. Some have questioned contributions Vance took from people like Jonathan Schiller, the then-chair of Columbia's Board of Trustees. In response to multiple allegations of undue influence, Vance commissioned a report from Columbia's Center for the Advancement of Public Integrity (CAPI) on how DAs can reduce conflicts of interest in campaign fundraising. The Hadden case and Schiller donations are glaring omissions from the report yet Vance touts it and his resulting pledge to not take money from attorneys with cases before him as reform. It's not enough.
In June, Vance spoke at CAPI and cited the Raising the Bar report. He said "what I learned, above all, is it's not enough for me to have confidence in my independence from donors. The people of New York deserve to be confident about this as well."
Has he learned? More importantly, have we learned? The people have lost confidence in Vance's leadership. We deserve better. How long will New Yorkers continue to let corruption, incompetence, and cowardice play out in front of the world before demanding meaningful change?
***
Marissa Hoechstetter is an activist. On Twitter @MHoechstetter.
***
Have an op-ed idea or submission for Gotham Gazette? Email This email address is being protected from spambots. You need JavaScript enabled to view it.