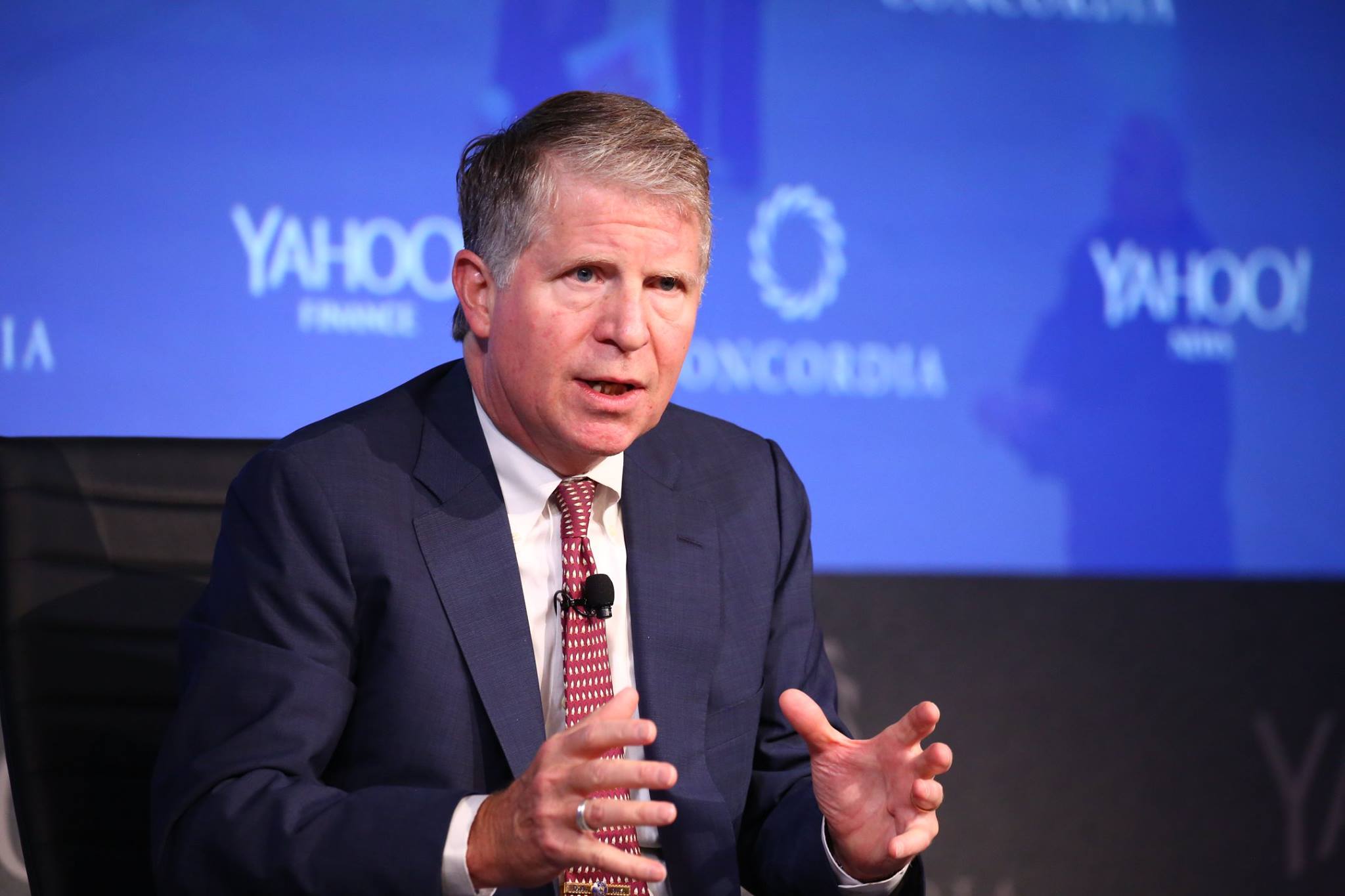 Manhattan District Attorney Cy Vance (photo: Manhattan DA facebook)
---
District attorneys should separate themselves from fundraising efforts and implement tighter vetting procedures for donors to reduce the appearance of bias, says a new report by the Center for the Advancement of Public Integrity (CAPI) at Columbia Law School.
The recommendations were requested by Manhattan District Attorney Cy Vance in October, following public outcry over Vance's handling of two investigations of wealthy, politically-connected individuals. In both cases -- a 2015 forcible touching charge involving movie producer Harvey Weinstein and a 2012 investigation into business practices of members of the Trump family -- Vance's office declined to prosecute the cases, and it was later revealed that the potential defendents' lawyers involved in the cases were generous contributors to the Manhattan DA's re-election campaign. The larger episode spotlighted lax rules around fundraising for New York district attorneys and raised questions about reforms, including whether DAs should accept campaign contributions from defense lawyers at all.
Following the revelations, Vance insisted that in his seven years in office, he had never allowed someone's "wealth, power, race, or campaign contribution" to influence his decision-making as a prosecutor. But he conceded in an October op-ed in The Daily News that "Over the past few days, I've learned that it's not enough for me to have confidence in my independence from donors. The people of New York deserve to be confident about it as well."
As reported by Gotham Gazette, New York's top prosecutors rely heavily on campaign contributions from criminal defense lawyers who may have cases before their office, but, as county officials, district attorneys are not subject to New York City's stringent campaign finance rules.
CAPI executive director Jennifer Rodgers, a former federal prosecutor, briefed Gotham Gazette on the report, entitled "Raising the Bar: Reducing Conflicts of Interest and Increasing Transparency in District Attorney Campaign Fundraising," before its Monday release. Rodgers said the objective was to minimize the potential for real, perceived, or unconscious bias for district attorneys.
"[Currently] there's no legal restrictions, or even guidance, on having a procedure in place to vet contributions to make sure you are not taking money from people who have an interest in your decision as district attorney," said Rodgers, in a phone interview.
Following a 90-day inquiry initiated by Vance's request, CAPI is offering seven recommendations primarily related to the implementation of a blinding process, and limiting contributions from people who have a personal or professional interest in the decisions of the district attorney. The blinding process outlined in the report is similar to that required by judges in New York State; Rodgers said prosecutors should refrain from personally soliciting money and stay ignorant of who the donors are and how much they have donated.
"It's a pretty clean rule, its not 100 percent airtight…but if in good faith you try not to have access to that information and put controls in place between you and your campaign, that's one big thing that DAs can do," she said.
The report recommends district attorney campaigns refuse contributions from a party to a matter before the DA's office -- something many prosecutors already do, according to Rodgers -- as well as targets of investigation. Since refusal of a donation could tip off the person that they are under investigation, CAPI suggests cashing the check and putting it into a second, separate account until the matter becomes public and the campaign can return the money. If the matter never becomes public, CAPI recommends prosecutors donate the money to New York's IOLA fund, a trust fund for lawyers that uses accumulated interest to provide legal aid for the poor.
Addressing the specific criticisms of Vance, and fundraising practices of all district attorneys, CAPI recommends capping contributions at $320 from lawyers with a pending matter before the district attorney's office, and at $3,850 for partners of lawyers with matters before the district attorney. The figures comes from the city's "doing business" fundraising restrictions for borough presidents, which, as a countywide office, is most analogous to that of district attorneys. There are five counties and therefore five districit attorneys in New York City; Vance represents New York County, otherwise known as Manhattan.
"We thought those were good limits. Those are amounts small enough that it shouldn't impact anyone's decision making, and if he is participating in the blinding procedure he wouldn't know about it anyway," said Rodgers.
Other recommendations relate to setting up a vetting process for contributions, creating additional measures to separate the government office from the campaign, refusing campaign contributions from DA staff and their spouses, requiring donors to certify their eligibility to give funds, and publishing campaign policies.
The report is broad enough to apply to all 62 top prosecutors, but whether these recommendations will be adopted by district attorneys across the city and state remains to be seen. In a statement Monday morning, Vance said he will voluntarily adopt the CAPI recommendations.
"In its independent report published today, CAPI principally recommends that district attorney candidates (1) apply 'blind' fundraising standards, and (2) in the case of incumbent prosecutors, limit contributions from lawyers who represent clients in matters before the office to $320," reads the statement, released by Vance's campaign. "My campaign will meet and exceed these recommendations. Effective today, we have implemented the 'blinding' procedure recommended in CAPI's report, which is the same procedure followed by candidates for judicial office in New York State. Also effective today, we will no longer accept contributions – in any amount – from lawyers appearing before our office and will cap contributions from their law partners, consistent with CAPI's recommendation."
Vance thanked CAPI for its review and concluded, "As its report notes, legislative action is the surest way to achieve lasting, mandatory campaign finance reform. I look forward to working with lawmakers and reform advocates to advance such legislation, which should include a full public matching funds program for District Attorney races."
District Attorneys Association of New York (DAASNY) President Scott McNamara has invited Rodgers to present her findings at the association's next board of directors meeting, this Thursday, and said he and his colleagues are looking forward to hearing her thoughts.
"We would like to do whatever we can to be transparent to the public in raising money, but at the same time raise money so that we can campaign for re-election," said McNamara, who serves as district attorney of Oneida County, in an interview. "It's a difficult situation but I am looking forward to her insight. Hopefully she has some good recommendations for us."
McNamara noted that fundraising poses less of a conflict for many Upstate district attorneys, who rarely see challengers, and when they do, run their campaigns on small donations, primarily from family and friends. "Most of my contributions are $100 or less," he said. "When you get into very small communities, everyone knows each other and it's not uncommon for attorneys to be related to each other, so it gets more complicated."
One measure proposed by CAPI that could be relevant to district attorneys statewide is blind fundraising, according to McNamara."I think that is a terrific idea and it's something I already do," he said, noting that he has recently stopped sending thank you notes to contributors.
While he had not yet seen the report when he spoke to Gotham Gazette on Friday, McNamara said DAASNY welcomes the recommendations from the experts at CAPI, which could potentially translate into more permanent legislation.
Government and legal reform groups who were consulted among others during the review process approved the reforms proposed by CAPI in a statement to Gotham Gazette.
"CAPI has provided worthwhile reforms for DA Vance to consider, and we believe the limitations on contributions by lawyers, and the partners of their firms, doing business with the DA are particularly important," said Alex Camarda, of Reinvent Albany. "We look forward to engaging the DA's Office to determine if these voluntary reforms can serve as a model for permanent change for all District Attorneys."
[Related: Vance Fallout Echoes Other Controversies that Led to Reforms]