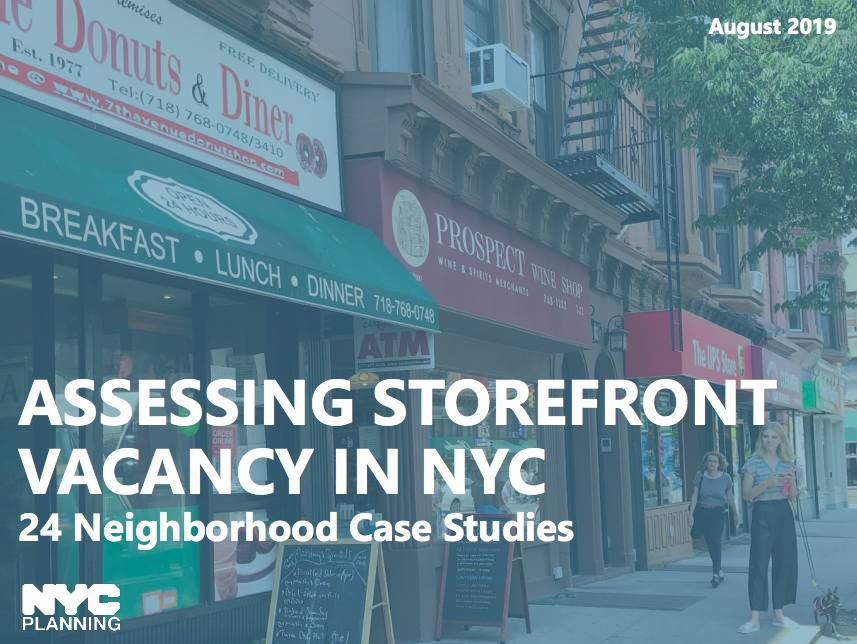 (photo: NYC Planning)
---
To the Editor:
In response to the opinion piece "Our Small Business Crisis is Very Real, and Demands City Action," (Sept. 25), we want to caution that the tens of thousands of retail businesses in New York City come in all shapes and sizes, and no one solution fits all.
Contrary to the author's claim, the Department of City Planning's (DCP's) Assessing Storefront Vacancy report details and directly links neighborhood vitality and affordability to the challenges that local shop owners face – from ever-evolving consumer tastes, competition from e-commerce, significant regulatory hurdles, changing streetscapes and high rents, particularly on higher-end retail corridors.
From every angle, the DCP report's findings are clear: first, vacancy rates differ dramatically from neighborhood to neighborhood, and even block to block, and for different reasons; and second, some retail corridors are thriving.
The DCP report reinforces what we have suspected for years: traditionally strong dry-goods retail markets, such as department stores and hardware shops, are the most challenged, while restaurants, entertainment, and experiential retail – services sought after by residents and workers that cannot be replaced by e-commerce – are multiplying. What may be surprising is that brick-and-mortar retail jobs grew by 33% between 2008-2017, with jobs in restaurants, bars, and food stores exploding, gaining 132,000 jobs.
While zoning restrictions may initially sound like good solutions, the DCP report shows that cumbersome regulations hurt small businesses the most. We also know that singling out chain retailers is not a sound solution for a variety of reasons, including because many New York chain stores started out as mom and pops.
What the DCP report highlighted is that there are no easy answers, and that there is not one set of solutions that works for all types of stores and all types of businesses, in every neighborhood.
Sincerely,
Marisa Lago, Director of the Department of City Planning
@NYCPlanning
***
Have an op-ed idea or submission for Gotham Gazette? Email This email address is being protected from spambots. You need JavaScript enabled to view it.