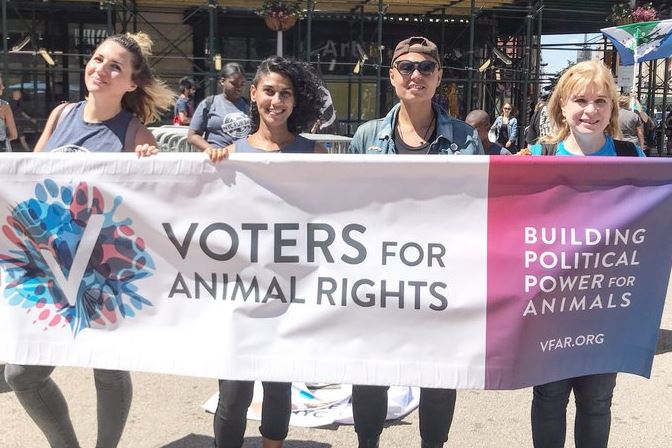 (photo: @theanimalvoters)
---
A landmark package of nearly a dozen animal protection measures is set to pass the New York City Council this week, championed by Speaker Corey Johnson, along with several other members. The strength of our city's progressive roots grows deeper with the passage of this animal protection package, and it will be a defining moment in our city's history.
What does it say about a society that allows horses to pull carriages in rush-hour traffic in the blistering summer heat or restaurant menus to offer for sale a product that comes from the diseased liver of a tortured duck force-fed with a foot-long pipe?
On the other hand, what does it say about a City Council speaker and Council members who stand against these blatant cruelties to animals? We believe it says everything about them because, in the end, our true moral test consists of our actions or inaction toward those who are at our mercy.
Among the nearly dozen measures set to pass, four stand out most notably.
A bill sponsored by Council Member Justin Brannan, Intro 1478A, will make New York the first city in the nation to establish an Office of Animal Welfare within the Mayor's office. A bill sponsored by Council Member Keith Powers, Intro 1425A, will prohibit the abusive horse-carriage industry from working horses on extremely hot and/or humid days.
A bill sponsored by Council Member Carlina Rivera, Intro 1202A, seeks to deter and punish individuals who steal wild birds from our city's parks. And another bill sponsored by Council Member Rivera, Intro 1378A, would prohibit the sale of force-fed foie gras in New York—the largest foie gras market in the country. The foie gras sales ban bill has more support than any other bill in the package, including a coalition of over 50 not-for-profit organizations led by Voters For Animal Rights, 50 New York-based veterinarians, 30 Council co-sponsors, over 90 New York City-based restaurants, and 81% of New York City voters, according to a Mason Dixon poll.
Foie Gras—French for fatty liver—is a gruesome luxury food product made from the diseased and enlarged liver of a duck produced through force-feeding. Ducks abused by the foie gras industry suffer immensely from ruptured organs, esophagus trauma, broken bones, illnesses, and diseases as a result of having a foot-long metal or plastic pipe shoved down their throats and a large mass of food injected into their delicate digestive system several times a day for weeks. The sole purpose of this barbaric force-feeding is to swell and disease the bird's liver to ten times its normal size so it can be sold as foie gras.
The force-fed foie gras sales ban legislation exemplifies the historic nature of this animal package moving through the City Council. First, it is one of the most important animal protection bills passed by any city in the country on account of the vast number of animals it will save per year. Second, rarely in politics do you see unpaid grassroots volunteer-run organizations — like those at Voters for Animal Rights — take on and win against multimillion-dollar companies with high-paid lobbyists. Lastly, the sheer brutality behind the production of foie gras provides important context to the plight of farmed animals on industrial farms, such as the ducks on Hudson Valley Foie Gras and La Belle Farms.
These measures send a strong and clear statement to the world that New Yorkers reject the notion that animals are mere property, but rather sentient beings whose capacity for suffering affords them the right to legal protection from cruelty.
This package represents far more than just a few laws that protect horses, ducks, and pigeons from abuse. It is irrefutable evidence of our moral progress as New Yorkers.
Gandhi famously asserted that "the greatness of a nation and its moral progress can be judged by the way its animals are treated." While we certainly have a long way to go when it comes to protecting animals from abuse, this is a landmark of progress and surely a moment worth celebrating. Speaker Johnson, Council members, your leadership on this issue is commendable and well-deserving of praise.
***
by Allie Feldman Taylor & Matthew Dominguez, Voters for Animal Rights. On Twitter @AllieFeldman212 & @Matt_Dominguez & @theanimalvoters. And co-signed by coalition partners:
Humane Society Veterinarian Medical Association
Animal Legal Defense Fund
World Animal Protection
Physicians Committee for Responsible Medicine
Compassion in World Farming
Farm Sanctuary
Barn Sanctuary
Woodstock Sanctuary
Four Paws
Animal Protection Rescue League
Animal Defenders International
In Defense of Animals
Last Chance for Animals
Compassion Over Killing
Lady FreethinkerTheir Turn
***
Have an op-ed idea or submission for Gotham Gazette? Email This email address is being protected from spambots. You need JavaScript enabled to view it.