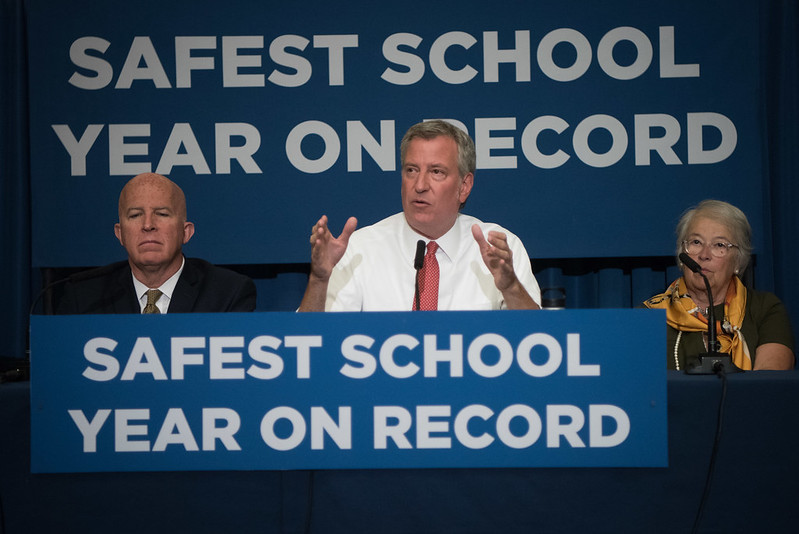 (photo: Michael Appleton/Mayoral Photography Office)
---
Mayor de Blasio faced a short-answer, timed test: whether and when to close New York City's public schools. It was not an easy question. But his delay in answering and failure to adequately prepare has been costly in lives and learning. We continue to pay the price.
Even where the coronavirus outbreak was less severe and despite ambiguous advice from the CDC, district after district, state after state, had already decided to close their schools. But de Blasio hung on, ignoring dire warnings of community spread from his own Health Department.
At the city Department of Education, controlled by the Mayor and headed by Chancellor Richard Carranza, little preparation for the pandemic seems to have taken place, a fatal error debilitating operational effectiveness and public confidence.
When visiting schools in early March, I questioned principals on information coming from the central Department of Education. One said she had only been sent an extra bottle of Purell. Most were only aware of generic advice on personal hygiene and closure in case of student or staff illness due to COVID-19. But there was no well-known protocol for how families or personnel were to report this, especially in the absence of widespread testing, rapid confirmation, or detailed chains of contact. There was no special guidance on handling coronavirus-related student and faculty absenteeism and other looming administrative issues. Experienced principals with deep connection to their school communities and district liaisons felt ready to report exposures. Less adept leaders were in the dark.
There was no evidence that a distance learning order was just days away. Left unasked were critical questions of device availability for teachers and students, home bandwidth, and curriculum. Needs of home insecure, disabled, and English-as-a-new-language students and their families were ignored at the highest levels despite vigorous hand-waving by their advocates inside and outside the Department of Education.
Finally, after the Mayor precipitously announced on a Sunday night that schools would be closed the next day, he and the Chancellor endangered tens of thousands of teachers and administrators by ordering them into close contact the following week to revamp their classes for mass distance learning. Forgotten in the melee that followed were privacy concerns with the widely-adopted Zoom video platform that was easily hacked and shared student information with third party vendors in violation of the federal Family Educational Rights and Privacy Act (FERPA).
Now we're in for the long-haul, if the Mayor and Governor can get their acts together to agree on closing schools through June and instituting distance learning opportunities at least through the summer.
The Chancellor is given to repeating that "We're building the plane while we fly it." Would that ever be the case, the plane would crash. So it is with a school system carrying over a million kids, attended to by more than that number of parents and other care-givers.
It's time to land that plane, give the administration, educators, students, and their adult protectors time to re-engineer jerry-rigged instructional and administrative policies that have left us -- let's face it -- without a functional public education system for over a month. We don't have attendance information. We're just starting to learn how many teachers, principals, and other front-line school staff have taken sick or died. Promotion policies, tenure decisions, acceptable and accessible online platforms, and a thousand other critical decisions have yet to be made.
If we have gained any wisdom from this month of havoc, let's use a hiatus to make public education more equal and available as the current pandemic rages, with expected resurgence this fall and beyond. I propose two weeks: one for the DOE to re-engineer and a second for professional development (not in person, of course). Let's not let de Blasio's original sin of delayed preparation or Carranza's self-congratulatory stiff-upper-lip bromides keep us from addressing the long-term educational challenges ahead.
***
David C. Bloomfield is Professor of Education Leadership, Law and Policy at Brooklyn College and The CUNY Graduate Center. On Twitter @BloomfieldDavid.
***
Have an op-ed idea or submission for Gotham Gazette? Email This email address is being protected from spambots. You need JavaScript enabled to view it.