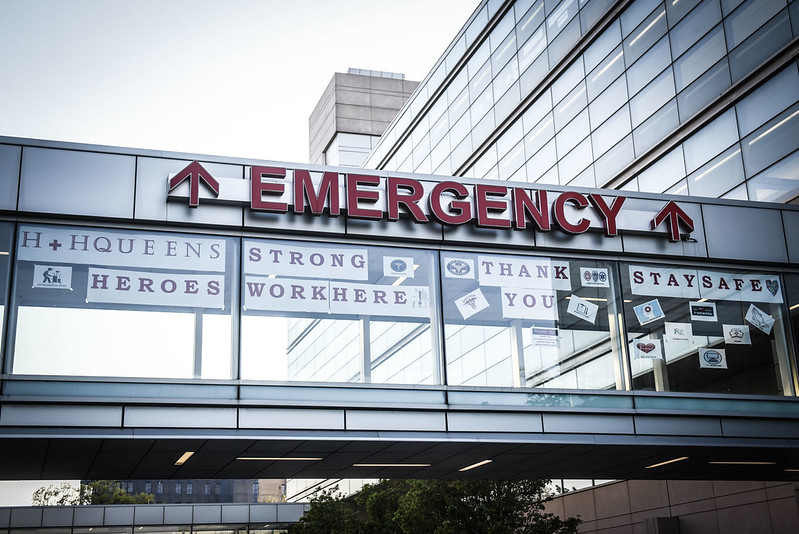 (photo: Michael Appleton/Mayoral Photography Office)
---
My career in public health and health care is bookended by plagues. I graduated from college in the 1980s and moved to the West Coast. It was a time of freedom and fun and I was living what felt then like an "adult" life; I had a job, my own apartment, a car, a dog, a boyfriend. Life was good.
But something dark and sad was hovering around me at the same time. The HIV/AIDS pandemic was in full effect. By 1990, more than 120,000 Americans had died of the mysterious disease. I knew people who were sick or dead. I had to get involved.
I started volunteering with the Northwest AIDS Foundation doing outreach and education. It was the first time I'd heard of the field of public health. I didn't really know what it was, but the smart people and leaders around me had studied it. I'd always been interested in politics and it seemed like the place where politics intersected with medicine, so I was hooked. Off to grad school I went and I've been working to improve health care ever since.
Thirty years later, we find ourselves in the midst of another pandemic with echoes of the HIV/AIDS crisis:
Fear. The early days of HIV/AIDS were terrifying. Did you already have it? Would you get it? Would you die? What caused it? Today, every sneeze or cough, many from seasonal allergies, causes worry. It's scary to touch anything — even hug our own families — or go to the supermarket.
No vaccine. In 1984, the Health and Human Services Secretary announced the discovery of the virus that causes AIDS and predicted a vaccine would be available by 1986. Experts are similarly forecasting it will be a year or two until we have an effective COVID-19 vaccine. It's 2020, and there is still no vaccine for HIV.
Stigma. Would things have been different in the U.S. had HIV/AIDS not mainly affected gay men, people of color, and IV-drug users in the early days? Without question, discrimination and hate played a big role in the slow response to that pandemic. COVID-19 has prompted a resurgence of racism and xenophobia, especially against Asian-Americans. Early on, AIDS was called the "gay cancer." President Trump often calls COVID-19 the "Chinese virus."
Government failures. The government has blood on its hands for both AIDS and COVID-19 deaths. The first federal government report on AIDS came out in 1981. It infamously took four years and 12,000 American deaths before President Reagan even uttered the word "AIDS." The federal government's response to COVID-19 has been slow and inept. The list of failures includes a lack of testing capacity; inadequate protective equipment and ventilator supplies; failures to contact trace and isolate exposed people; and mixed and confusing public messaging.
Other similarities, however, give me hope. Then and now, we've witnessed acts of bravery and courage. People are putting their own lives on the line to save others. Scientists, doctors, nurses, and other healthcare workers have demanded answers and fought for resources. They've provided care when they could and comfort when that was all that was possible.
Medicine and science have advanced. HIV/AIDS is no longer an automatic death sentence. We don't have a cure or a vaccine, but we have treatments that can make AIDS a manageable chronic disease and even prevent transmission. Obstacles to accessing and affording those medications remain, but at least the treatments exist. And today, some of the smartest minds are working on vaccines and treatments for COVID-19.
AIDS forced marginalized people to unify and fight for their lives. As a result, we saw greater visibility, acceptance, and enhanced rights for LGBT people. The race and class differences so glaringly on display with COVID-19 should force us to again confront structural inequities and repair them.
I see hope and humanity in the many Americans showing genuine empathy and caring for others in the community: sewing and donating masks to protect essential workers, delivering groceries to elderly neighbors, supporting local businesses, and more.
Our inadequate response to the HIV/AIDS crisis is a shameful stain on our nation's history. But we got through the peak of the AIDS crisis — not unscathed or unchanged, but we got through it. We'll get through this, too.
Already, COVID-19 has killed more than 22,000 people in New York and more than 328,000 around the globe. As with the HIV/AIDS pandemic, things will get worse before they get better. It's hard to know when and how our current crisis will end and what the future will look like. But we do know what safely getting to a new normal will require: widespread testing, capacity for effective contact tracing, and action that's guided by facts and science.
As COVID-19 continues to plague us, we can and we must do better. As the old AIDS rallying cry went, "silence equals death, action equals life."
***
David Sandman is President and CEO of the New York State Health Foundation. On Twitter @DavidSandman1 & @nys_health.
***
Have an op-ed idea or submission for Gotham Gazette? Email This email address is being protected from spambots. You need JavaScript enabled to view it.