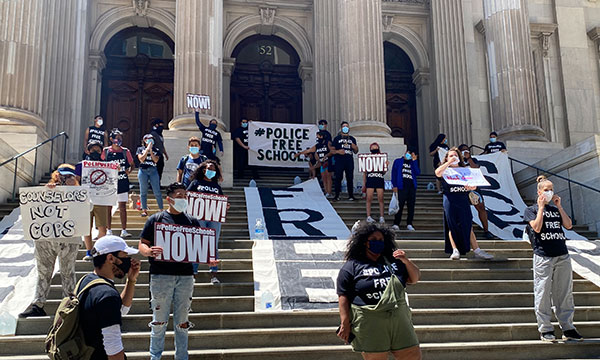 Students rally for police-free schools (photo: Urban Youth Collaborative)
---
Every morning, I walk through a metal detector to start my day. I'm one of thousands of students who attend heavily policed schools, where there are more school safety agents than nurses, guidance counselors, and therapists combined. Students of color like me deserve to feel safe and supported, not policed, in our classrooms — but a new proposal to simply transfer school safety agents from the NYPD to the Department of Education is no solution at all. For us students, the answer is clear: we need completely police-free schools.
Right now, even in a terrifying economic crisis, New York City spends more than $450,000,000 a year on over 5,100 school safety agents and policing equipment. In contrast, the average school in New York employs just one guidance counselor for every 357 students, and many of our schools are deeply underfunded in every other way. This divide — funding the police and underfunding everything else — is especially true in majority Black and brown schools like mine. But just one neighborhood away, my friend goes to a majority-white school without a single metal detector. The message we hear from the city is loud and clear: policing students of color is more important than educating us.
The ironic truth is that instead of creating a safe learning environment, the constant presence of cops makes us feel like criminals — and actually escalates conflicts between students and between students and adults. I've seen too many incidents that could have been resolved with counseling, but instead became violent because students panicked when the cops came in with handcuffs and batons. The data shows that policing does not reduce bullying or fighting, and instead criminalizes behavior that would just merit a visit to the principal's office in a better-off school. My worst experiences with cops in school are much less traumatic than those of many of my friends, but even day-to-day interactions — like getting pulled aside and examined, hands on the wall, when I forget my phone in my pocket while walking through a metal detector — are dehumanizing.
I'm glad to see that the public — and even the City Council — is beginning to see how dangerous this reality is. But let me be clear: we cannot settle for the sham proposal of transferring school safety agents from the NYPD to the DOE. A cop is still a cop — no matter who they're getting their salary from.
Instead, New York City needs to invest in learning environments that will prevent the roots of violence. That means significantly increasing the ratio of guidance counselors to students. It means making sure that we have trained psychologists available to talk to, from K through 12. And it means investing in restorative justice trainers to mitigate conflict, because we deserve to learn from our mistakes instead of being suspended or arrested for them.
When I imagine a school that feels safe, I imagine walking into school and going straight to class — no metal detector in sight, no cop cars stationed outside, no school safety agents standing on the edge of the cafeteria, waiting to pounce. I know it's possible, because thousands of students in wealthier and whiter neighborhoods live that reality every day. Mayor Bill de Blasio and Speaker Corey Johnson — we demand that you give us the police-free schools that we deserve.
***
Akeria Adams is 16 year olds, attends Academy of Medical Technology in Queens, and is part of The Urban Youth Collaborative.
***
Have an op-ed idea or submission for Gotham Gazette? Email This email address is being protected from spambots. You need JavaScript enabled to view it.