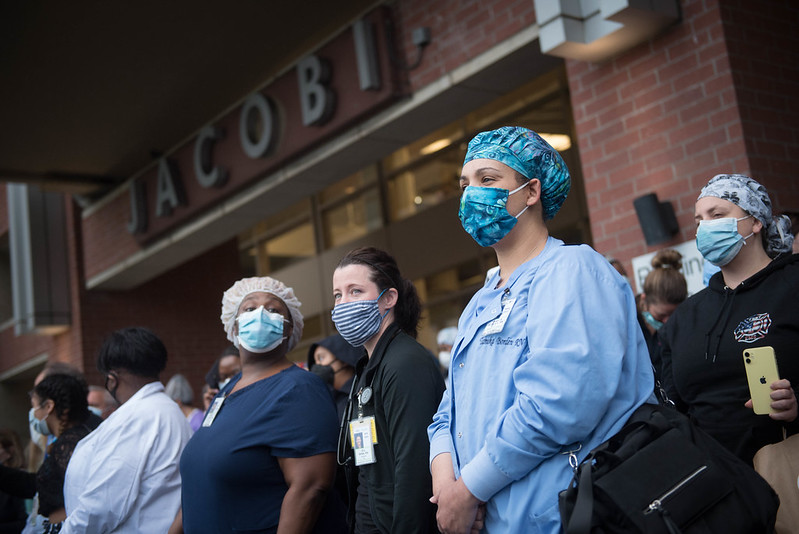 Nurses and other essential workers need public transit (photo: Michael Appleton/Mayor's Office)
---
I am a lifelong New Yorker and public transit rider. In March, when so many of my friends, family, and neighbors stopped commuting, I kept traveling to work. I depend on a bus and two subways to get from my Queens home to the East Side of Manhattan hospital where I'm a pharmacist.
Like most people, I had never heard of "essential workers" before COVID-19. Everyone I knew got up and went to work regardless of what job they had. And thankfully, many I know are still employed, though working from home. I found out that being an essential worker, besides fighting COVID directly, meant still having to commute while others sheltered at home.
As a commuter during COVID, I have depended on transit more than ever. Without a car, the bus and subways were my lifeline. Without public transit, I could not reach nor serve my patients. More this year than ever, I need reliable service. Especially when service was reduced for months, any delay became magnified and more frustrating than before.
I am so grateful for the transit workers who showed up so that I could show up too. It has been heartrending to hear of the losses among bus drivers, train operators and conductors. I don't always think of myself as a hero just because I work in a hospital during a pandemic. But if I am one, the people getting me there every day despite everything are certainly heroes as well.
Now, as I watch terrified while COVID cases rise around the country, I also fear for my commute here in New York. I know firsthand how many fewer people have been commuting through the pandemic. I understand how much less money the Metropolitan Transportation Authority (MTA) has from fares, and from tolls and taxes as well.
In March, New York's Congressional leaders brought home $3.9 billion to keep trains and buses running through the worst of the pandemic in New York. But that money is nearly gone. The MTA is back to normal service and doing a lot more cleaning, still with relatively little money coming in. To avoid huge cuts next month, the agency needs another $3.9 billion.
In May, New York's members in the House of Representatives put $3.9 billion for the MTA in the House's $3 trillion HEROES Act. But Senate Majority Leader Mitch McConnell hasn't taken up the bill. With COVID worsening nationwide, it now looks like another aid bill will start moving through the Senate soon. Congress must again take care of the MTA and people like me who depend on it.
Without more aid, the MTA will soon be short half the money it needs on a monthly basis. With a $17 billion annual budget, it could soon face a gap of $650 million each month. That's a lot of trains and buses that would have to stop running.
To put it into perspective, the MTA's last major cuts came in 2010 to save $400 million over one year. Today's cuts could be 20 times larger than that. Last time, the MTA cut the V and W trains and cut or reduced service on 110 bus lines. In a report from 2011, they found that 15% of riders were inconvenienced by the cuts. A decade later, bus ridership had dropped 25%.
Cuts 20 times larger than those of 2010 could mean entire subway trunk lines shut down. The Riders Alliance recently produced a subway map with half the lines removed. Even if it's not quite that bad, we could be waiting 20 to 30 minutes for trains during much of the day. Crowding would be very dangerous. Fares could rise by several dollars even as service is far worse.
Life as we know it in New York would be devastated if Congress does not rescue the MTA. We have already known so much unprecedented hardship this year. For essential workers like me, it is unimaginable what a cruel blow to the infrastructure we depend on would mean after what we've already experienced on the frontlines of COVID. It also makes me worry about some of our patients, who rely on public transportation to get to their medical care. The MTA cut would be another barrier for them to overcome to stay healthy.
Our influential leaders in Congress must stand up for us. We need our New York leaders in the House and the Senate to speak up now more than ever. They must tell their colleagues how letting New York's transit system collapse would destroy our recovery and bring the nation down with us. Leaders like Senator Chuck Schumer and Representative Hakeem Jeffries -- and the entire New York delegation -- must use the great power they've built in Washington to save the commutes of millions back home in New York City.
***
Suk-Yee Wong is a pharmacist who lives in Queens and works in Manhattan.
***
Have an op-ed idea or submission for Gotham Gazette? Email This email address is being protected from spambots. You need JavaScript enabled to view it.