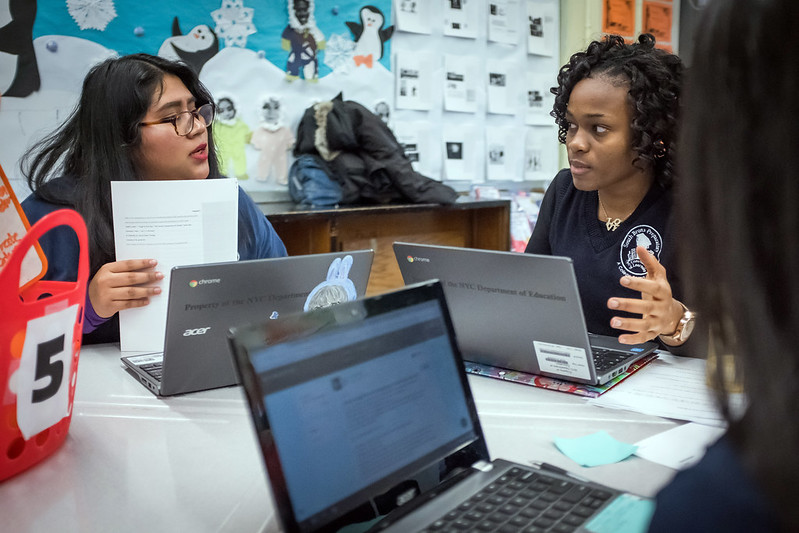 Students at work (photo: Ed Reed/Mayoral Photography Office)
---
The way our children are being educated has changed dramatically by this COVID-19 pandemic. As a working mom, it feels like I've been running a marathon and someone keeps moving the finish line. Mayor Bill de Blasio and schools Chancellor Richard Carranza have thus far been unable to give working families a clear plan for how our children can safely return to school in the fall.
The options offered by the de Blasio administration are to either continue with full-time remote learning or a hybrid model with two or three days of learning in the classroom and the others at home. Both options pose major challenges for working parents who can't afford child care, though the mayor also says the city is working on a supplemental child care plan.
All of this lacks essential details just weeks before the start of the school year.
One thing is clear, though: the pandemic has illuminated decades of inaction. New York City's neglect to adequately fund education and address overcrowded schools is now exacerbating a public health crisis. COVID-19 may not go away for the next several years and we need to start coming up with better and sustainable solutions that will ensure our kids can continue to receive a high-quality education. It's about time we address key issues once and for all.
Short-term, deal with the remote learning model.
If parents are now required to fill the role of teachers when they pay hard-earned tax dollars for education in this city, then at the very least, they should be given a child-care subsidy in the short-term while the city works on more long-term solutions of smaller class sizes. It's only equitable to reallocate tax dollars to working families, as they will either have to pay for a caregiver or tutor, or take time off of work to ensure their children stay on track.
Each family with children in pre-kindergarten through fifth grade should receive a voucher per child for the year that would cover the costs of child-care, and parents with older children would receive a voucher to hire in-person tutors.
Long-term, the city must finally deal with overcrowded schools.
Overcrowding is not a new problem, but the neglect of politicians has now become an added layer to the public health crisis that stands in the way of our children receiving quality education, and will further perpetuate the growing inequality in the education system.
According to estimates from Class Size Matters, we need about 100,000 more seats to fix overcrowding, and Queens is the borough with the most overcrowded schools. In order to truly eradicate poverty and build a more equitable city, we have to do everything we can to ensure high quality education for the 1.1 million kids in our school system.
We need to start by hiring more teachers.
Class Size Matters proposed allocating $200 million of the $26.9 billion New York City Department of Education budget toward class size reduction by hiring 1,000 new teachers, starting in kindergarten through third grades. Not only is this the right thing to do, we should also explore using parochial schools or other spaces that could be leveraged into public school classrooms if needed, and advocate for the construction of new school campuses.
According to Class Size Matters, class sizes in New York City schools are 15-30% larger than in other parts of the state, and the number of children in first through third grades in classes of 30 or more students has risen by nearly 3,000% since 2007.
Former City Council Speaker Peter Vallone established an initiative that forced the city to cap all classes at 28 students but the DOE no longer follows those guidelines. Those guidelines must be revisited and enforced through legislation. Class size reduction means quality education for our children, and according to a United Federation of Teachers survey, 99% of New York City teachers believe class size reduction would be an effective reform to improve city schools as over 336,000 students are currently in classes of 30 or more.
As a mother of two I can say one thing is certain: this situation serves as a reminder of just how vitally important it is that parents, particularly mothers, have a place at the table to fight for our kids. New York City families cannot have a repeat of what happened in the spring, or this city will continue to see families exit. It will be interesting to see if the demographics of young families will change, but my hope is that we can create a solution that will help us retain families that build into our city.
The last thing we need is a generation of students falling behind, and the systemic inequalities that will grow as a result.
***
Felicia Kalan is a candidate for the New York City Council in District 22 in Queens. On Twitter @KalanforQNS.
***
Have an op-ed idea or submission for Gotham Gazette? Email This email address is being protected from spambots. You need JavaScript enabled to view it.