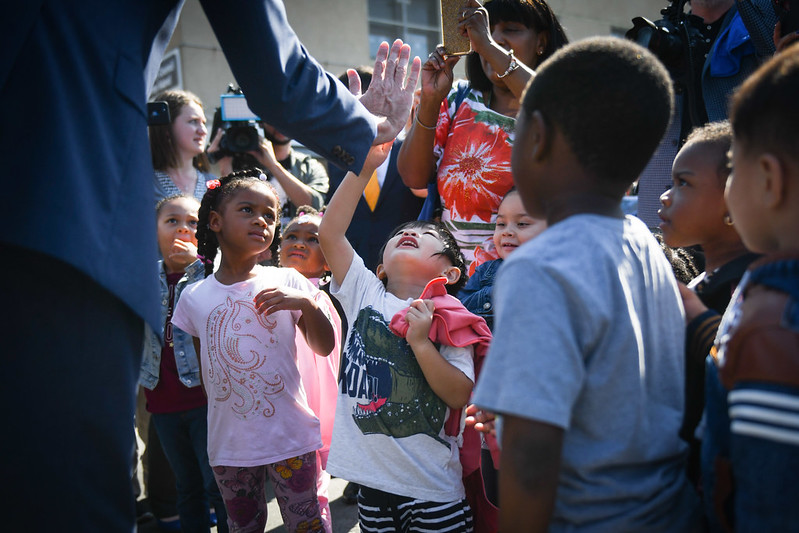 New York City school children (photo: Michael Appleton/Mayor's Office)
---
As thousands of demonstrators march through the streets of New York City calling for an end to police brutality and equality of opportunity for people of color, and we are on the verge of sending our children back to school of some kind, it is time that we focus on the most vulnerable people of color, and that is homeless children.
The organization Advocates For Children estimates that there are 114,000 homeless students in the New York City school system and that 85% are Black or Hispanic. This figure includes children not only living in shelters but also those that live doubled up with family or friends. These students perform significantly lower on state tests and only 57% graduate from high school, compared to 76% of all city students who are not homeless.
If we are going to make a difference in the way people of color are treated and accomplish economic security, it is essential that major efforts be put forward to lift these currently homeless children, improve their stations, and greatly increase their rate of high school graduation.
In the homeless shelter system we have approximately 11,000 families with children. On a relatively positive note this figure is down by 1,000 from the same time last year but still very high. However, we still have 20,000 children living in the shelter system. It is time we make a critical element of the evaluation of the work of the New York City Department of Homeless Services that children in their shelters and hotels show improved performance in school.
In order to understand the larger circumstances that these children and their parents live in, we must look at their environment. Typically a homeless family lives in a shelter unit or hotel room that is the equivalent of a small studio apartment. There are bunk beds for the kid(s) and a bed for the parent(s). Of homeless families, 80% are headed by a single adult female. There is a small kitchen area and a table and chairs to eat on and a bathroom. However, those families residing in hotels, at a cost of roughly $200 a night, often do not have a kitchen and depend on food deliveries three times a day.
Obviously, you can see the challenges of trying to do your schoolwork in such an environment. As a former Deputy Commissioner at the Department of Homeless Services and a senior executive at nonprofits that provide shelter and supportive housing for families, I know these circumstances all too well. It's time that every shelter and hotel that houses homeless families be required to provide space for children to do their schoolwork. This could be accomplished in some cases, perhaps, by designating one study room for every four residential rooms.
Additionally, all homeless students should receive tutoring from a new program I am calling CUNY Students Supporting Homeless Children.
As a graduate of Brooklyn College and a New Yorker, I know that CUNY students could be extremely helpful to some of our most vulnerable students, and they could also earn some extra much-needed money. Children residing in the shelters, and those living doubled up, should also be given a laptop computer and provided with access to the internet so that they can access a wealth of important resources and also receive tutoring via Zoom as needed.
The nonprofit providers who run the shelters and the hotels would be given performance standards to ensure that their students are doing better in school and more are graduating high school. Failure to meet these standards could result in a cut to their contracts.
You may be thinking that this sounds great, but with looming budget cuts how are we going to pay for this program? We should create a public-private partnership with some of the more famous billionaires and philanthropists who live and work within our midst, like Jeff Bezos, Bill Gates, and former Mayor Michael Bloomberg who is well known for his interest in education and supporting important philanthropic causes. The goal should be to raise $1 billion to fund this campaign, including reaching out to the general public, members of which often care about our most vulnerable children but don't always know how to help them. New Yorkers could get involved through a Go Fund Me-type page. It must be understood and guaranteed by New York City government that the monies raised through this initiative cannot be diverted to other programs.
Over 100,000 homeless children are now drowning, with far too many destined to fail given current conditions. While we also work to get them all safely housed, this initiative could provide them with a lifeboat to allow them to overcome their severe challenges, improve at and enjoy school, graduate, and have more opportunity.
***
Robert Mascali is former Deputy Commissioner to the New York City Department of Homeless Services and Vice President for Supportive Housing for Women in Need.
***
Have an op-ed idea or submission for Gotham Gazette? Email This email address is being protected from spambots. You need JavaScript enabled to view it.