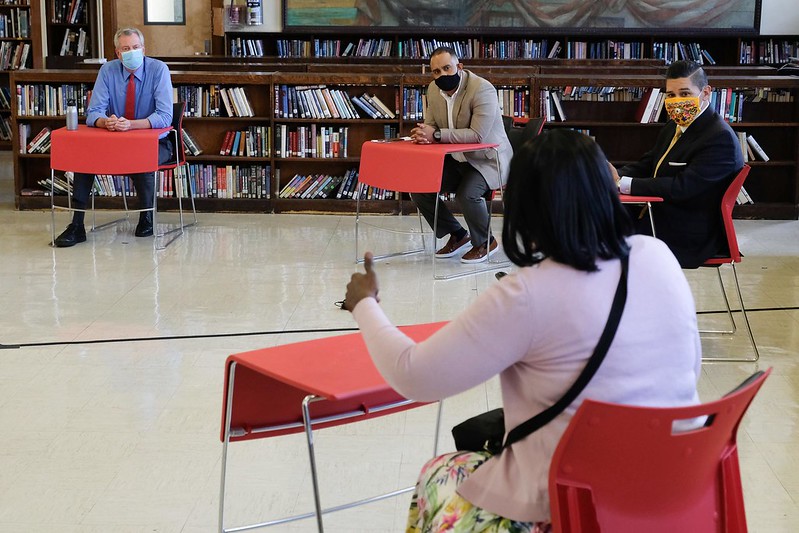 The Mayor and Chancellor visit a school (photo: Ed Reed/Mayor's Office)
---
Deciding if and how we reopen schools this fall has been incredibly difficult and complex for city leaders. Keeping students, teachers, and support staff safe is of paramount importance in any reopening plan — but access to the resources and support that in-person instruction provides is a lifeline for many students.
Only a few weeks out from the first day of classes, it is clear our city is not equipped to safely bring 1.1 million students back to school. For the immigrant populations and communities of color that have been disproportionately impacted by this pandemic, the weight of this decision is even heavier, and the consequences of any decision will no doubt fall harder on the most vulnerable among us.
This is a hard decision for everyone involved. But without a concrete plan to protect educators, school staff, students, and their families, Mayor de Blasio and the Department of Education must delay in-person learning.
Since the beginning of this pandemic, immigrant communities in our city have felt the full force of its destruction. Nearly one in five of the essential workers staffing New York City's grocery stores, social services organizations, and other frontline businesses are non-citizens and more than half are foreign born. Half of the city's working class immigrants lost their jobs due to the pandemic, but undocumented immigrants can't take advantage of rent subsidies or food stamps and did not receive a federal stimulus check. Health disparities that existed far before the pandemic have been exacerbated, with Black and Latino New Yorkers dying from the virus at about twice the rate of white New Yorkers.
Any decision about schools reopening needs to take into account how vulnerable these populations have already been to COVID-19 and place their needs front and center. Like many immigrant families, when I came to this country at age 12, I lived in a multi-generational home with my parents and grandmother. For our families, sending kids to school not only puts them and their parents at risk, but makes it harder to protect our senior population, especially those with pre-existing conditions. I came here without even knowing the alphabet, and it was through the support of my grandmother and teachers at my New York City public schools that I learned English and succeeded in the classroom.
If our schools don't reopen for in-person learning, there are a number of challenges we still need to address. Many students lack internet access, live in crowded apartments, or are English language learners who need in-person support. Any remote learning or hybrid reopening model must ensure that immigrants and students of color have full access to the resources and technology they need to succeed in an online setting and address the ongoing child care crisis that has left parents with an impossible set of choices. The city must continue providing free child care for essential workers and any other parents who need assistance throughout this pandemic.
Most importantly, it is critical that the Department of Education and city officials keep an open line of communication with parents and students, ensuring that immigrant families have access to resources and guidance in the languages they are most comfortable with. The DOE should follow guidance from the New York Immigration Coalition Education Collaborative, which put forward a comprehensive communications plan that prioritizes reaching immigrant families, those with limited English proficiency, and parents who have low digital literacy. The DOE needs to reach these families where they are, and quickly.
Educators and workers have told us that schools can be reopened safely, but they will require adequate funding for PPE, cleaning supplies, and proper ventilation. So far, the Department of Education has not shared detailed plans or resource commitments. Little to no information about the proposed child care program that thousands of parents will depend on has been released. Just weeks before classes start, the Mayor announced that schools can include outdoor classrooms and should plan accordingly, but provided no road map. It's clear that the DOE still does not have a clear plan, and teachers and parents are operating in the dark.
There is far too much at risk — especially for immigrants and communities of color who have already suffered so much — for the nation's largest school district to make such a monumental decision without being fully prepared. Until we have a real plan in place, we must delay in-person learning and focus on ensuring that remote learning is as effective as possible, for all communities.
***
By Jenny Low, Reporter, Gotham Gazette
@jennylamlow.
***
Have an op-ed idea or submission for Gotham Gazette? Email This email address is being protected from spambots. You need JavaScript enabled to view it.